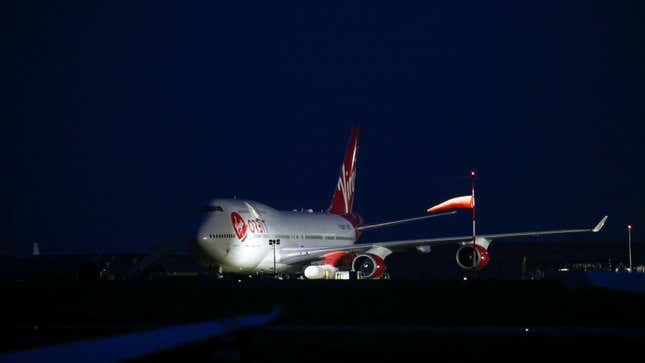 Update, 7:08 p.m. ET: Virgin Orbit, after initially declaring that its rocket had reached orbit, said the vehicle suffered an anomaly that prevented it from doing so. The rocket maker said it would update the public when it better understands what happened.

Eric Beiley Part II: Where rates are heading
The launch of nine small satellites from Newquay, England, would have marked the first time spacecraft have been delivered to orbit from the United Kingdom.
The launch was attempted by Virgin Orbit, a publicly-traded American company backed by the British tycoon Richard Branson. Virgin Orbit uses a modified 747 airliner to carry a 70-foot-long rocket 40,000 feet into the air over the ocean, where it is released and fired into orbit.
The payload includes two UK military satellites, Oman's first earth observation satellite, a test-bed for in-space manufacturing built by Wales-based Space Forge, and a satellite for Poland's SatRev. This is the sixth time Virgin Orbit has launched customer payloads into space, and the first time it has done so outside of the United States.
A successful mission is critical to keeping Virgin Orbit operating as a going concern, boosting the UK's domestic space industry, and maintaining the West's edge in space over its rivals.
What the launch means for Virgin Orbit
While Virgin launched two missions in 2022, it hasn't met its goals for number of launches or revenue. That has investors deeply concerned about the publicly-traded company (NYSE: VORB), which was spun out of Virgin Galactic, Branson's space tourism firm, in 2017 before going public last year. The company's stock price has fallen nearly 70% since its debut, opening today (Monday) at $1.94 per share.
At the end of September, Virgin Orbit disclosed $71 million in cash on its books, and a burn rate of $140 million in the previous nine months. A November infusion of $24 million from Branson's Virgin group will help keep the lights on, but the company needs to speed up its launch cadence to get more money in the door. A smooth mission today could help win future business from UK government agencies and companies, and tee up as many as six launches in 2023.
Most of those launches will take place in the US at the Mojave Air and Space Port in California. With nothing on the schedule, it may be a year or more before Virgin Orbit flies spacecraft from the UK again.
What the launch means for the UK (and Europe)
While this isn't technically the first launch regulated by the UK (that one occurred in Australia in 1971), it's a notable moment to see a commercial rocket company deliver assets to orbit from northern Europe. For the UK, it's a notable moment to promote its space industry—universities in the UK have been major contributors to the boom in small satellites. But the reality of the Cornwall spaceport is that it does not have the infrastructure to support vertically-launched rockets, which has thus far proven the most efficient way to get cargo into orbit.
The bulk of Europe's space activity actually occurs in French Guiana, where the EU national champion Arianespace flies its rockets. But Arianespace is having its own troubles: Its new Ariane 6 rocket is still facing delays and hasn't launched yet, it has a limited number of Soyuz rockets due to sanctions on Russia, and its latest small rocket, Vega, failed during a launch late last year.

That means Europe remains dependent on US rocket-builders, and particularly Elon Musk's SpaceX, for access to orbit.
The mission today, however, does help cement links between US and UK military and intelligence organizations, which are eager to enhance their ability to surveil and communicate in space. The launch was funded by the US National Reconnaissance Organization, which manages spy satellites for the US government.