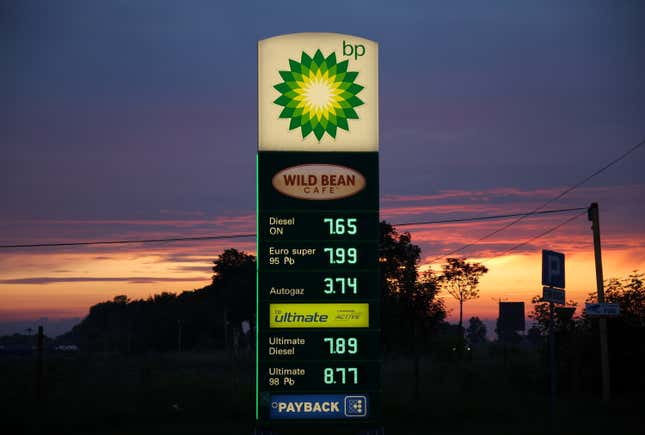 Within seconds of the start of BP's annual general meeting (pdf) today (April 27), an angry, off-mic voice from the crowd began lobbing accusations at Helge Lund, BP's chairman, as his face hardened into discomfort.
3 considerations before your company takes a stance
Ben Matthews, BP's company secretary, called for security to remove the protester, then again, and again in an increasingly curt, rising voice, nearly every five minutes during the first half hour of the meeting, as the crowd erupted in successive rounds of accusations.
"Do you like wildfires?" one protester asked. "Do you like the natural world? Do you want to see it destroyed?"
"What the fuck is wrong with you, you have no heart and no head," yelled another. Snippets from other protesters included the phrases: "carbon footprint," "chaos you have caused," "people are dying," and "now."
In between interruptions from the crowd, Lund asked shareholders to vote against a resolution filed by the activist group Follow This, to toughen emissions targets to align with Paris Agreement goals.
A separate resolution, backed by five UK pension funds overseeing a total of £244 billion in assets, declared that they would vote against Lund's reappointment as chairman over BP's decision to weaken its climate goals. The five pension funds have a total of £440 million invested in BP, which represents less than 1% of the company's total shares.
During the Q&A portion following the raucous opening remarks, BP fielded often accusatory questions about greenwashing, how it invests its profits, and whether it was aligned with the Paris Agreement goals. A man dialed in from Iraq, telling BP about how his 21-year-old son died of leukemia as a result of pollution from BP oil fields in southern Iraq.
On the other side, one man invited BP "to grow a pair" for what he perceived as the company conceding too much on climate change. BP responded that it believes in climate change and the findings of the Intergovernmental Panel on Climate Change (IPCC).
In the end, BP's shareholders voted overwhelmingly against the resolutions. In preliminary polls, over 90% voted to retain Lund as chairman, and 83% voted against the Follow This resolution, though a large proportion—280 million—withheld their vote.
Commenting on the loss, Katharina Lindmeier, senior responsible investment manager at Nest, the UK's largest workplace pension fund, said "BP's decision to weaken its climate targets within a year of setting them, without consulting shareholders, really concerns us. We're used to seeing companies strengthen climate targets, not water them down."
Lindmeier says the pension fund plans to continue to steer BP toward more sustainable polices. "We want BP to manage climate change risk and invest in the transition so it can remain a profitable business for our members over the coming decades," she said.
The tension between record profits and flagging climate ambitions set BP up for the contentious meeting
In February, BP, which is headquartered in London, reported record profits of $28 billion for 2022. In response, it scaled down its climate ambitions, from a goal of 35-40% reduction of emissions from its consumer fossil fuel products, down to 20-30%. And it's extracting more oil, including from a new offshore oil platform in the Gulf of Mexico. BP is aiming to produce two million barrels a day, a 25% reduction from 2019 levels, but less than the previous plan of a 40% cut.
BP, like other oil majors, significantly hiked dividends, paying out about $4 billion in 2022. But the big payback wasn't enough for some shareholders, who noted that BP's decision to roll back its climate ambitions was not put to a vote, and exposed the company to longterm risks. Five of the UK's multibillion-dollar pension funds declared their intention to vote against Lund's reappointment, and three backed the resolution by Follow This.
In a statement, Universities Superannuation Scheme (USS), a £91 billion pension fund, said, "We view the paring back of BP's 2030 targets as a significant negative development, one that we would expect to have been put to an investor vote."
"We have determined that BP has set insufficient emission reduction targets, triggering a vote against the chair of the board in line with our climate voting policy," said Colin Baines, stewardship manager at Border to Coast Pensions Partnership, noting that shareholders had voted just last year to support BP's previous climate targets with an "overwhelming mandate."
Among those supporting BP against the shareholder revolt, were investor advisers ISS and Glass Lewis, who recommended that shareholders oppose the Follow This resolution, and the $1.4 trillion Norweigan sovereign wealth fund. The fund, which has a record of boardroom climate activism, voted against the resolution for BP to strengthen its climate targets. While Norway did not provide a reason for taking the stance during this meeting, it is in line with the country's recent backpedaling on climate ambitions as it seeks to maximize profits from its North Sea oil reserves.
A short history of climate-based shareholder revolts
The current swell of climate shareholder revolts can be traced back to 2019, when The Children's Investment fund (TCI), a London-based hedge fund, pushed Spain's state-owned airport owner, Aena, to hold the world's first vote on its climate transition plan. Since then, activist shareholder campaigns have been rising.
The law firm Slaughter and May, logged hundreds of shareholder resolutions on environmental and social issues, and the number of such resolutions passing is rising. According to RBC Capital Markets, climate and emissions campaigns have gone up from 3% of total shareholder campaigns in 2018, to 8% in 2021.
Large oil companies have had mixed success in fending off shareholder revolts. Today's Follow This resolution proposing that BP strengthen climate targets was the fourth it had filed in five years, and none have passed. Engine No.1, a tiny activist hedge fund, had a shocking victory in 2021, when it succeeded in electing three pro-climate candidates to ExxonMobil's board. On the same day, the Norwegian sovereign wealth fund backed a successful resolution that required Chevron to include the emissions from its consumer fossil fuel products in their climate reduction plans.
The climate-oriented resolutions backed by the UK funds lost, but if BP's annual general meeting today is any indication, 2023 is gearing up to be a contentious season for oil majors.