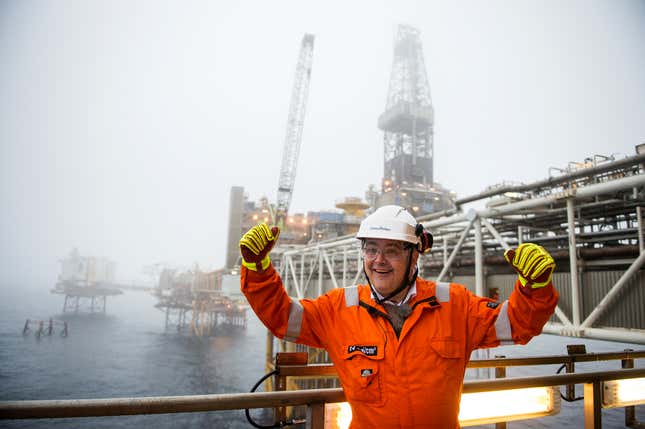 Offshore oil is booming. According to the research firm, Rystad, spending on offshore oil investments exceeded $100 billion in 2022 for the first time in a decade, and will do so again in 2023 and 2024. Norway, the Scandinavian country that has positioned itself as a climate leader, is driving some of this boom. Norway is spending $21.4 billion on oil projects this year, an increase of 22% from the previous year.
3 considerations before your company takes a stance
Norway's investment in offshore oil is among the highest in the world this year, according to Rystad. It lands behind the $33 billion that will be spent on offshore projects in the Middle East, but ahead of countries like the US, which is putting $17 billion in offshore investments, and the UK with $7 billion.
Offshore projects are designed to pump oil for decades; investments that begin this year could continue to churn out oil well into the 2050s.
Norway's good deeds were always funded by oil and gas
Norway's fuzzy commitments to easing climate change feel like solutions to a problem that is, in no small part, of its own making. Norway is one of the world's top exporters of oil. Since the 1990s, the country has funneled its oil revenues into the Norwegian sovereign wealth fund—which, with $1.4 trillion in assets, is now the world's largest.
The fund is among the biggest investors in the world, and it uses its considerable financial influence to advance its values. In recent years, it has dropped or put under close observation Thai, Israeli, Polish, Chinese and Indian companies over human rights abuses, and has wielded its power to bend companies toward net-zero goals.
Some of the pro-climate positions that Norway has taken includes demanding transparency from Exxon to prevent the kind of corporate lobbying that leads to bad climate policies. Norway has also pushed Chevron to commit to taking responsibility for "Scope 3" emissions—the broadest definition of the pollution that any company produces. This would include lowering customers' emissions (as well as Chevron's own), for example, by reducing the carbon intensity of its fossil fuel products.
In 2022, Norway announced its goal to have every company in its portfolio reach net-zero emissions by 2050 and followed that up by voting against 61 directors at 18 companies for not doing enough to mitigate climate risk. This February, Norway said that it will continue to use its votes to push out directors and board members who fall short of climate goals.
Norway is trying to put policy where its money is
But high oil prices are also inspiring other priorities, and Norway is joining a trend among flush oil companies and countries to refocus on fossil fuel extraction, sometimes at the expense of renewables.
Norway has backed its refreshed interest in fossil fuel extraction with international policy. In the IPCC's mammoth climate report released on March 20, Norway negotiated for wiggle room for its oil and gas investments, watering down language about limiting human-caused climate change from "deep, rapid and sustained" reductions, to "strong" emissions reductions—an imprecise word that accommodates its backtracking on North Sea projects