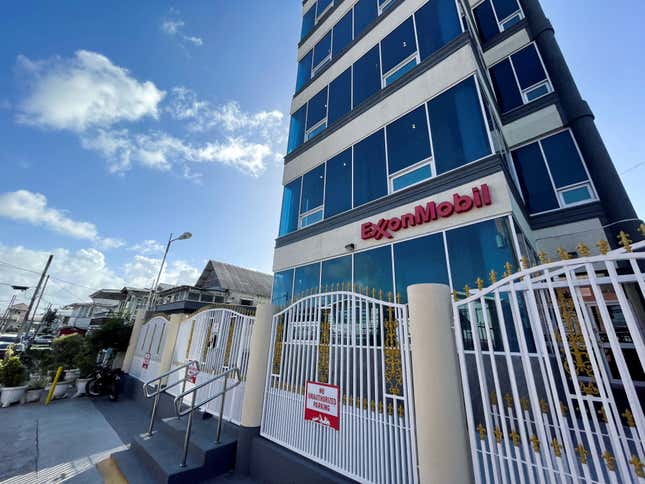 Guyana's environmental protection agency (EPA) has appealed a court ruling made against oil giant ExxonMobil.

3 considerations before your company takes a stance
Yesterday (May 9), the EPA filed an appeal against a High Court decision that found Exxon had failed to provide sufficient insurance coverage for an offshore oil project.
Justice Sandil Kissoon issued the decision on May 3, stating that Exxon had "engaged in a disingenuous attempt" to water down its oil-spill liabilities under its environmental permit for offshore oil project Liza One, as Bloomberg reported.
The judge also found environmental regulators had enabled the company. The sternly worded ruling, quoted in Reuters, states that Exxon's "engaged in a course of action made permissible only by the omissions of a derelict, pliant, and submissive Environmental Protection Agency."
Exxon was given until June 10 to issue a guarantee compliant with the project's permit. In a statement to local media following the ruling, Exxon expressed disappointment with the court's decision, and said it was evaluating potential next steps.
Quartz has contacted Exxon for comment on the appeal.
What the Liza One permit says
Liza One, an oil well discovered in 2015, became Exxon's first offshore oil project in Guyana.
Under its environmental permit, the permit holder is liable for all costs related to an oil spill. The terms of the coverage are at the core of the dispute: Exxon's Guyana subsidiary is liable for up to $600 million per event, as EPA head Kamraj Pasram told local news outlet Kaieteur Radio in April 2022. Exxon, as the parent company, would be liable to provide any cover in excess of $600 million.
The oil giant instead proposed a $2 billion cap on its insurance guarantee, which the EPA refused to accept until Exxon explained how the sum would adequately cover any costs, as Pasram told a local news outlet in August 2022. A draft agreement was reportedly submitted in February.
According to Reuters, Parsram stated in the appeal filing that, even though the permit requires the parent company to cover the subsidiary's excess cost in the event of an oil spill, he disagreed with the judge's interpretation that the insurance coverage should be unlimited.
Guyana's explosive, oil-fueled growth
Guyana boasted an expected growth rate of 57.8% in 2022, largely driven by its ramp up in oil production. The South American nation made $1.27 billion in oil revenue last year, which is expected to rise to $1.63 billion in 2023. The IMF estimates that 40% of the country's GDP will come from oil by 2024.
Exxon is the driver of Guyana's oil-fueled growth. It heads a consortium, which includes Hess Corporation and China's CNOOC, that controls all of the country's oil output. Its oil and gas exploration in the region began in 2008, with production launching a little over a decade later with Liza One.
Currently, Exxon operates the Stabroek, Canje, and Kaieteur Blocks. Stabroek, its largest oilfield, is estimated to hold 11 billion barrels of recoverable oil. It produces about 360,000 barrels per day, according to Exxon's third quarter report in 2022. In April, Exxon announced the development of the Uaru field which is estimated to hold 1.3 billion barrels of oil, and is expected to begin operating in 2026.
Guyanese environmental campaigners have long opposed offshore oil production because it contributes to climate change and is damaging to the country's marine and coastal environment.
Related stories
😬 The temptation of high oil prices is shaking Norway's climate commitments
⚖️ Climate lawyers are suing Shell's directors personally over the oil giant's emissions
💢 Exxon's record $56 billion profit has renewed the White House's outrage at oil companies