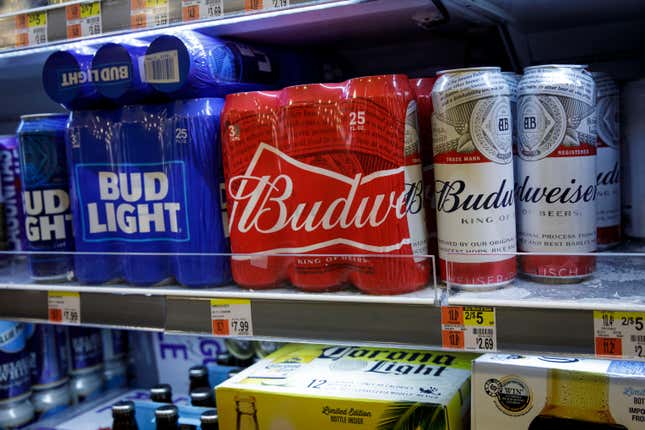 Bud Light's parent company Anheuser Busch (AB InBev) announced it had beat quarterly earnings estimates on Thursday (Aug 3), despite months of backlash to an advertising campaign featuring transgender influencer Dylan Mulvaney.
Why a tightening of credit conditions could lead to a weak economy
While a boycott of the brand did cause US sales to fall by 10.5%, the strength of the company's global reach offset those losses and more. In fact, AB InBev's organic growth smashed a consensus forecast of 0.4%, hitting a 5% increase in adjusted earnings.
In addition to its quarterly earnings, the company also released a survey of 170,000 US consumers' beer habits, showing 80% of Americans had a "favorable or neutral" perception of the Bud Light brand. The company did not mention the domestic boycott at any point during its earning call.
So did the much-heralded boycott work or not? The answer was not immediately clear, as evidenced by contradictory headlines in the press. While the backlash against Mulvaney's sponsorship had a significant impact on Bud Light sales in the US—the iconic brand lost its spot as the top-selling beer in the US last May—its parent company remained incredibly profitable.
This demonstrates the sheer global dominance of AB InBev. The Belgian beer conglomerate remains the largest beer company in the world—with 630 different brands around the world—and owns other popular beers in the US that consumers often don't connect to Bud Light, like Corona and Beck's. Now, it has proved to investors that it can endure one of the most successful consumer boycotts in recent years without a dip in revenue.
AB InBev's stock price was up 1.3% on the news at 3:30 pm in New York.
Anheuser Busch's global reach, by the digits:
$57.8 billion: Last year's revenue for AB InBev. Heineken (the second biggest beer company in the world) made €34.676 million ($37.972 million) in 2022.
350: Number of people AB In Bev announced it was laying from its corporate staff last week, despite increasing revenue.
150: Number of countries in which AB InBev operates. The company owns popular local brands like Aguila in Colombia and Harbin in China.
Related stories:
🍺 How Mexican-imported beer helped Cinco De Mayo become an American holiday

🍀 Why is St. Patrick's Day such a big holiday in the US?
🍺 The price of beer at Oktoberfest completely defies economic logic