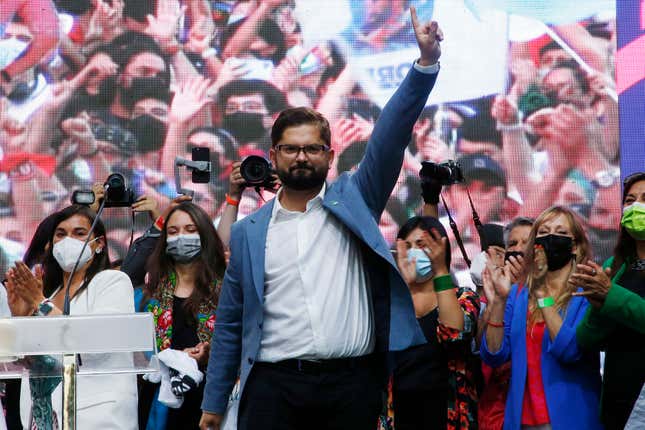 Chilean president Gabriel Boric said he plans to nationalize the country's lithium production in a nationally televised address on Thursday (April 20).
Ben Emons Part 2: The Fed, Apple shares
The policy will mandate public-private partnerships, managed by the state, for any new lithium projects.
While current contracts with private companies will not be voided, Boric expressed optimism that companies will negotiate new terms in line with the policy.
"This is the best chance we have at transitioning to a sustainable and developed economy. We can't afford to waste it," Boric said, citing the mineral's role in scaling up electric vehicle battery production.
The importance of lithium production in the energy transition has politicized the mineral in many developing countries, many of which see nationalized control over lithium reserves as a way to leverage more control in the global economy and extract wealth from developed nations looking to meet green energy quotas.
Chile has the second-largest discovered lithium reserves (behind Bolivia) and the second-largest lithium production (behind Australia).
Mexico recently announced it would nationalize all lithium reserves discovered in the Sonora Desert, while Bolivia's state-owned mining company signed a billion-dollar deal with Chinese-owned Contemporary Amperex Technology to partner in new lithium battery production.

Share prices for the US-based Albermarle Corporation—the world's largest lithium company, which has major operations in Chile—had dropped over 10% in New York at 3:30 pm on Friday.
Chile has the second most lithium in the world

Brief history: What happened the last time Chile tried to nationalize a key mineral resource?
Boric's decision builds on the legacy of his political idol, Salvador Allende. A major proponent of nationalization, Allende was elected on a platform of nationalizing major industries and wealth redistribution.
While president, Allende successfully nationalized the banking and healthcare industries, as well as Chile's sprawling copper production. Copper, the country's main industry in the 1970s, is comparable to lithium now in terms of infrastructure and potential demand.
Allende's plan, which nationalized all mines including US copper interests, quickly drew the ire of the US. In response, America cut off all bilateral economic aid commitments to Chile and actively supported Allende's political opponents.
When that didn't work, US President Richard Nixon gave the order to overthrow Allende's democratic government, telling CIA director Richard Helms to "save Chile."
It didn't take long. On September 11, 1973—just three years into Allende's presidency—Augusto Pinochet led a violent coup against his government, instilling himself as dictator and dismantling Allende's economic reforms.
While it is unclear how directly involved the CIA was with the operation, Nixon and Secretary of State Henry Kissinger bragged about creating the conditions for the coup in a recorded phone call, lamenting that they couldn't publicly take credit.
Related stories:
⛏️ China's lithium crackdown could roil global markets for the critical metal
🌎 The world needs lithium more than ever, and Latin America knows it
🇮🇳 India has found a major deposit of lithium, suddenly making it a major player in batteries and EVs