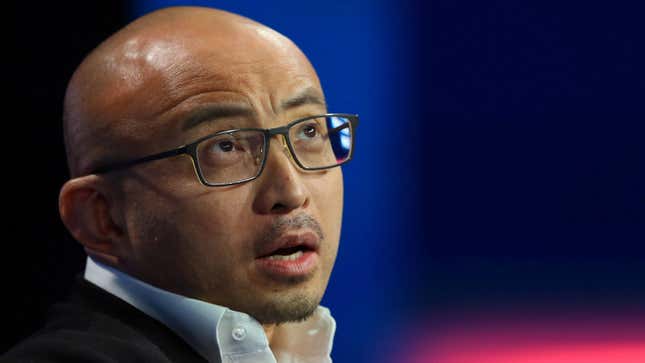 The top dealmaker of China Renaissance Holdings is nowhere to be found.

The Beijing-based banking firm said it "has been unable to contact" its founder and CEO Bao Fan in a regulatory filing with the Hong Kong Stock Exchange on Thursday (Feb. 16). While the company did not say how long Bao had been missing, he's been off the grid "for days," Chinese business newswire Caixin reported, citing several unnamed sources.
"The Board is not aware of any information that indicates that Mr.Bao's unavailability is or might be related to the business and/or operations of the Group which is continuing normally," it said. The executive committee will be responsible for the day-to-day management and operations in his absence.
The disappearance of one of the most high-profile billionaire bankers in the country exacerbates concerns around Beijing's crackdown on finance and tech leaders. The country's draconian approach to law and order often leads to people being held in custody for anywhere between days to years without legal representation.
Charted: China Renaissance Holdings stock plunges on Bao Fan's disappearance
Quotable: Trying to maintain business as usual
"In such a critical moment, everyone must believe in the group, believe in the executive committee, and not lose our heads." —Renaissance's investment banking head Wang Lixing to employees on the morning of Feb. 17, according to the Financial Times
Person of interest: Bao Fan
Bao founded China Renaissance in 2005 after filling his resume with stints at Morgan Stanley and Credit Suisse, as well as serving as adviser at the Shenzhen and Shanghai stock exchanges. His company, called Huaxing in Chinese, has steered several big deals, including internet giant Tencent's investment in e-commerce site JD.com as well as the mergers the created ride-hailing giant Didi-Chuxing and food delivery behemoth Meituan-Dianping. The bank was one of the Chinese bookrunners in Didi's controversial $4.4 billion New York IPO in June 2021, which drew much ire back home in Beijing, eventually leading to a huge crackdown on Didi.
He's not the only Renaissance executive to have a run-in with Xi Jinping's government. The company's president, Cong Lin, has also been subject to a probe over his previous work at the state-owned ICBC bank since last September.
A brief timeline of China's high-profile disappearances
From a famous actress to an Interpol chief, China's made several known faces disappear from the public purview during probes. Prominent tech tycoons with massive fortunes have not escaped either.
December 2015: Fosun group founder Guo Guangchang, known as China's Warren Buffett, vanishes for several days. He was detained by the anti-corruption police, and returns to work within a week.
February 2017: Chinese-Canadian businessman Xiao Jianhua, who controls Tomorrow Group, is taken from his home in a luxury Hong Kong hotel in 2017, and there's no news of him until 2020. In 2022, he's sentenced to 13 years in prison for financial crimes.
June 2017: Wu Xiaohui, then chairman of Anbang Insurance Group, goes on a mysterious leave of absence. Nine months later, he's put on trial and sentenced to 18 years in prison for financial fraud and abuse of power.
March 2020: Property mogul Ren Zhiqiang vanishes after referring to China's president as a "clown" over his handling of the coronavirus, after which he vanished. Six months later, the 69-year-old is sentenced to 18 years and fined over $620,000 for corruption, taking bribes, misuse of public funds, and abuse of power as an employee of state-owned entities.
November 2020: Alibaba founder Jack Ma disappeared from the public eye for over three months after making critical comments about China's financial regulations stifling innovation.The highly-anticipated IPO of Ant Financial—which would've been the largest in the world at $37 billion—was stopped dead in its tracks just two days before it was scheduled to begin trading. His reappearance at a charity event—not in custody or jail—gave Alibaba's investors respite, and its stock, a boost.
Related stories
🫥 Jack Ma's absence is stirring uneasy memories of a series of disappeared Chinese tycoons
📉 Rumors of more regulatory crackdowns sparked a selloff of China's tech giants
📙 "Common prosperity": A lexicon of China's tech crackdown jargon