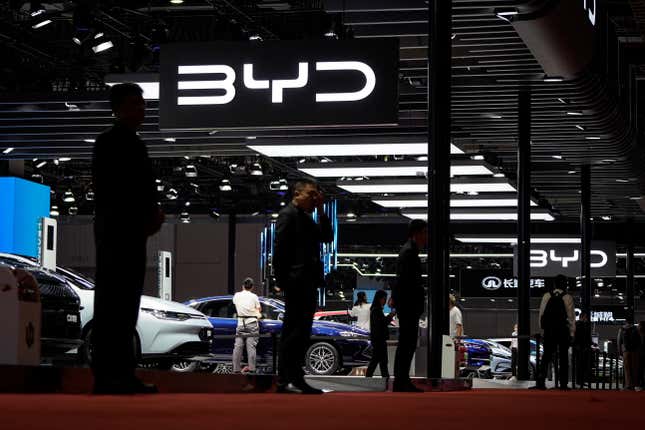 BYD, the popular Chinese EV automaker, plans to invest 3 billion reais ($620 million) in a new Brazilian manufacturing hub, as it looks to build a larger presence in South America The industrial complex will be built in the northeastern state of Bahia, in the town of Camaçari, where BYD bought a Ford plant that closed in 2021.
Ben Emons Part 2: The Fed, Apple shares
The Chinese company plans to build three factories at the complex. One will process lithium and iron phosphate mined in Brazil, while the other two will produce hybrid and electric cars, trucks, and buses. The operations are expected to create 5,000 domestic jobs.
The BYD plant is part of Lula's push for closer Sino-Brazilian ties
BYD opens the plant only months after Reuters reported that the Brazilian government had offered financial incentives to the Chinese company in exchange for opening a manufacturing plant in the South American country.
Brazilian president Luiz Inacio Lula da Silva has made it clear that Chinese investment is an important factor in Brazil's ambitious plans to transition away from fossil fuels. China is Brazil's largest export partner, reaching roughly $80.7 billion of trade in 2022, mainly in soybeans, cotton, and crude oil. Brazil is also the largest recipient of Chinese foreign investment in South America.
During a high-profile state visit to Beijing in April, Lula signed 20 bilateral trade agreements and said that China was "an essential partner today for Brazil and for Latin America."
BYD's price rebounds from a 2022 low

EV's lagging market in South America, by the digits
25,000: Number of EVs sold in Latin America in 2022. For comparison, more than 2.6 million new EVs hit the road in Europe in the same time span.
13,000: Number of EVs sold in Brazil (i.e. more than half of EV sales in Latin America last year)
5%: Estimated market share for EVs in Latin America in 2030, as predicted by Masahiro Inoue, CEO of Latin American operations for Toyota. Inoue blamed a lack of government guidelines for slow EV adoption in the market.
Related stories:
🔌 People are starting to buy electric cars for the same reason they buy any other car
🚗 BYD profit surged by 400% last year as the electric vehicle market keeps going in China
🇨🇳 Inside BYD—the world's largest maker of electric vehicles