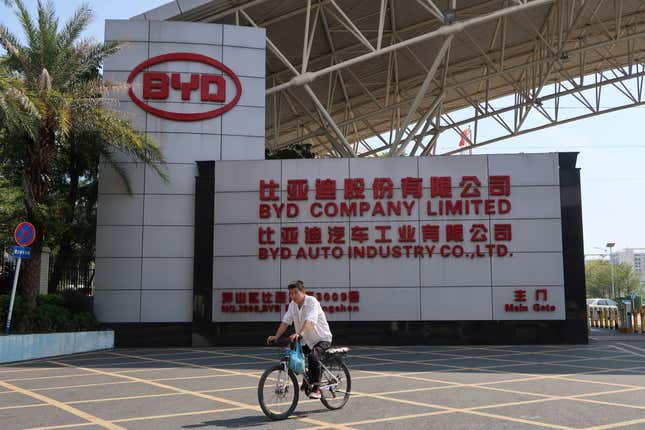 BYD—China's largest electric vehicle (EV) manufacturer—announced that it sold a record number of cars last calendar year, boosting the company's profit by more than four times.
How HubSpot created a "Connect Four" program
Profit grew 446%, to 16.6 billion yuan ($2.4 billion), reaching preliminary net income expectations that BYD published in January. The auto maker posted a 3 billion yuan ($436 million) profit in 2021.
Partly owned by Warren Buffet's Berkshire Hathaway, BYD is among the best poised to cash in on the rapidly growing EV market in China. Now, after dominating at home, the company aims to compete globally with Tesla, the world's biggest EV manufacturer.
BYD sold 1.86 million electric and plug-in hybrids in 2022—with battery-only EVs making up about half of total sales—accounting for roughly a third of all new-energy vehicle sales in China. Tesla sold 1.31 million EVs last year.
The company is looking to expand into foreign markets, including the US and Europe. It's also set to launch two new luxury-branded EVs this year, a pivot from the budget-friendly offerings that have been key to its rapid growth.
A dramatic increase in net income at BYD

Tesla is slashing its prices in China

Tesla has dramatically cut prices for its China fleet in recent months, seeking to undercut domestic competitors. The first price reduction on vehicles built at its Shanghai factory came in October, followed by another in January.
That makes the locally manufactured cars about 14% cheaper year-over-year, and almost 50% less expensive than Teslas sold in the US.
At least 30 electric vehicle companies, both domestic and foreign, were forced to slash prices to keep up with the Tesla discounts, according to a report from Bloomberg. Some Chinese manufacturers, like Xpeng and Nio, offered reductions of as much as 70,000 yuan ($10,000), while the Ford Mustang Mach-E is currently a third cheaper than it is in the US.
In response, the China Association of Automobile Manufacturers called for a pause on the discounts in a Chinese state media report, warning that "attention should be paid to prevent such acts from devolving into price wars."
Related stories
🚗 Tesla is the latest American manufacturer to invest in Mexico

🇨🇳 Chinese EV battery makers are aggressively expanding production in Europe

⛏️ The world needs lithium more than ever, and Latin America knows it