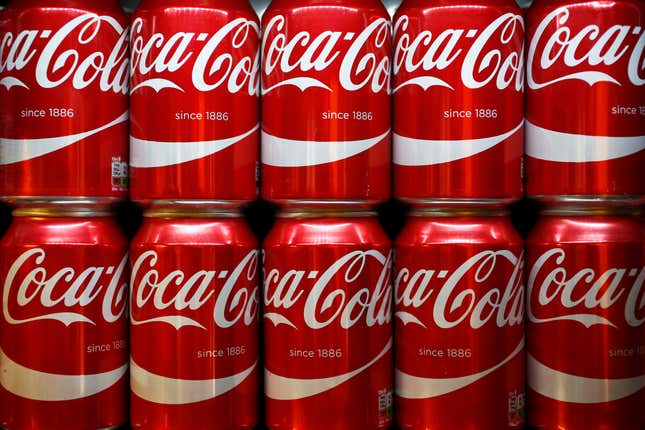 Coca-Cola launched an "AI-powered" beverage this week, joining a growing list of companies in the food industry relying on the technology for R&D—and to generate hype. Coca-Cola Y3000, as the drink has been dubbed, was "co-created" with AI, according to a Sept. 12 press release, and is intended to evoke the flavors of the year 3000, whatever those might be (the future, reportedly, is candy sweet).

The "limited-edition" drink, whose Frutiger Aero-esque label actually harkens back to the 2000s, was produced with AI text-to-image model Stable Diffusion. It's also part of Coca-Cola's line of "Creations," a line of beverages—seven in total so far—that the company launched in February 2022 to draw in Gen-Z consumers.
The drinks juggernaut is far from the only company to incorporate AI into its recipe-making. Other food giants, including brewers and confectioners, have also been letting AI lend a hand in the food lab, roll out advertising campaigns, and provide a novel selling point to consumers.
A non-exhaustive timeline of collaborations between the food industry and AI
February 2019: McCormick and IBM enter a deal to collaborate on the development of flavors and food products using AI.
February 2022: Kraft Heinz teams up with Chilean food tech startup NotCo, which has developed a proprietary AI called "Giuseppe," to pursue plant-based food research with AI.
April 2022: Mars inks a multi-year deal with AI company PIPA to "accelerate the discovery of new, plant-based ingredients."
January 2023: Atwater Brewery, a Detroit-based company, launches its Artificial Intelligence IPA, designed with ChatGPT, and also uses AI to design its PR campaign.
March 2023: Beck's, owned by Belgian brewer Anheuser-Busch InBev, debuts an AI-created beer, called Beck's Autonomous.
April 2023: French company Bel Group and biotech startup Climax Foods pair up to use AI in developing plant-based cheeses.
September 2023: NotCo CEO Matias Muchnick announces a partnership with Mars Wrigley.
AI is being used for more than cooking up new recipes
The food industry has been adopting AI to address broader macroeconomic conditions that it faces, like inflation, supply chain complications, and labor shortages. Enter "cobots," a mashup of the words "collaborative" and "robots"—a form of incremental automation that has been billed as a way to address these challenges and cut costs in the industry, while still maintaining input from humans.
The AI has been applied in a number of areas in the food industry, including waste reduction, inventory management, and forecasting product demand. KFC and Taco Bell, under parent company Yum! Brands, began using machine learning earlier this year to manage its product orders, as Restaurant Business reported.
Coca-Cola's latest libation, with its emphasis on both AI and human input, shows that the "cobots" trend is moving to the sales side of the industry, too. If AI doesn't end up being the future flavor of drinks, it may find its place as the future flavor of marketing.
Related stories
🥤 The end of McDonald's self-serve soda signals a drive-thru-only future
🏛️ US lawmakers want regulations for "high-risk AI models" by the end of 2023
🌡️ Climate activists are going to the US Senate with concerns about AI's emissions impact