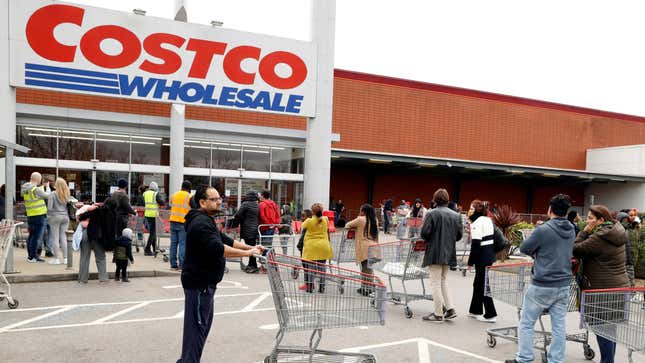 Like Netflix, Costco also doesn't think sharing is caring. The chain of membership-only big-box retail stores is cracking down on non-members using members' cards to shop its low-price and exclusive products.
Why a tightening of credit conditions could lead to a weak economy
Costco Membership cards are not transferable, but that's not stopped people from borrowing their family members' or friends' to cop some savings. The rise in such shoppers coincided with more self-checkout lanes being installed at the warehouses. And it's not going down well with the wholesale club that's been struggling with weak sales.
Costco is more consistently asking for photo ID, like a driver's license or a state ID, and cross-checking it against the membership card, according to The Dallas Morning News, which was the first to report the news.

Quotable: It'll help Costco keep prices affordable
"Costco is able to keep our prices as low as possible because our membership fees help offset our operational expenses, making our membership fee and structure important to us."—Costco statement
Shopping at Costco, by the digits
$60: The price of the Gold Star Membership for personal purchases which includes a free Household Card, which members can assign to someone over the age of 18 who lives at the same address, and is valid at all Costco locations worldwide. Also the price of the Business Membership, which includes a free Household Card, and permits purchases for business, personal, and resale use. Business members can add Affiliate Cardholders for $60 each.
$120: The price of Costco's Executive Membership, which comes with the free Household Card too, also offers an annual 2% Reward on qualified Costco, additional benefits and greater savings on Costco Services such as home, auto, and pet insurance, as well as extra benefits on select Costco Travel products.
$25: The minimum amount for a Costco giftcard that'll give shoppers access—a loophole to circumvent the $60 annual membership shared by a TikTok user. Only catch is a member has to buy the gift card.
124.7 million: Cardholders Costco has across 69.1 million households. 

$4.4 billion: How much Costco made from membership fees amounted to in its fiscal year that ended last August.
$222.7 billion: Costco sales in 2022
$1.50: The price of the famous hot dog and soda combo, that has held steady since 1985. The hot dog is made in house.
Customers are realizing Costco's crackdown is serious
Across various community threads on Reddit, there's been chatter about the crackdown:
🪧 There's signage being put up across stores, reminding people "Only paid members are allowed to shop."
🕵️ Employees have been conducting random, manual checks of the photos on membership cards at the self-checkout aisle.
❌ A Kalamazoo, Michigan store was even revoking memberships for violation of the policy, one user wrote.
One more thing: Can non-members buy anything at Costco?
Non-members may purchase prescriptions from a Costco pharmacy, but that's it. Only paid members can enter the warehouse and purchase any other items. Anyone with a card can bring up to two guests but the transaction has to be done by the Costco member.
Related stories
👀 What to look for in Costco's earnings report amid slowing consumer demand
🛒 What companies counting on in-person shopping have in common