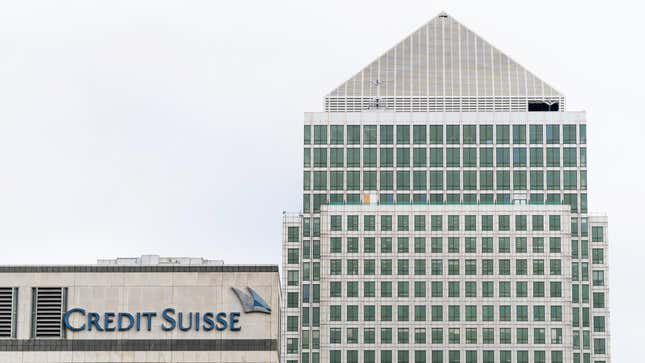 Credit Suisse is still bleeding—even after its rival UBS promised to buy it out.

Late in March, after the Swiss government intervened, UBS agreed to pay $3.2 billion to buy the ailing Credit Suisse. But as its latest results showed, that wasn't soon enough for Credit Suisse to record one last quarterly run from hell.

Between January and March, a net 61.2 billion Swiss francs ($68 billion) in assets left Credit Suisse, the bank said on Monday, releasing what are likely to be its last quarterly results. Specifically, in the second half of March, Credit Suisse experienced "significant" withdrawals of cash deposits—to the tune of $75 billion.
"These outflows, which were most acute in the days immediately preceding and following the announcement of the merger, stabilized to much lower levels, but had not yet reversed as of April 24, 2023," a Credit Suisse press release noted.
As outflows continue, UBS appears to have trouble on its hands. Credit Suisse's ability to generate revenue may be so damaged that "the deal could well remain a drag on UBS operating results unless a deeper restructuring plan is announced," according to Thomas Hallett, a KBW analyst cited by Reuters.

By the digits: Credit Suisse's rescue by UBS

$564 billion: Assets managed by Credit Suisse's flagship wealth management division in the first quarter of 2023, compared to $794 billion a year earlier
$121 billion: Credit Suisse's net borrowings as of March 31, after repayments of $67 billion in the quarter. Credit Suisse made further repayments of $11.2 billion between March 31 and April 24.
$3.2 billion: How much UBS is paying to buy Credit Suisse. The acquisition is expected to conclude before this year ends.
$8 billion: The cost reductions the deal is expected to generate by 2027, according to UBS. The majority—$6 billion—will likely come from cutting headcount across the firms' combined operations. At the time of the merger, UBS had 74,000 employees and Credit Suisse had 50,480. No job cuts have been announced yet.

Person of interest: Christian Bluhm
Christian Bluhm, the UBS group's chief risk officer, was slated to hand over the reins to a successor, Damien Vogel, as of May 1. But the switch will not now happen as scheduled. Bluhm has agreed to remain in his role "for the foreseeable future," UBS said today (April 24). Bluhm will be the point person on the large ocean of risk that Credit Suisse represents within the UBS group.

A brief recent timeline of Credit Suisse's collapse
March 2021: Greensill Capital, a British financial services companyfocusing on supply chain and accounts receivable financing, fails, costing Credit Suisse's clients around $3 billion.
April 2021: Credit Suisse takes a $4.7 billion hit in the meltdown of the US hedge fund Archegos Capital, to which it provided brokerage services. The Swiss bank fires at least seven executives in the aftermath.
January 2022: Antonio Horta-Osorio, Credit Suisse's chairman, is forced to resign after twice violating covid-19 quarantine rules.

February 2022: Credit Suisse is accused of failing to prevent a Bulgarian crime ring from laundering money related to cocaine trafficking. Four months later, a Swiss court finds the company guilty and orders it to pay $22 million in the country's first criminal trial of one of its major banks.
The same month, leaked data of 18,000 Credit Suisse customer accounts, holding more than $110 billion, reveals the dubious identities of some accountholders: people involved in human trafficking, drug trafficking, and torture, among other illicit activities.

March 2022: US lawmakers start investigating Credit Suisse over compliance with sanctions against Russian oligarchs following Russia's invasion of Ukraine.
February 2023: Credit Suisse posts its worst loss in 15 years: $7.9 billion for all of 2022, compared to $8.9 billion during the financial crisis in 2008. The poor performance comes at the heels of unprecedented withdrawals.
March 2023: After Signature Bank and Silicon Valley bank collapse in the US, attention turns to scandal-ridden Credit Suisse, which sees a surge in panic withdrawals. Credit Suisse outlines an overhaul, but its largest investor, Saudi Natural Bank, is not open to pumping in any more money. Halfway through the month, Swiss authorities usher in UBS to buy Credit Suisse. "UBS will be the surviving entity upon closing of the merger transaction," Credit Suisse says.
Related stories
💸 UBS's takeover of Credit Suisse failed to reassure markets
🫳 JPMorgan says UBS should be Credit Suisse's savior
🏦 The loss of a major shareholder delivers another blow to Credit Suisse