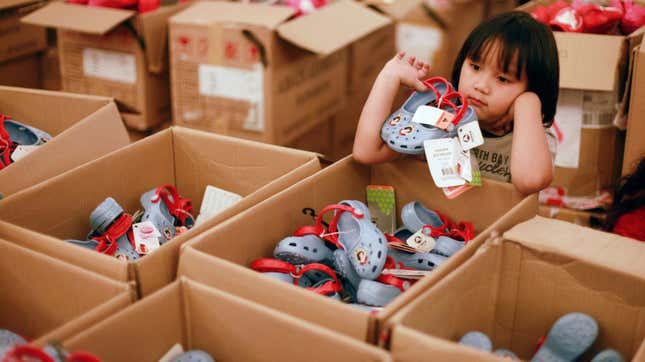 Who knew rubber clogs of a childhood past would become part of the cultural zeitgeist 20 years later?

3 considerations before your company takes a stance
Crocs, the foam resin clogs that first arrived in stores in 2002, are more popular than ever. When the Colorado-based brand posts earnings tomorrow (Feb. 16), it's expected to report another great quarter.
A combination of comfort, affordable price point, and celebrity fans are landing the ugly-cool footwear in more and more shoe closets. Their classic clog is a permanent fixture on Amazon's best-selling list and the brand has avoided the curse of the pandemic darling, increasing its revenue even after a covid lockdown-related boost.
Crocs' stock has been steadily climbing up in the past year but at $122, and it could spike on a positive earnings report—but it's still nowhere near the all-time high of $180 it reached in November 2021.
Crocs' financial report card, by the digits
$935 million: The company's expected fourth-quarter total revenues, up 60% year over year, according to the Zacks Consensus Estimate
2: Times Crocs has missed estimates in the last five years. And the last time was in 2020, when the pandemic hit.
$2.3 billion: How much Crocs spent on acquiring Italian shoe company HEY DUDE in 2021, which has increased the capital for the company and boosted the earnings and revenue for the past few quarters
$3.55 billion: How much Crocs revised its yearly revenue estimate to, driven by Gen Z's love for HEY DUDE, making the brand one-third of the company's overall sales in 2022
85: Countries Crocs are sold in
100 million: Shoes Crocs sells worldwide annually
Quotable: How Crocs embraced its polarizing product
"Yes, we're ugly; yes, we're polarizing. But importantly, we're one-of-a-kind. And what we recognized is that this is exactly what resonated with some of our fans: They too see themselves as one-of-a-kind." —Heidi Cooley, Crocs's chief marketing officer, said six years ago
Charted: 2022 was Crocs' best year yet
Why is Crocs having its Cinderella moment?
🏡 Comfort. The pandemic changed the rules of fashion as people worked-from-home in pajamas and athleisure gained traction. Unsurprisingly, it was also when Crocs started posting record sales. Outside the house, it's a favorite among nurses, kitchen workers, and whoever has to be on their feet for much of the day.
👩‍🎤 Celebrity stamps of approval. Popstar Ariana Grande loves to flaunt her Crocs. Rapper Post Malone and singer Bad Bunny's collabs with the brand were hot properties that sold out swiftly. Another music icon, Justin Bieber, who also had a successful collaboration with the brand, even donned a pair (granted, a Balenciaga one) at the 2022 Grammys.
📢 Campaigns. Crocs' "expanded digital and omnichannel capabilities have been significant growth drivers," according to Zacks Consensus Estimate. "Increased focus on the Crocs mobile app and global social platforms bodes well. Gains from strategic collaborations and influencer campaigns, along with digital and social marketing efforts, are expected to have been upsides."
✋ Customizations. Gen Z loves products that have iconic silhouettes but also allow for personalization. Crocs' Jibbitz—the little charms that fit into the holes—provide just that.
👁 Change. The brand has evolved from just the signature clogs punched with holes to include two-strap slides and even budget-friendly boots that serve as Balenciaga dupes.
Related stories
🦶 Crocs are now mainstream footwear, like it or not
🌟 The unlikely partnership between pop stars and Crocs
👠 Balenciaga's stiletto Crocs are dumb footwear but great marketing