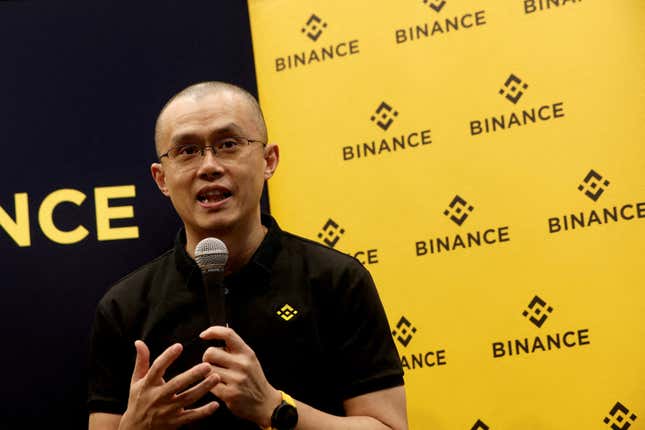 The US Commodity Futures Trading Commission (CTFC) is suing Binance, alleging that the popular crypto exchange illegally sold crypto derivatives—for currencies including bitcoin, ethereum, litecoin, tether, and binance USD— to retail investors.
The lawsuit (pdf) accuses Binance employees of explicitly encouraging certain customers to use illegal VPNs for trades, while directing customers designated as important to set up shell companies in places like the British Virgin Islands and the Netherlands to avoid US trading restrictions.
The CTFC charged Binance with a number of additional violations, including failing to register as a futures commissions merchant, poorly supervising its business, and failing to implement routine processes for sniffing out money-laundering by customers.
"Zhao answers to no one but himself"
The lawsuit, filed March 27 in the Northern District of Illinois, also names Binance CEO and founder Changpeng Zhao, accusing him of using a maze of corporate entities to obscure company ownership and willfully evade US law, saying that "Zhao answers to no one but himself."
This marks the first major lawsuit against a crypto company by federal commodity regulators int he US since BitMEX was ordered to pay $100 million for illegally operating a foreign derivatives trading market in 2021.
What is a crypto derivative?

Buying crypto derivatives is not the same as purchasing cryptocurrency itself. Rather, buying a derivative—something that is possible for any commodity—allows an investor to place a leveraged bet on whether the price of a cryptocurrency like Bitcoin will rise or fall.
This practice is heavily regulated by the CTFC in the US (and completely illegal in some countries, including the UK), with regulators deeming the trades too easily manipulatable to be suitable for retail investors. Purchasing crypto derivatives in the US requires a litany of protections, including safeguards for investors and strict guardrails against money-laundering risks.
A 2021 report by the Wall Street Journal found that American investors routinely used VPNs to access overseas cryptocurrency markets, in violation of CTFC regulations.
"Binance has instructed U.S. customers to evade such controls by using VPNs to conceal their true location," the CFTC's lawsuit alleges. "VPN use by customers to access and trade on the Binance platform has been an open secret, and Binance has consistently been aware of and encouraged the use of VPNs by U.S. customers."
Bitcoin has slightly rebounded after a terrible 2022


Related stories

🫰 Jack Dorsey's fintech company Block is being accused of facilitating criminal activity
🏦 First Citizens Bank will nearly double its assets by buying Silicon Valley Bank
💰 UBS's takeover of Credit Suisse failed to reassure markets