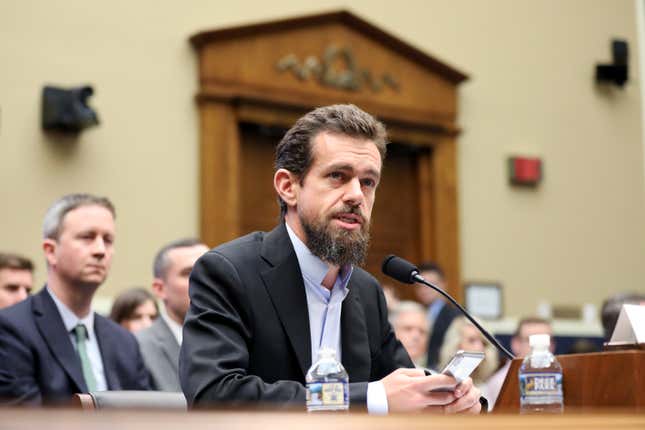 Hindenburg Research announced that Block—the wide-ranging fintech company founded by former Twitter CEO Jack Dorsey—was its latest short position, after accusing the company of widespread fraud in its performance metrics.

In a report issued on Thursday (March 23), Hindenburg claimed that Block (formerly known as Square) misleads investors by overstating user numbers with "fake and duplicate accounts."
Block condemned the report in a public statement, saying it was exploring legal action against Hindenburg for sharing "factually inaccurate and misleading" information. "We are a highly regulated public company with regular disclosures, and are confident in our products, reporting, compliance programs, and controls. We will not be distracted by typical short seller tactics."
Hindenburg, which recently short-sold the Adani Group and wiped out $120 billion of the Indian conglomerate's market value, also alleged that Block's lax oversight allows criminal activity to flourish on its money-sharing applications like Cash App. Block's share price fell 13% on the news, as of midday in New York.

Nathan Anderson's Hindenburg has accused Block of being "predatory"

Hindenburg's report included a litany of financial crimes and unethical practices. "Block has systematically taken advantage of the demographics it claims to be helping," the report claimed, slamming Block for an allegedly predatory strategy of targeting minorities, millennials, and Gen Z with inflated fees and loan rates.
"The 'magic' behind Block's business has not been disruptive innovation, but rather the company's willingness to facilitate fraud against consumers and the government, avoid regulation, dress up predatory loans and fees as revolutionary technology, and mislead investors with inflated metrics," the report claimed.

Hindenburg also pointed to Cash App's lack of oversight over "unbanked" customers, many of whom allegedly use the service for criminal or illicit activity. Former Block employees were interviewed in the Hindenburg report, disclosing that internal concerns about such activity were suppressed by management.
How Hindenburg revealed flaws in Block's Cash App

One way in which Hindenburg exposed Cash App's lack of regulation was by registering an account and receiving a debit card using the name of president Donald Trump.
The report found that up to 35% of Cash App's annual revenue (or $892 million) is derived from interchange fees—a transaction cost charged to merchants every time a consumer uses a debit or credit card. This breaks profit cap regulations on major financial services, Hindenburg alleged, adding that Block avoids these regulatory caps by routing the revenue to a small bank.
The Hindenburg report also said that Cash App purposefully avoids enforcing money-laundering laws, so as to grow its user base. Former employees estimated that anywhere from 40% to 75% of the accounts they reviewed were fake.
What services does Block own?
🤑 Cash App: The focus of Hindenburg's accusations, Cash App is a mobile payment service similar to Venmo or Paypal, aimed at Gen Z. In 2021, the service reported 70 million users.
🖥️ Weebly: Similar to WordPress or Squarespace, Weebly is a do-it-yourself website builder. It is one of the older services of its kind, founded in 2007.
◼️ Square: A financial services platform, Square's target consumers are small-to-medium-sized businesses who want a third-party solution to accept digital payments and keep track of receipts.
🎵 Tidal: A music streaming service founded by a Swedish company in 2014, Tidal has the backing of several prominent celebrities like Jay-Z. It is designed to offer higher-quality audio tracks than its competitors.
What's the deal with Afterpay, Block's controversial buy-now, pay-later service?
One of Block's most popular services is Afterpay, a ubiquitous buy-now-pay-later company that allows consumers to spread out payments on even minor purchases. Afterpay is marketed towards young people, with millennials making up three-quarters of all users.
However, Afterpay has been criticized in the past for levying harsh late fees on payments and for encouraging young people to enter cycles of debt in the pursuit of luxury consumer goods. Afterpay has faced a series of class-action lawsuits from consumers who claim that the company misrepresents its fee structure in its marketing.
Additionally, Australian financial regulators began investigating Afterpay in 2019, ordering an audit over concerns that it was not adequately complying with anti-money laundering and terrorism-financing laws. Regulators announced the end of the audit a year later, saying that the company had completed the remediation necessary to ensure future compliance.
Related stories
💵 Billionaire Ray Dalio joins Cash App's campaign to become the bank of Gen Z
🦤 Jack Dorsey texted Elon Musk to say Twitter never should have been a company
Editors note: This story has been updated with a response from Block.