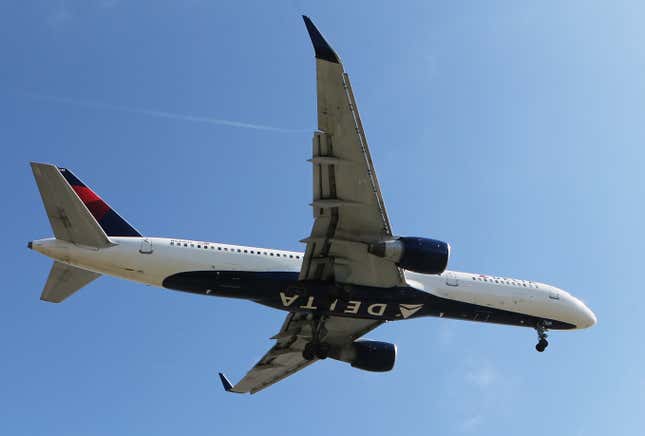 Delta Air Lines' green credentials are facing a legal test.

A consumer class action lawsuit filed Tuesday (May 30) calls out the Atlanta-based carrier's claim of being "the first carbon neutral airline on a global basis," as "false and misleading."
Why a tightening of credit conditions could lead to a weak economy
The lawsuit was brought by California resident Mayanna Berrin on behalf of herself and other fliers who bought Delta tickets with the intention of partaking in more ecologically conscious air travel. According to the complaint, Berrin did not understand at the time she bought her tickets that the airline's "carbon neutral representations were false" or she would have made a different decision.
In February 2020, Delta pledged to invest about $1 billion over the next decade to become the world's first-ever carbon-neutral airline on a global basis, meaning that it would remove from the atmosphere the same quantity of greenhouse gas emissions generated by its operations. "When customers choose to fly Delta, they should feel they're making a statement about taking care of our planet," Delta CEO Ed Bastian said at the time. Rival airlines like British Airways owner IAG, Qantas, and Etihad have set net-zero targets for 2050.
Delta, which also owns its own oil refinery in Pennsylvania, said it would reduce jet fuel usage and improve plane efficiency as part of its plan to achieve carbon neutrality. However, according to the lawsuit, it has heavily relied on carbon offsetting—a loose arrangement that facilitates investment in green projects, such as renewable energy and prevention of deforestation, in exchange for credits to compensate for the emissions released by the companies.
Delta has purchased credits from projects including wind and solar projects in India and an Indonesian swamp forest, the lawsuit says. But, it alleges, the effects of these moves aren't as big as they appear, nor are they lasting. Berrin is seeking damages for herself and others affected, and also asking the company to "disgorge revenues and profits wrongfully obtained."
"This lawsuit is without legal merit," Delta said in response to the allegations. "Delta is a vigorous advocate for more sustainable aviation, adopting industry-leading climate goals as we work towards achieving net-zero carbon emissions by 2050."

The problem with Delta's carbon offsetting credits
A voluntary carbon offsetting program can't make a company "carbon neutral" because it is ridden with flaws, the lawsuit explains:
❌ There's inaccurate accounting.
🏗️ The projects would have occurred with or without offset market investment anyway.
🔮 These count non-immediate speculative emissions reductions that will at best occur over decades, but purchasers will be credited with the sum of those projected offsets anyway.
🤷 The investments are being made in impermanent projects subject to disease, natural disasters, and human intervention. For instance, trees planted today could succumb to wildfire, disease, pests, or extreme weather as the world warms.
Quotable: The problem with "carbon neutral" claims
"The language carbon neutral is so provocative. When I hear 'carbon neutral,' I think you're not doing anything wrong; you're not hurting the environment in any way. It's like you don't exist. That's what the words mean to any rational person: that we can participate in your business without any guilt."—Krikor Kouyoumdjian, a partner with the lawsuit's representing legal firm Harderlein and Kouyoumdjian LLP
Delta's carbon neutrality plan, by the digits
98%: Share of Delta's carbon footprint that comes from its aircraft
$30 million: How much Delta Air Lines said it would spend in March 2021 to offset 13 million metric tons of carbon emissions generated between March and December 2020
10%: Share of its jet fuel Delta said it would replace with sustainable aviation fuel by the end of 2030
25%: How much more fuel-efficient its replacement planes for the 200-odd planes retired in early 2020 will be, according to Delta's announcement in March 2021
2%: Share of global carbon emissions that the aviation sector generated in 2021, according to the International Energy Agency
Airline of interest: KLM
In April, a Dutch court heard a non-profit's arguments against European carrier KLM for similar greenwashing in its "Fly Responsibly" advertisements. The campaign, launched in 2019, urged customers to help pioneer a "sustainable future" for aviation by paying towards reforestation projects or greener aviation fuels.
Related stories
🌀Delta thinks airline carbon emissions could peak by 2025
💨 Unsurprisingly, Chevron's carbon offsets are mostly junk