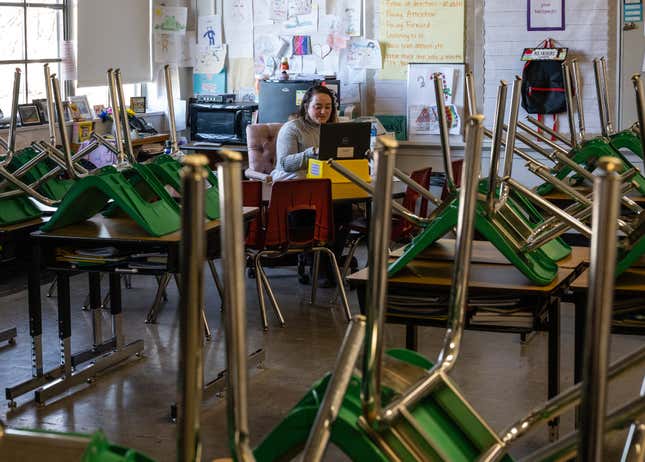 Eighth-grade history and civics test scores in the US fell to the lowest level on record last year, in line with broad post-pandemic declines in math scores and reading comprehension.
According to the National Center for Education Statistics (NCES)—commonly known as 'The Nation's Report Card'—only 13% of eighth graders were at a proficient level for US history, a benchmark meaning they are able to describe the country's major themes, events, people, and ideas. Roughly a quarter of students were considered proficient in civics.

The decline is concerning considering a growing amount of disinformation in the American political process.
"A well-rounded education includes a thorough grounding in democratic principles, and these assessments challenge students to show their knowledge and skills as they prepare to become full participants in American democracy," NCES Commissioner Peggy Carr said in a statement.
The average test score last year was 258 out of a possible 500. Students are considered to have a basic understanding of historical concepts if they reach 252, with a proficient level benchmark considered to be 294.

Civics scores similarly declined, with nearly a third of eighth graders not reaching a 'basic' understanding of the subject.
Additionally, only 68% of students reported taking US history classes in eighth grade—a four percent decline since 2018—while roughly half report taking a class primarily focused on civics or the US government.

Test scores are down across the board. Is the pandemic to blame?
The NCES reported similar results in middle schoolers' math and reading comprehension last November, suggesting that pandemic-era restrictions on in-person school attendance led to a sharp decline in scores.
Between 2022 and 2019, the average fourth-grade math test score decreased by 5 points, reaching its lowest level since 2005. The average score of eighth-grade students fell by 8 points, reaching its lowest level since 2003.
Meanwhile, reading scores for eighth graders declined to the lowest level since 1992 for both age groups, exacerbating a downward trend for reading comprehension since 2017.
Recent data suggest the pandemic-era restrictions are a large force behind the broad declines. According to a study published last year by Brown University economist Emily Oster, students who primarily attended online classes in the 2021-2022 school year performed 8 percentage points lower in reading comprehension and 13 percentage points lower in math than students who primarily attended in-person classes.
Related stories:
"Dad wants to play mahjong": The struggles of remote learning in Hong Kong during coronavirus
America's universities are reckoning with online education
French parents weigh the risk of sending their children back to school