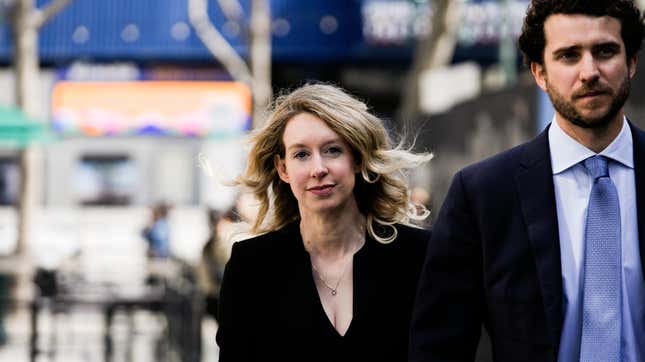 Elizabeth Holmes has managed get a bail extension one day before she was due to report to prison.
Paulina Porizkova on being an Estee Lauder model
Holmes, the disgraced 39-year-old founder of the fraudulent health startup Theranos, was due to start serving her 11-year-and-then-some jail sentence starting today (April 27). But a last-ditch appeal filed by her lawyers late Tuesday night (April 25) has bought her more time.
Until the Court of Appeals for the Ninth Circuit rules on her petition—which challenges a US district judge's dismissal of her request to remain free on bail while she fights for retrial and resentencing—Holmes doesn't have to turn herself in. At the moment, no one knows when the Court of Appeals will issue its decision.

Ramesh "Sunny" Balwani, Holmes's ex-boyfriend and former partner, who is also going to prison over the fraud at Theranos, tried the same legal maneuver to defer his March 16 prison reporting date. But it didn't hold up for long. The appeals court rejected his request, and Holmes' co-conspirator turned himself in "smoothly without incident" in San Pedro, California, on April 20.
From Palo Alto to prison: A brief history of Theranos fraud
2003: At the age of 19, Holmes establishes Theranos, a blood-testing startup.

2004: Holmes drops out of Stanford and focuses on her startup.
2013: Theranos goes mainstream, attracting public attention with press releases and media features. It also announces a partnership with Walgreens.
2014: Theranos reaches its peak valuation of $9 billion.
October 2015: John Carreyrou, a Wall Street Journal reporter, publishes exposés alleging incompetence within the Theranos management, constraints to the capability of the tech, and public deception. The stories spark government investigations.
November 2015: Safeway ends its partnership with Theranos after spending $350 million to build clinics in more than 800 of its stores.
June 2016: Walgreens ends its association with Theranos. The drugstore chain had paid the startup $140 million, of which $100 million was an "innovation fee."
March 2018: The Securities and Exchange Commission (SEC) charges Holmes and Theranos's former president Ramesh "Sunny" Balwani (also Holmes' ex-boyfriend) with raising more than $700 million from investors through an elaborate, yearslong fraud in which they exaggerated or made false statements about the company's technology, business, and financial performance. The settlement in the civil case strips her of voting control, bans her from being an officer or director of any public company for 10 years, and requires her to pay a $500,000 penalty. The criminal case continues.
June 2018: A federal grand jury indicts Holmes and Balwani on two counts of conspiracy to commit wire fraud and nine accounts of wire fraud, alleging they defrauded investors as well as patients and doctors. Holmes steps down as CEO.
September 2018: Theranos winds down.
July 2021: Holmes gives birth to her first child, leading to a delay in her trial date.

Sept. 2021: Holmes's trial begins.
January 2022: Holmes is found guilty of conspiracy and wire fraud to the tune of $140 million. She faces a maximum sentence of 20 years in prison, and a fine of $250,000, plus restitution. She is acquitted on all counts of defrauding patients.
November 2022: Prosecutors ask for a 15-year prison sentence for Holmes. She gets 11 years and 3 months.

December 2022: Balwani is sentenced to 13 years in prison. He was held accountable for defrauding investors as well as patients.
February 2023: A court filing reveals that Holmes, who was pregnant during her trial, has given birth to her second child.
April 2023: A judge rules that Holmes cannot stay out of prison while she appeals her conviction. Her lawyers appeal this ruling on April 26—a day before she was meant to report to prison. She can now stay out of prison until a Court of Appeals rules on her request.
By the digits: The sentencing of Elizabeth Holmes

82: The number of pages in the memorandum submitted by Holmes's lawyers before her sentencing, urging the judge to "examine Ms. Holmes the human being," reminding the world that she had started Theranos as "teenager who had four quarters of college and some laboratory research experience under her belt but no business or management experience."
130+: The number of letters penned by "individuals who actually know Ms. Holmes," making a case for more lenient sentencing before the verdict.
3: The number of attempts Holmes made to secure a retrial after her January 2022 sentencing. In one, the former Theranos lab director Adam Rosendorff apologized for the role he played in her conviction. In another, Holmes's lawyers argued that prosecutors portrayed her relationship with Balwani and the signifance of their age gap (18 years) differently in each of their trials, to her disadvantage. Finally, Holmes blamed prosecutors for failing to preserve a Theranos database that she claims would have helped her during her trial. All three requests were denied.
$4.5 billion: Holmes' net wealth at the peak of her success, which nosedived to zero after her legal troubles.
540: The number of female inmates at Federal Prison Camp in Bryan, Texas, where a judge has recommended that Holmes carry out her sentence. The minimum-security women's facility, located 100 miles northwest of Houston, has a low staff-to-inmate ratio and is a work- and program-oriented facility that is more conducive to family visits.

Related stories
🏪 How Safeway and Walgreens fell for the Theranos pipe dream
🦾 The Theranos saga is coming to a close, but the tech founder's myth lives on
👊 Theranos president Sunny Balwani got more jail time than founder Elizabeth Holmes