Stephen King is once again peeved with Elon Musk. "My Twitter account says I've subscribed to Twitter Blue. I haven't," King tweeted on April 20. "My Twitter account says I've given a phone number. I haven't." When you hover over the little blue tick on King's profile, it still indicates that he has personally subscribed to and paid for Twitter Blue—even though he claims he hasn't.
King's complaint hints at potentially serious regulatory problems for Twitter, legal experts told Quartz. In misrepresenting who is paying for Twitter Blue and who isn't, Twitter could be flouting consumer protection laws and angering regulators at a time when the US Federal Trade Commission (FTC) is already scrutinizing Twitter's behavior.
Elon Musk's blue checkmark fiasco
What on earth has been happening with blue checkmarks on Twitter? Here's the gist of it:

When Elon Musk took over Twitter in October, he repackaged and relaunched the Twitter Blue subscription service that Twitter debuted in 2021. Musk raised the price but also added a key feature that the old subscription didn't have: verification. Users could now pay $8 a month and get the same blue checkmark that was once reserved for notable people such as celebrities, journalists, and academics. (The new verification system does not even require that users upload identification documents such as a driver's license.)
At first, users had to hover over the blue checkmark to find out whether a verified person was "notable" under the old system or had simply paid eight bucks. Twitter then conflated the two types of verification so outsiders couldn't easily tell the difference. But then, on April 20, Twitter removed all of the old checkmarks. Now, supposedly, only paying subscribers have blue ticks.
But almost no celebrities (except perhaps for Sean Lennon, oddly) signed up for Twitter Blue.
So, what did Musk do? He verified them anyway. Suddenly Lebron James and William Shatner and, yes, Stephen King were all verified. And despite the fact that they did not pay, their profiles claim they did.
Twitter's confusing new checkmarks could spell regulatory trouble
By claiming celebrities have bought Twitter Blue when they haven't, Twitter could be engaging in false endorsements and deceptive trade practices, which are prohibited by federal law, according to John Davisson, the senior counsel and director of litigation at the Electronic Privacy Information Center.
"Star power is a valuable marketing tool, and Twitter clearly knows that—how else to explain the decision to restore blue checkmarks only to the most popular accounts?" Davisson wrote in an email to Quartz. "But if a celebrity hasn't actually subscribed to Twitter Blue, it's [a] materially misleading statement to claim they have."
Twitter's behavior effectively implicates celebrities in a marketing campaign for Twitter Blue, Kathleen McGee, a partner at Lowenstein Sandler and the former bureau chief of the New York Attorney General's Bureau of Internet and Technology, said in an interview. "It does feel a little like an undisclosed paid endorsement except for, of course, the only one paying for it is Twitter," she said. It could also bring up questions of whether Twitter is misappropriating the likeness of certain celebrities for the company's gain, she added, for which those celebrities could personally sue.
The FTC told Quartz it had no comment to make. One former FTC official, who spoke to Quartz on condition of anonymity, took issue with Twitter's "crappy" new system for verification, which effectively gives a blue tick to anyone who pays $8.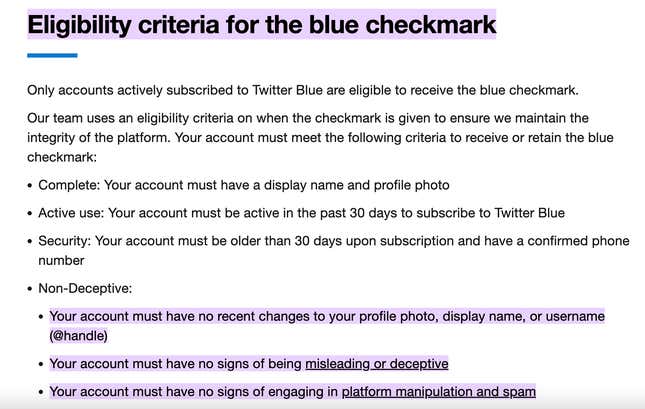 "If the old criteria was much more rigorous, then the people who have been using Twitter would have understood the checkmark to mean something it no longer means," the former official said. "To be an FTC violation as deceptive, what matters is how people interpret it, not what Twitter intends."
Twitter already had a big FTC problem 
Twitter's troubles with the FTC predate Musk's involvement at the company. In 2010, Twitter settled charges with the FTC over lackluster data privacy protections for users and promised to establish a comprehensive privacy program. But in 2022, the FTC charged Twitter with violating the original consent decree, fining the company $150 million and adding new compliance requirements .
All of those stipulations were inherited by Musk when he took over the company. So when Musk laid off nearly 80% of the company's staff, the FTC reportedly started an investigation into whether a bare-bones Twitter has been upholding the stringent terms of the settlement, which mandates certain data privacy and security safeguards. And Musk may be worried: The New York Times reported recently that Musk sought a meeting with FTC chair Lina Khan, only to be rebuffed.
But perhaps he's not worried enough.
"If Twitter has a third order [from the FTC], it's going to be a lot stricter than the first and second, and it could regulate this very thing they're trying to make money off of—these blue checkmarks," the former FTC official said. "If Musk is named, it could really undermine the future success of Twitter, and it could interfere with Musk's operation of his other companies."
Davisson said it's not clear if the blue checkmark fiasco violates Twitter's consent decrees, but it could open Twitter up to additional liabilities from state and federal regulators. Additionally, he said, the FTC has "taken a hard line on false endorsements in recent years."
"I think the FTC is going to have a very strong desire to throw the book at Twitter," the former FTC official said.