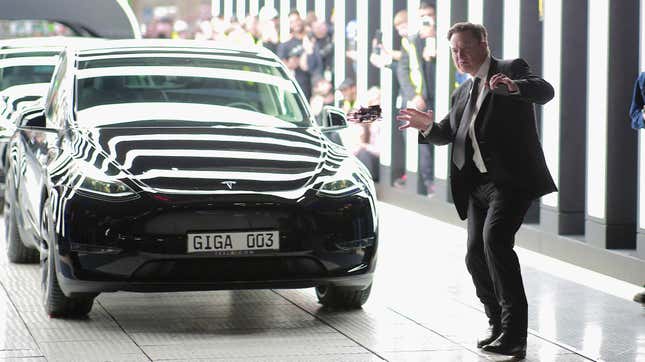 Four years before Elon Musk bought and took Twitter private, he claimed he was going to take his electric vehicle manufacturer Tesla down that route. The world's second-richest man is now facing his day in court for those claims.

Paulina Porizkova on being an Estee Lauder model
On Aug. 7, 2018, Musk tweeted this to his then 22 million-strong following:

"Am considering taking Tesla private at $420. Funding secured."
Tesla's stock rallied on the news. But days later, when it became apparent that a buyout wasn't materializing, it fell back down and it fell further.
Investors who incurred millions of dollars of losses due to the stock's volatility during the 10-day period between Aug. 7 and Aug. 17 that year filed a class action lawsuit against Musk. The trial starts today (Jan. 17) in San Francisco with jury selection, and it's expected to last three weeks.
Still one of the richest people in the world even after recording the biggest loss of personal fortune ever recorded in history, Musk faces paying millions of dollars in damages if he loses.
Quotable: The price investors paid for Elon Musk's 2018 Tesla tweets
"Damages include losses resulting from the effect on the prices of Tesla securities immediately following the August 7, 2018 tweets, that was then corrected from August 8, 2018 to August 17, 2018 as the falsity of the tweets was realized by investors. The damages also include losses suffered by the impact on the prices of Tesla securities resulting from the direct consequences of Musk and Tesla's false statements such as increased litigation and regulatory risk, exposure of serious flaws in Tesla's corporate governance, etc., again realized over the course of the class period as the falsity of their representations was appreciated by the market." —Lead plaintiff Tesla shareholder Glen Littleton's trial brief in October 2022
A brief summary of Musk's run-in with the SEC over Tesla sale tweets
Not only did Musk presumptuously announce the Tesla buyout, he doubled down on the prospect of a sale, adding that only a shareholder vote was pending. He even penned a blog post about what it would have meant for investors and employees, and said Goldman Sachs and Silver Lake were coming on board as financial advisors.
But of course, Tesla never went private—and apparently, it was never going to.
A little over a month after his controversial August 2018 tweet, the Securities and Exchange Commission (SEC) announced a settlement in the case. In their press statement, the regulators said Musk knew all along no such deal would be happening. Tesla and its CEO agreed to pay hefty fines and Tesla board member Robyn Denholm replaced Musk as chairperson at the company.
Musk has claimed he'd been in talks with Saudi Arabia's sovereign wealth fund for two years and he thought there was "no question" about a deal coming through. He also denounced the SEC settlement, alleging that he made it under duress. He's since fought back on having to get his tweets vetted with his lawyers, too, arguing that the "government-imposed muzzle" on his speech is illegal.
Musk's plan to take Tesla private, by the digits
$420 per share: The price at which Musk claimed he was taking Tesla private at— almost a 20% premium to its trading price at the time
6%: Tesla stock price's jump on the day of Musk's "funding secured" tweet, which led to "significant market disruption," according to the SEC
$14 billion: How much Tesla's stock swung by during the 10-day period covered in the lawsuit, according to shareholders
$3.5 million: How much money Glen Littleton claims to have lost on his Tesla shares because of Musk's tweets
$40 million: Penalties paid by Musk and Tesla—$20 million each—to be distributed to harmed investors. They settled without admitting or denying the SEC's allegations
82%: Share of the 200 candidates the court is considering for jury who said they had an unfavorable opinion of Musk in a pre-trial questionnaire
Person of interest: Saudi Wealth Fund Chief Yasir al-Rumayyan
Musk's lawyers wanted Yasir al-Rumayyan, the governor of the Public Investment Fund (PIF) and chair of Saudi Aramco, to testify on behalf of the magnate and his claims of reaching a "handshake" agreement. But al-Rumayyan has refused to do so.
Rumayyan's lack of public support has left Musk frustrated. In August 2018, Bloomberg reported that the PIF was in talks with Musk over taking Tesla private, but the Saudi fund declined to comment. "You are throwing me under the bus," Musk reportedly then wrote in a text exchange.
The case is stacked against Musk
The case's conclusion hinges on what the jury decides were Musk's motives in sending the tweets. Did he genuinely believe Tesla would go private? Or was he trying to target short-sellers? Experts expect Musk to lose.
Whatever the outcome, US district judge Edward Chen has so far refused to extend much sympathy to the Tesla CEO.
For one, he has said "the jury will be told that the Court has already found that the August 2018 tweets were false and made with the requisite scienter." (Scienter is the legal term for knowingly committing wrongdoing.)
Separately, he rejected Musk's attempt to relocate the trial to Texas owing to the "local negativity" he faces in San Francisco—the home turf for his controversial Twitter takeover. Chen maintained that if an impartial jury could be chosen for Theranos founder Elizabeth Holmes in San Francisco, the same could be done for Musk, noting the tech CEO has enough "fans" in the city. Ultimately, the decision to hold the trial in California is linked to where Tesla's headquarters were located in 2018 (the company has since relocated to Texas). Lawyers representing Tesla's shareholders also noted that if Musk's reputation holds sway on the jury, a change of location might not matter much. After all, he's been referred to as the "worst resident" of Austin, Texas.