Hi Quartz Africa readers! [insertSponsor]
Assertive populism
Tanzania's president John Magufuli has been a blend of populist and "action man" since he took office in October 2015. His administration has dealt noisily with corruption and getting rid of the inefficiencies of government, especially as represented by firing seemingly incompetent managers.
Magufuli's can-do image has been welcomed and he's probably been as popular around Africa as at home. Of course, it hasn't all been smooth sailing. He's also accused of having authoritarian tendencies particularly with regards to press freedom and policing social media use.
But his latest move to aggressively reform the country's mining industry may turn out to be his most significant. After months of negotiating with the country's largest gold miner Acacia, Tanzanian regulators got fed up with what they saw as the company's intransigence and hit it with a $190 billion fine for undeclared revenues and unpaid taxes. That number sounds outlandish because it's four times Tanzania's GDP or equivalent to two centuries of Acacia's revenues. By some estimates the value all the gold in Acacia's Tanzanian mines is around $10 billion.
Magufuli's response to delays in negotiations with Acacia is, "I will close all mines and give them to Tanzanians." This sounds great in principle but shutting down the country's largest miner and risking 40,000 jobs is not as easy a decision as the populist rhetoric.
As seen with Nigeria's battle with MTN over a $5.1 billon fine or Chad's $74 billion fine against Exxon Mobil, these moves against "arrogant" multinationals are usually quite popular at home. Extractive industries in Africa are particularly vulnerable to exploitation by partners but more so from those in power. Take DR Congo where a recent investigation found only 6% of mining export revenue made its way to the country's budget.
Yet, if well handled—with a focus on the corporate's wrongdoing under existing reasonable laws—this kind of assertiveness with investors is a good thing for any country. But if the fines and punishment don't fit the crime, so to speak, or if new emergency laws are applied retroactively, that kind of thing sets a dangerous precedent. It will lead to future investors holding back capital from all areas of the economy or demanding onerous terms if they do invest.
Modern African leaders often say their countries are no longer focused on receiving aid but looking for foreign investment and partners to accelerate development. They must protect their citizens from being exploited but investors won't come if they believe they're the ones who are going to be exploited.
Yinka Adegoke, Quartz Africa editor
Stories from this week
Photos: Competitive cycling is isolated Eritrea's window to the world. Eritrea has become an isolated country since independence in 1991. But, reporting from the capital Asmara, Aidan O'Donnell finds a nation where professional cycling is not only celebrated but also acts as a gateway to the world.
Farmers are the secret ingredient for Ghana's most innovative startups. Traditional venture capital focuses on funding start-ups in software, financial technology and e-commerce which have a more familiar route to profitability. Stacey Knott in Accra meets young Ghanaian innovators building startups with a social impact focused on agriculture and fisheries.
Adding Asians to Kenya's list of tribes shows an unhealthy obsession with "tribal purity." In mid-July, Kenya's government recognized the Asian community in Kenya as the country's "44th tribe". And while some observers say the move reeks of election gimmickry, others point at the designation as an extension of the divisive reality of tribal politics in Kenya, writes Abdi Latif Dahir.
Under a London tree, a Burkinabe architect designs a message about climate change. Francis Kéré became the first African to design the prestigious Serpentine Pavilion—erected every summer since 2000 in London's Kensington Gardens. Drawing on his childhood growing up near the Sahara, Kéré hopes to use the pavilion as a platform to discuss climate change.
Mobile money services are transforming Africa's markets. Mobile money adoption in Africa outpaced the growth in the rest of the world last year, making it easier for millions of people to do business, send, and receive money. As Moses K. Gahigi reports, mobile money user numbers have already surpassed those with traditional bank accounts in sub Saharan Africa.
Joburg wants to be a "world class African city"—but not for African foreigners. Johannesburg mayor Herman Mashaba has been leading a campaign to position the city as "world class" doing away with the crime and the grime. But his push to clean up the city has been targeting undocumented Africans for eviction more so than actual criminals.
CHART OF THE WEEK
Robots are taking manufacturing jobs before Africa has enough of them. Across Africa, industrial robots are making cars and digging diamonds—increasingly threatening low- and semi-skilled jobs that could have employed the continent's young population. But instead of seeing automation as a threat, manufacturers could leverage the technology and make Africa a hub for making more complex products, explains Lynsey Chutel.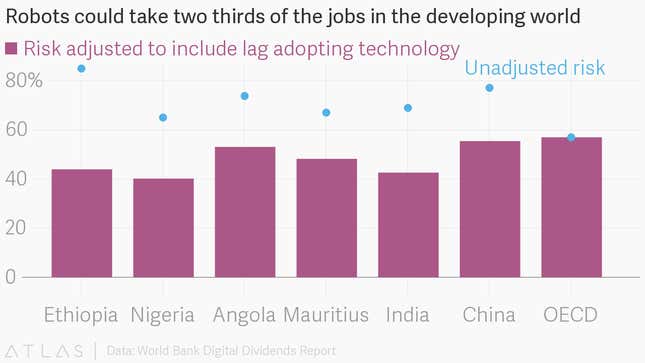 Other Things We Liked
How African medical students created a new style of Cuban music. For decades, medical students from Ghana, Angola, and Nigeria took with them Kuduro and Afropop music to Cuba. Their interactions with locals prompted the birth of Bakosó, a Spanish language take on Afropop. In The Outline, Rawiya Kameir talks to Eli Jacobs-Fantauzzi, the director of a forthcoming documentary about the Bakosó genre of music. 
Bidding the CFA Franc monetary system adieu. In 1945, General Charles de Gaulle created the CFA franc currency to integrate the African states under French colonial rule—which is still used by Francophone countries till today. On the Africa at LSE blog, Ndongo Samba Sylla argues that the currency is a "colonial relic" and "an anachronism demanding orderly and methodical elimination."
A case of mistaken identity shows how not to solve the refugee crisis in Europe. In Italy, authorities are determined more than ever to capture smugglers involved in Europe's refugee crisis. But as Ben Taub writes in the New Yorker, this desire has led to a case of mistaken identity, which local courts refuse to acknowledge.
Keep an eye on
Atlas for Africa training in Nairobi (Aug. 1). As part of our ongoing training to bring Quartz's chart-building platform to newsrooms and organizations across Africa, we will be conducting our final training in Nairobi on Tuesday, Aug. 1. Interested participants should email us at: atlasforafrica@qz.com.
Rwanda's elections (Aug. 4). Rwanda will hold its third multiparty presidential election since the 1994 genocide that led to the killing of hundreds of thousands of people. President Paul Kagame will face opposition candidates including Frank Habineza from the Green Party.
Our best wishes for a productive and thought-filled week ahead. Please send any news, comments, suggestions, Eritrean pro cyclists and African industrial robots to africa@qz.com. You can follow us on Twitter at @qzafrica for updates throughout the day.
If you received this email from a friend or colleague you can sign up here to receive the Quartz Africa Weekly Brief in your inbox every week.