Hi, Quartz Africa readers!
The ultimate consumer good
African parents have always made incredible sacrifices to get their children formal education. Some of us are only a generation or two away from a time when formal education was optional or a luxury for the more fortunate. As we've previously discussed, widespread education is key to a nation's development—historical data going back to the 19th century shows this elsewhere in the world.
But even as universal primary education spreads across Sub Saharan Africa (and increasingly universal secondary education) it is difficult for most countries' education infrastructure to keep up with the rapid growth of their populace. And even if they did there's always a discussion about quality of the education being delivered.
At the tertiary level in particular, where most African universities have long lost pace with their local populations or their academic peers in richer countries. This is why it's been interesting to see the roll out of African campuses of American and British universities in Kenya, Rwanda and South Africa among others.
This need for private education at all levels for an underserved fast-growing population has, unsurprisingly perhaps, attracted investors over the last decade. They've come in hoping to plug the gaps by overwhelmed education ministries and it's expected there'll be much more private investment to come, according to research from LEK Consulting. It notes education enrollment ratios on the continent have been between 15%-20%, which is too low to move the needle in terms of education needs.
However investor interest is strong, education deals in Africa have grown from just three in 2004 to 73 worth $715 million between 2014 to 2018. The core area of interest is core K-12 and higher education where a total of 54 deals were done in those four years at a value of $466 million. It's worth noting there has been investment in education technology, distance learning and publishing as well.
South Africa and northern Africa have seen the biggest deals but with huge populations and demand from Nigeria and Ethiopia for example this space is likely just at the start of a rise.
LEK expects expansion to be driven by platform builders, more international universities, consolidation among independent players and innovation driven by venture capital. That may be true, but the reality is probably that the biggest demand will be driven by young Africans themselves.
— Yinka Adegoke, Quartz Africa editor
Stories from this week
How Google used machine learning to create a "Nigerian" voice and accent for Maps. Nigerian users of Google products like Maps are increasingly getting audio directions in a local accent. Yomi Kazeem explains the process through which the tech giant, using linguists and machine learning, configured a generic voice and accent in a country that's has hundreds of accents.
The problem with Ethiopia planting millions of trees to combat climate change.  Ethiopia planted nearly 353 million trees in a day as part of prime minister Abiy Ahmed's "Green Legacy" initiative. While the initiative is a well-intentioned national unity campaign, Haleluya Hadero notes the country's tree planting efforts seem to overlook previous afforestation issues.
Nigeria's largest mobile operator is about to become a bank. Despite a history of battling regulators in Nigeria, MTN, the country's biggest phone company, is doubling down by expanding its cache of local services. Its latest foray into the country's fledgling mobile money space is set to shake things up given its existing infrastructural network and vast subscriber base.
The symbolic "400-year" visit of black US lawmakers to Ghana. House speaker Nancy Pelosi, civil rights icon John Lewis, Ilhan Omar and other members of the United States Congressional Black Caucus visited the Cape Coast and Elmina slave castles in Ghana this week in a symbolic trip. It was to commemorate the 400th anniversary of the arrival of enslaved Africans in Virginia, reports Kwasi Gyamfi Asiedu from Accra.
A single West African "Eco" currency might destabilize Francophone Africa's stable monetary zone. While controversy surrounds the French colonial roots of the CFA franc in Central and West Africa, the two currencies, each backed by France's treasury, are considered among the most stable monetary zones in the world. But as discussions of a single "Eco" currency in West Africa ramps up, Cheikh Ahmed Bamba Diagne explores the concerns about the stability of a new regional currency. [En Francais].
A startup is using artificial intelligence to help African farmers tackle crop pests and diseases. A team of Cameroonian entrepreneurs has been testing an artificial intelligence platform to help African farmers tackle crop pests and plant diseases from their source. It's planning roll out the service across Africa beginning January 2020, reports Amindeh Blaise Atabong from Yaoundé.
Chart of the Week
There has been a significant rise in air traffic between China and Africa. Since 2010, direct flights between China and African countries has experienced a 630% increase in passenger traffic, finds Youyou Zhou—much of the expansion is driven by Ethiopian Airlines. For the most part, African passengers are skipping Beijing or Shanghai in favor of  a much more important trading city known for cheap goods and other opportunities.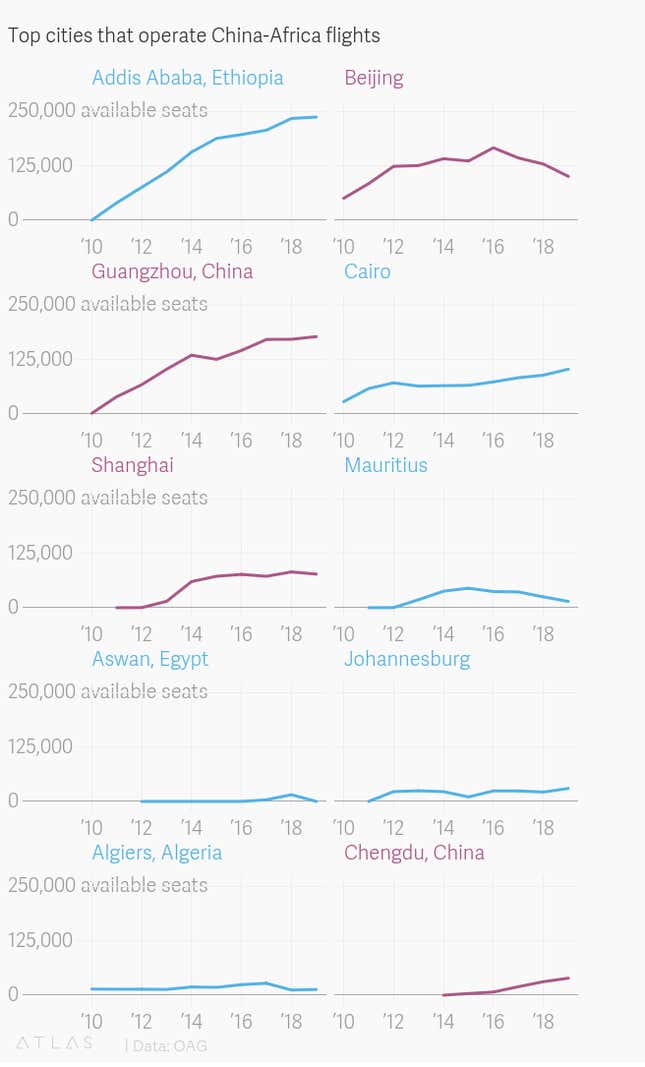 Other Things We Liked
Death on the Nile haunts Ethiopia's rebirth. The tragic death of the chief engineer of the Grand Ethiopian Renaissance Dam in July 2018 was ruled a suicide but raised many questions and doubts report Marc Champion and Nizar Manek for Bloomberg. The father of three found himself at the center of one of the continent's toughest and most fraught political storms primarily between Ethiopia and Egypt but involving local disputes as well.
What role do the diaspora have in rebuilding Africa? As many African countries contend with generational brain drain, Tosin Durotoye writes for Policy Center for the New South, of how people like herself have found their way back to their homelands. "Parallel to the brain drain is a brain gain….as economic crises and social unrest become the norm in several western countries – many young people of African descent have considered or begun moving back."
ICYMI
The Africa Initiative for Governance scholarships 2020/21. Africa Initiative for Governance (AIG) is funding five scholarships for outstanding individuals aged between 25 and 35 from West Africa to pursue the Master of Public Policy degree at the Blavatnik School of Government, University of Oxford. (Sep. 23)
African women researchers in health, agriculture, food security. Researchers with at least  years of postdoctoral experience are encouraged to apply to Women for Africa Foundation's Science by Women Programme for training to develop their research results into tangible social and economic benefits. (Sep. 30)
Keep Your Eye On
AGOA Private Sector Forum (Aug. 4). US and African companies will gather in Abidjan to explore new business and investment opportunities and discuss the potential impacts of the African Continental Free Trade Agreement (AfCFTA) on US-Africa trade and investment.
*This brief was produced while listening to Inama by Diamond Platnumz Ft Fally Ipupa (Tanzania/DR Congo).[Spotify]
Our best wishes for a productive and ideas-filled week ahead. Please send any news, comments, suggestions, better Nigerian Google voices and cheap flight deals for Guangzhou to africa@qz.com. You can follow us on Twitter at @qzafrica for updates throughout the day.
If you received this email from a friend or colleague, you can sign up here to receive the Quartz Africa Weekly Brief in your inbox every week. You can also follow Quartz Africa on Facebook.