Hi, Quartz Africa readers!
Big Tech's tourists
The visit of Twitter founder/chief executive Jack Dorsey to Nigeria, Ghana and Ethiopia last month seemed like a watershed moment when it comes to Big Tech CEO visits to African cities.
These visits took off in 2015 with a relatively low-profile visit by Microsoft boss Satya Nadella to Nairobi. But it was the visit of Facebook founder Mark Zuckerberg to Nigeria and Kenya that really got the attention of the world.  In 2017, Google chief executive (now also Alphabet chief) Sundar Pichai made it to Lagos and Jack Ma made it to Nairobi and Kigali, Rwanda. Ma was also in Rwanda and South Africa in 2018. This year, with his Africa Netpreneur Prize, he has been to Ethiopia, Ghana, Nigeria and Togo.  (Thanks to GSMA's Max Cuveller for keeping track).
Ma's visits have a different feel to the Silicon Valley giants, which is unsurprising since he's retired from Alibaba and supporting his foundation. The visits of Zuckerberg and Dorsey in particular have had a rockstar feel with endless selfies with the tech community, the obligatory stop-off at CC Hub in Lagos and more selfies.
It's easy to sound cynical, but these tours do seem to end up serving some purpose—even in the short term. Facebook and Google have since each launched accelerator or support programs for local startups. Microsoft has also expanded its developer programs.
It's not clear what the much smaller Twitter will do in Africa. They don't have significant on-the-ground programs or offices. Of course, Dorsey declared he's moving to "Africa" for three to six months next year, but it's not clear what or where that means, yet.
In fact, it might not be about Twitter at all. Dorsey is also founder and chief executive of Square, a fintech payments company. He should perhaps spend some time figuring out how Square can get a foothold in the fastest-growing startup sector in Africa and one of the most vibrant in the world.
Dorsey would have noticed in the three countries he visited the budding talent and the huge consumer opportunity with markets that have long been underserved by local banking systems. He might also have figured out, like the other Jack (Ma) wrote of this last African tour, the lack of infrastructure is sometimes the opportunity not necessarily the obstacle.
— Yinka Adegoke, Quartz Africa editor
Stories from this week
How Africa's entrepreneurs can innovate and invest to put African cuisine on the world stage. Unlike food from other parts of the world, global appreciation and awareness of African dishes largely remains limited. As Ndidi Nwuneli explains, taking a leaf from Japan's successful export of its food culture could help African countries bridge cultural gaps, boost local agriculture and change the current disparity in the global acceptance of African food.
A fintech boom is creating niche African ecosystems to power the industry's future globally. The emergence of startups working to boost financial inclusion across Africa has been the biggest tech trend in the past half decade. An important offshoot has been the inadvertent fostering of niche ecosystems with four African cities ranked among the top 100 fintech ecosystems globally.
Rwanda is doubling down on spending millions with Europe's richest soccer clubs to promote tourism. Rwanda is keeping to a strategy of marketing itself as a tourist destination through a multimillion-dollar sponsorship deal with another European soccer club. The latest deal with French giant Paris St Germain will likely raise more questions about its spending priorities given its still high poverty levels at home.
The controversial rearrest of a prominent activist and journalist is testing press freedom and free speech in Nigeria. One day after being released on bail, Omoyele Sowore, a Nigerian-American journalist, was detained again by secret police in dramatic circumstances in a court. Yomi Kazeem reports that with journalist detentions and disappearances increasingly common, the incident adds to concerns around deteriorating freedom of speech and press rights in Nigeria.
How the France-backed African CFA franc works as an enabler and barrier to development. Since 1948, France has guaranteed the CFA franc under a fixed exchange rate dependent on the deposit of 50% of the African countries' reserves in the French central bank. Landry Signé delves into the economic history, vulnerabilities and challenges of the 14-nation currency. He explains why despite its relative financial stability the CFA franc has become a source of social opprobrium and activism with younger generations of Africans.
The Dealmaker
Migo, the Nigeria-based consumer credit startup, raised $20 million to expand to Brazil. Migo, a fintech startup which offers credit scoring services to large corporations for end users, raised $20 million in a Series B round led by Valor Capital Group. The round also saw participation from existing investors including The Rise Fund and Velocity Capital. The funds will be partly used to expand to Brazil. It follows a $13 million Series A round in August last year.
The Nigerian government has backed Dutch off-grid solar power company Lumos Global with a $75 million grant to power one million Nigerian households by 2025. Lumos currently provides pay-as-you-go solar appliances and power to Nigerian users for monthly fees of around $15…Gray Matters Capital, a US-based impact investment firm, backed Farmshine, a Kenyan agri-tech company with $250,000. The startup pays particular focus to Kenya's female smallholder farmers and is pursuing distribution partnerships with major local retailers to improve market access for its partner-farmers.
Listen up
Podcast: How gig work and the digital side hustle impact the economies of African countries. Across much of the West, the increased prominence of gig economy-based platforms has raised questions ranging from benefits to the opportunity cost of flexibility. But, with largely different economic and employment realities, do the pros of gig work outweigh the cons for Africans? The Gig is Up is a three-part podcast series, produced in collaboration with BFA, discussing everything from the disruption of Uber and Bolt to the challenges of Jumia versus the ubiquity of Amazon and Alibaba.
Chart of the Week
What Africa's changing demographics augur for elderly healthcare and dementia. Africa's fast-growing population suggests the continent will have a large elderly population in the near future, a great number of whom—estimated to be around 15.7 million by 2050—would be living with dementia. The challenge here is that, across sub-Saharan Africa the term "dementia" or its equivalent doesn't exist in many local languages with little awareness of the disease. In Quartz's in-depth guide on dementia globally, Quartz writers explore the cost of dementia and offer you the opportunity to see where your country would be when you hit 70.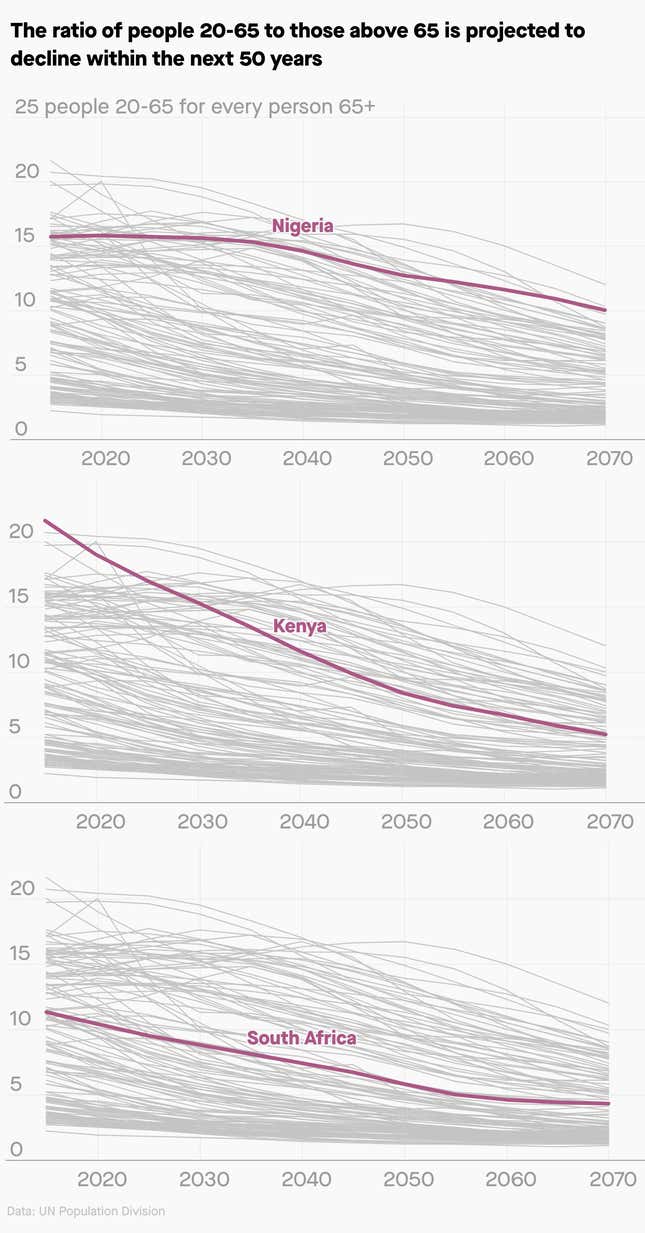 Other things we liked
Chinese small manufacturers' rising exports to Africa are helping offset plunging sales to US amid trade war. "Every textile factory in Haining and Yiwu city is talking because there have been a particularly large number of African buyers placing orders this year. The increase in orders from Nigeria and Ethiopia is huge." For South China Morning Post, He Huifeng reports on how the source of demand is changing for Chinese manufacturers hurt the ongoing US-China trade war as exports are being supported by cheaper lending to foreign buyers by Chinese banks.
The radical meaning of an Apartheid-era Hugh Masekela/Miriam Makeba concert in Lesotho.  It was the Christmas of 1980 when Hugh Masekela and Miriam Makeba performed at a concert in Lesotho that challenged and infuriated South Africa's apartheid regime. Still, it uplifted a packed stadium of more than 75,000 South Africans and fellow southern Africans. In Africa is a Country, Atiyyah Khan shares the story, which doubles as the liner notes of the reissued Live in Lesotho.
A Nigerian student's culture shock with tech in China. What is it like to travel thousands of miles to the other side of the world to study in a new language and culture? For this Nigerian student who spoke to TechCabal's Olumuyiwa Olowogboyega, that wasn't as much of a shock to the system as learning that none of his previous daily consumer tech experience was relevant. Bye bye, Google, Facebook…and WhatsApp (!).  He takes us on his trying journey.
ICYMI
Facebook AI Research (FAIR) Residency Program 2020. The one-year research training position will see successful applicants paired with experienced AI researchers and engineers at Facebook. (Jan. 31)
Women In News Leadership Accelerator. The nine-month long career and leadership program is seeking female journalists from Botswana, Kenya, Malawi, Rwanda, Tanzania, Uganda, Zambia, and Zimbabwe. (Dec. 15)
Harvard South Africa Fellowship Program. The fully-funded program is aimed at mid-career professionals "educationally disadvantaged by past laws and resource allocations in South Africa." (Apr. 15)
Keep an eye on
The Islamic Development Bank's Transformers Summit, Dakar, Senegal (Dec. 9)
. The summit will focus on discussing UN Sustainable Development Goals and
of the bank's new $500 million Transform Fund.
*This brief was produce while listening to Parte after Parte by Big Tril (Uganda). [Spotify]
Our best wishes for a productive and ideas-filled week ahead. Please send any news, comments, suggestions, ideas, PSG Neymar shirts and reinvented African food recipes to africa@qz.com. You can follow us on Twitter at @qzafrica for updates throughout the day.
If you received this email from a friend or colleague, you can sign up here to receive the Quartz Africa Weekly Brief in your inbox every week. You can also follow Quartz Africa on Facebook.