Hi, Quartz Africa readers!
Blowing in the wind
This week we wrote about how more of Africa's leading economies are looking to wind energy to power homes. It was worth noting because when it comes to renewable energy much of our discussions have focused just on solar power given the number of startups that have received significant funding over the last decade.
Egypt, Morocco and Ethiopia, alongside other countries in Africa and the Middle East installed nearly 900 megawatts of wind power, according to the Global Wind Energy Council (GWEC). And wind power installation is projected to accelerate over the next five years with 10.7 gigawatts of wind energy capacity expected to be installed across both regions by 2024.

South Africa, the continent's most advanced economy, will lead the drive for wind power installations with an additional 3.3 gigawatts added to its energy capacity by 2024, as it both tries to cope with the problems at its national power company, Eskom, and tries to slowly reduce its addiction to environmentally-damaging coal.
That said, South Africa is a clear leader in renewable energy policy and projects, according to research (pdf) by BloombergNEF. Kenya as we've covered before is also a major leader and opened Africa's largest wind farm last year.
Investment in clean energy in sub-Saharan Africa jumped to $7.4 billion in 2018 up from $2.3 billion in 2017. South Africa accounted for $4 billion of investment driven by a major onshore wind project in 2018.
Clean, renewable energy is being adopted across sub-Saharan Africa boosted by policy incentives, backing by donors to overcome the lack of local finance and developing de-risking mechanisms for reluctant governments. But it's not all plain-sailing: "Governments are struggling to afford existing power purchase agreements and will have to make hard choices if they are to find room for renewables."
While clean energy policies are somewhat limited to tax incentives, BNEF analysts think "low hydro availability and a growing reluctance to finance coal will boost investment in renewables in the long run." That's a good news, it helps that gas and coal are somewhat curtailed by the cost of the infrastructure required to implement new projects.
— Yinka Adegoke, Quartz Africa editor
Five stories from this week
Kenya has elite runners but investors have been hesitant to back locally-made running shoes. Kenyan runners are known for winning gold medals. But the country's first performance running shoe company ran into hurdles convincing investors Kenya could become a significant manufacturing hub. In Nairobi, Neha Wadekar followed Enda's fundraising journey from early Kickstarter campaigns to a recent Kenyan-led seed funding round.
Amid mixed messages, China is the only constant of Trump's US-Africa policy. The Trump administration has been largely ambivalent about its relationship with African countries. And a three-country visit this week from Mike Pompeo, the US secretary of state, did little to change that notion as disparaging China's role in Africa seemingly the most important piece of his agenda.
Digital innovators are trying to plug gaps in Nigeria's broken education system. Perennial under-funding of education has seen infrastructure fall drastically short in Africa's largest economy. But with the public sector unable to meet the quality and quantity of standards its ever-expanding population requires, Yomi Kazeem in Lagos reports on the education-focused technology startups are increasingly stepping up to fill in gaps.
Chinese middlemen are stockpiling facemasks from East Africa for export back to China. As the scale of the coronavirus outbreak in China appears to worsen by the day, some enterprising merchants are stockpiling supplies of facemasks and thermometers, found Alexandria Williams in Nairobi after visiting warehouses. The concern now is how this could backfire if there is a severe outbreak in the region.
Photos: Nigerian migrants in Sicily are building a buzzing Afrobeats scene from scratch. Nigerian migrants have not only helped revitalize a once dangerous neighborhood in Sicily's capital, but also created a vibrant music scene. Joe Penney visited Palermo, Italy and captured the budding artists' struggle and optimism on camera.
The Dealmaker
•Burger King South Africa changed owners after private equity firm Emerging Capital Partners (ECP) reached an agreement with Grand Parade Investments to buy its majority stake in the fast food chain. The deal values the franchise at $44.6 million, or around 12 times 2019 EBITDA (earnings before interest, taxes, depreciation and amortization), and about eight times 2020 EBITDA.
•Bitfxt, a Nigerian blockchain startup, raised $15 million from a syndicate of British hedge funds as well as Payitup Clearinghouse, a UK firm which is the parent of Zimbabwean startup Payitup, which raised $13 million from the UK's Thawer Management Fund last year.
•Carbon, the fintech startup with operations in Nigeria and Kenya, has launched a $100,000 pan-African fund for early-stage startups operating in Ghana, Uganda, Kenya, Nigeria, Ivory Coast and Egypt. The fund will provide technical support and also back startups with up to $10,000 for 5% in equity.
Quartz partner announcement
Harambeans, Africa's premier tech founders network, is launching the African Innovation Report at its Global Summit in Franschhoek, South Africa from Feb 28-Mar. 1. Hosted by storied business families, the Oppenheimers and the Ruperts, the summit will assemble Africa's top founders and investors to build on key findings of the report.
Chart of the Week
African countries aren't borrowing too much—they're paying too much for debt. Even as the IMF (and World Bank) worries about African countries being on a "Eurobond issuing spree" with "half of them near or at distressed levels", Misheck Mutize argues the "debt alarm" being raised is exaggerated. "The problem is not that African countries are borrowing too much, but rather they are paying too much interest."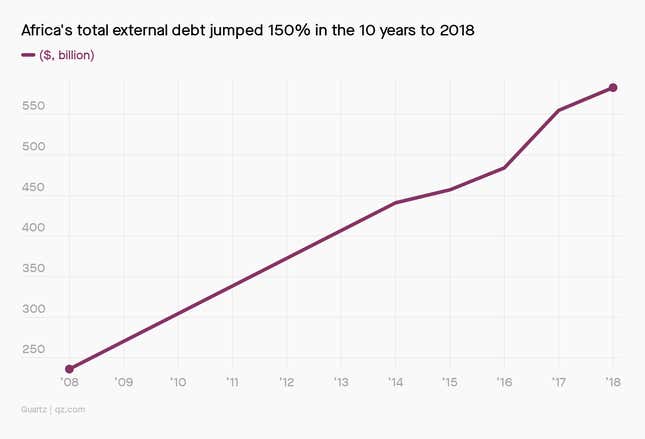 Quartz Membership
B Corps are meant to exemplify one idea: That we need to transform the way capitalism works in order to save the world. A growing number of corporations are signing on, from Patagonia to Danone. Quartz's Cassie Werber reports on why B Corps are gaining momentum—and on the limitations that make them imperfect vehicles for social change.
Other things we liked
A grandmother moved from London to become a trailblazing camel trader in Somalia. Zamzam Yusuf, 55 got tired with life in London three years ago and moved back home to Kismayo, a Somali port city. The grandmother to 29 spotted an opportunity with camel trading, a job often reserved for men in conservative Somalia. And she was soon breaking down barriers, write Abdishukri Haybe and Hamza Mohamed for Al Jazeera.
Tech startups are flooding Kenya with apps offering high-interest loans. Kenya has seen digital credit go mainstream ahead of many other African countries as NGOs, multilaterals, government and others have pushed financial inclusion via platforms. But as Bloomberg's Zeke Faux finds, microcredit has quickly turned to major debt as people in the largely unregulated market are now being bombarded with calls from debt collectors on loans with annualized interest as high as 180%.
Watch: How the UK's fast fashion habits are polluting a country halfway around the world. British broadcaster ITV visited Ghana to examine the scale and gravity of environmental consequences of UK's "throw away culture" including everything from tons of disposed clothing to actual recycling bags.
ICYMI
Anzisha Prize. The tenth edition of the prize will reward 20 young African entrepreneurs with a share of $100,000 in grant funding. (March 31.)
African Master's in Machine Intelligence Program. The one-year intensive master's program is calling for applications for its third intake.
Keep an eye on
Nigeria GDP data (Feb. 24). Nigeria's statistics bureau will publish its GDP report for the fourth quarter of 2019.
#AfricaNoFilter summit with Ford Foundation, Johannesburg (Feb. 26). The AfricaNoFilter summit will bring together business leaders, artists, media makers, philanthropists, scholars and more to discuss how they are reframing narratives on Africa.
Design Indaba Conference and Festival 2020, Cape Town (Feb. 26-28).  Design Indaba, Africa's leading design and creativity conference, is celebrating its 25th year advancing social progress through design activism, focusing on innovation and solutions for Africa and the rest of the world.
Asmara-Addis Literary Festival In Exile, Brussels (Feb 27-28). The second edition of the festival will welcome artists from 18 African countries and takes place in in Matonge, the African neighborhood of Brussels.
*This brief was produced while listening to Invitation Highlife by Victor Olaiya (Nigeria). Rest in peace.
Our best wishes for a productive and ideas-filled year ahead. Please send any news, comments, suggestions, ideas, East African facemasks and Kenyan-made running shoes to africa@qz.com. You can follow us on Twitter at @qzafrica for updates throughout the day.
If you received this email from a friend or colleague, you can sign up here to receive the Quartz Africa Weekly Brief in your inbox every week. You can also follow Quartz Africa on Facebook.