Dear Quartz Africa readers,

Zimbabwean philanthropist Tsitsi Masiyiwa has not forgotten what people used to tell her father: "Poor Dixon, father of five daughters. Who will take care of you when you are old?" As the last of five girls, not even her own parents' support and belief that they were just as good as sons could shelter them from gendered social norms. Norms that, Masiyiwa says, do not reflect social realities.
"In our African societies, women are both the smallholder farmers, but also the ones responsible for most of the domestic tasks and household chores such as cooking, cleaning, taking care of children and sick relatives. Despite this, they are the ones with the least access to resources."
Barriers to women's access to financial resources, ownership rights to the land they farm, and access to opportunities including education motivate Masiyiwa in her philanthropy work, something she started over 25 years ago. She is currently executive chair and co-founder at Delta Philanthropies and Higherlife Foundation, and she sits on the board of directors at Co-Impact, a global philanthropic collaborative.
In late October 2022, she launched the Africa Gender Initiative, which plans to raise $50 million within the next few years from African philanthropists to support Co-Impact's $1 billion gender fund. In the past few months,the Africa Gender Initiative has already raised $5 million.
Co-Impact's Gender Fund provides funding primarily to women-led, local organizations tackling systemic gender-based issues in the key areas of health, education, and economic opportunity in the Global South.
The Africa Gender Initiative wants to shake up traditional philanthropy by accepting local currencies and making it easier to partner with individuals (not just large philanthropists), diaspora and corporates.
"Africans have a culture of giving," Masiyiwa says. "If your money isn't talking it's difficult to have an authentic voice."
—Ciku Kimeria, Africa editor
---
Stories this week
Eskom CEO survived an alleged poisoning attempt. André de Ruyter alleges he drank a cup of coffee laced with cyanide in Johannesburg on Dec. 12, right after he tendered his resignation at Eskom where he waged a long battle against corruption, Faustine Ngila reports.
The battle for Kenya's mobile money market is on. Legacy banks are creating application programming interfaces (APIs) on top of the country's leading mobile money platform M-Pesa, but Seth Onyango explains that these banks are yet to achieve M-Pesa's level of convenience and reliability.
Senegal will record a substantially high GDP growth this year. The World Bank is projecting an 8% economic growth for the country. Faustine Ngila details the reason behind the sudden growth, which slowed to 4.8% in 2022.
Uganda has canceled China's railway contract in favor of Turkey. Eight years after a Chinese company promised to build Uganda's railway, nothing has happened. Faustine Ngila writes that president Museveni wants a Turkish company to do the work.
---
Africa's costly internet shutdowns
The war in Ethiopia's Tigray region has not only caused loss of lives and mass displacement, but also loss of millions of dollars in revenue reported by businesses affected by an ongoing internet shutdown.
Despite electricity being restored in Tigray's capital Mekelle after a truce was signed between the government and Tigray fighters to end two years of war last November, internet blackout is still ongoing since the war broke out in November 2020.
Faustine Ngila digs into a new report by Top10VPN, a London-based VPN review firm that assesses internet privacy, security, and freedom, showing that Ethiopian businesses have lost $145.8 million due to the internet blackout in Tigray last year. And Ethiopia isn't alone in facing costly connectivity issues.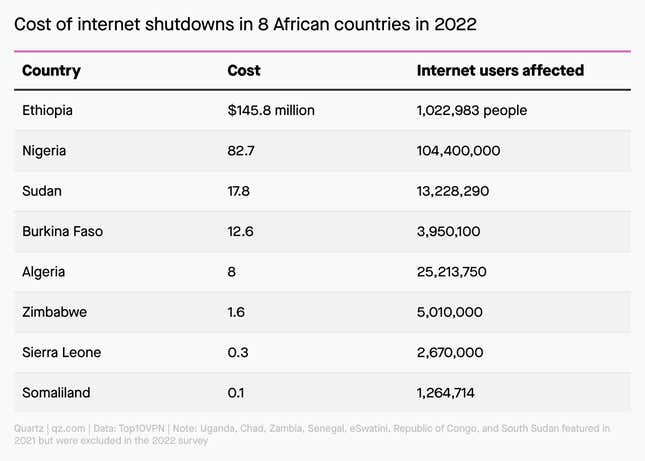 ---
Dealmaker
Releaf, a Lagos-based tech startup that makes it easier for consumer goods manufacturers in Africa to access high-quality ingredients for their factories, has raised $3.3 million in an oversubscribed pre-Series A funding round led by Samurai Incubate Africa, who re-invested after leading Releaf's seed round, with participation from Consonance Investment Managers.
Jetstream, a Ghanaian e-logistics platform for Africa's B2B importers and exporters, has secured $13 million in equity and debt pre-Series A financing provided by fintech lender and private equity firm Cauris and French development institution Proparco.
---
Quartz gems
Ro-ro your EV gently across the ocean
Before a car hits the road, it likely sailed the high seas aboard a massive, specialized ship called a roll-on/roll-off car carrier, or "ro-ro" for short.
Japan has long dominated the ro-ro ship space, accounting for 40% of the world's fleet. By contrast, Chinese ships make up barely 3% of global capacity.
But as it exports more electric vehicles, China is muscling its way into the car carrier space. The commercial advantages of operating its own fleet are many. China can control costs, offer shipping to make its cars even more competitive on pricing, and potentially deny shipping services to rival firms or countries.
Primarily, though, it's a big bet on the continued growth of global car sales, and China's convinced it'll pay off.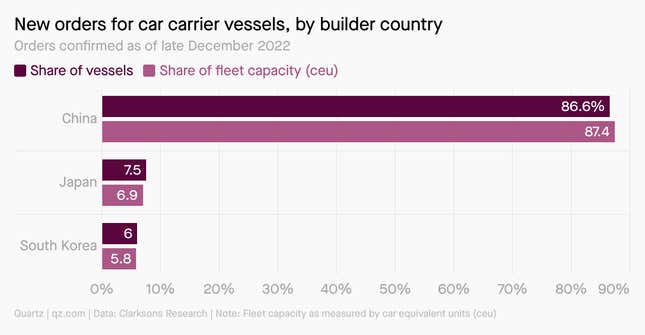 ---
Other things we are reading
Nigeria's next government has six challenges to address. Bloomberg's Neil Munshi illustrates the hurdles awaiting the next president after the Feb. 25 general elections.
Prince Harry and his brother William squabbled over ownership of Africa. For the Guardian, Nels Abbey reveals the two princes differed on who owned royal activities on the continent, in Harry's new book Spare.
African soldiers who fought for France are finally being acknowledged. For Agence France Press, Benjamin Dodman explores how a new film recognizes the sacrifices made by African soldiers forced to fight for France during WW1.
FDI is not a solution to South Africa's unemployment problem. For the Mail & Guardian, Anathi Madubela argues that foreign direct investment cannot trigger employment creation because foreign companies are downsizing and investors often acquire existing companies.
The killing of a gay rights activist sparked outrage in Kenya. The Daily Nation's Barnabas Bii reports the police arrested a suspect and is looking for two other people and the car that was used to dump Edwin Chiloba's body, stashed in a metallic box, by the side of a road.
---
ICYMI
Apply for the Mandela Day Service grant. All Mandela Washington Fellowship alumni in Africa are invited to submit project proposals for the 2023 edition. Six alumni stand a chance to win $1,000 each to implement a short-term community service project in honor of Mandela Day. (Jan. 24)
Get up to $30,000 in funding to argue for reproductive justice. Looking to work on a litigation project to protect sexual reproductive health and rights in Africa? Submit your proposal to the Afya na Haki Institute and you could get between $3,000 and $30,000 financing to complete your project within 12 months. (Jan. 30)
---
🎵 This brief was produced while listening to "Cough" by Kizz Daniel (Nigeria).
---
This week's brief took you to 🇳🇬, 🇰🇪, 🇺🇬, 🇿🇼, 🇿🇦, 🇸🇳, 🇪🇹 and 🇬🇭
---
Our best wishes for a productive and ideas-filled week ahead. Please send any news, comments, suggestions, ideas, carrier vessels, and mobile money platforms to africa@qz.com. You can follow us on Twitter at @qzafrica for updates throughout the day.
If you received this email from a friend or colleague, you can sign up here to receive the Quartz Africa Weekly Brief in your inbox every week. You can also follow Quartz Africa on Facebook.