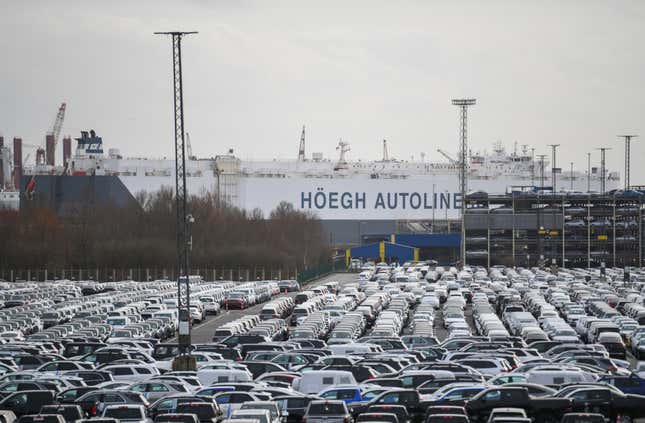 Before a car hits the road, it's likely to have sailed the high seas aboard a massive, specialized ship: a roll-on/roll-off car carrier.
Ben Emons Part 2: The Fed, Apple shares
These large vessels, resembling giant floating garages, can carry thousands of cars at a time. Over decades, Japan, long an automotive powerhouse, has built a globally dominant fleet of car carriers. According to data from Clarksons Research, nearly 40% of the world's car carrier fleet is Japanese, as measured both by the number of vessels and the capacity of the ships.
By contrast, Chinese ships make up only a tiny sliver of the international fleet: barely 3% of global capacity as of December 2022. Forty-one of the 750-odd car carriers currently in operation worldwide are Chinese, but only 10 are capable of medium- to long-haul ocean journeys, according to the financial news site Yicai (link in Chinese).
Yet as Chinese car exports surge, driven by sales of electric vehicles, Chinese manufacturers are increasingly looking to have greater control over the ocean transport segment of the automotive supply chain. Some Chinese companies, like the EV giant BYD, are already transforming themselves into shipping companies. Meanwhile, Chinese shipyards are busy building dozens of new car carrier vessels.

"Chinese car exports won't be held in a chokehold by ocean transport," declared a recent article in China Automotive News (link in Chinese). "It's imperative to develop 'national car, national transport.'"
From lifting to rolling: a history of the car carrier
Roll-on/roll-off car carriers—ro-ro for short—are so called because cars roll onto the ships on ramps at their ports of departure, and roll off at their destinations.
Before ro-ro ships were developed, transporting cars required physically lifting cars on and off cargo ships using derricks and cranes, according to James McNamara, a shipping industry veteran and formerly the president of the US National Cargo Bureau.
By the early 1960s, European and Asian car exports outgrew the capacities of traditional cargo ships, McNamara explained in a recent article for FreightWaves, on the history of the car carrier.
The car industry turned to using bulk carriers, which carried goods like grain, soybeans, and coal on their outbound journeys, and cars on their homebound trips. But it was still a time-consuming and labor-intensive process to lift cars individually onto these ships.

Eventually, the roll-on/roll-off system took shape. "It was a completely new idea⁠—just drive the cars on and off the ship," notes the Japanese transport company Mitsui OSK Lines on its web site.
In 1965, Mitsui OSK launched the first Japanese-built ro-ro ship, named the Oppama Maru, capable of transporting 1,200 cars and loading them at 100 per hour. By the 1980s, according to McNamara, the bulk goods ships were being rapidly replaced by the large ro-ro vessels that still transport cars around the world today.

Over the past decade, however, growth in the global car carrier fleet's capacity has fallen sharply, data from Clarksons Research show. There were two consecutive years of negative growth in 2019 and 2020—a far cry from the high growth of the early 2000s, capping a decade of underinvestment in new ships—and very low growth in the two years since.
Yet this period of stagnation in the fleet has coincided with a rise in car sales worldwide. These parallel trends led to a deficit of space on car carrier ships. Compounded by pandemic-related supply chain disruptions, that drove up car shipping rates as much 300% between 2020 and late last year, according to Chinese media reports (link in Chinese).
China is buying up new car carriers
Now, as China eyes a big share of the global auto industry by pushing into foreign markets with its EVs, it's also muscling its way into the car carrier space.
Last year, Chinese shipyards received orders for at least 58 new car carriers—more than its entire current fleet, and making up over 86% of the total orders worldwide, according to Clarksons Research.
For China, the commercial advantages of operating its own fleet are many. China can control costs, offer shipping to make its cars even more competitive on price, and potentially deny shipping services to rival firms or countries.
There could be military implications, too.

Mike Dahm, a former US naval intelligence officer and now a principal analyst at the IT and engineering firm Mitre Corporation, has written about the Chinese army's potential use of ro-ro ships as amphibious landing craft in military operations—say, as part of an invasion of Taiwan.
For instance, Jiangnan Shipyard Group, which received three orders last year for new car carriers, is a subsidiary of the state-owned Chinese State Shipbuilding Corporation—which is, in turn, sanctioned by the US government.

Primarily, though, China's acquisition of car carriers is a big bet on the continued growth of global car sales, and the concurrent rise in demand for car shipping capacity. This will, China believes, be a hugely lucrative sector. The state-owned Chinese Economic Information Network perhaps put it best. As car exports boom, the outlet said recently (link in Chinese), car carrier ships will become "money-printing machines at sea."