Dear Quartz Africa readers,

A group of African and Arab nations set up the Digital Cooperation Organization (DCO) two years ago to work together on projects meant to focus on innovation.

There is a lot that can be shared between Africa and the Gulf countries. Despite being rich in natural resources like the Gulf, Africa has struggled to convert them to wealth and use the proceeds to free itself from economic subjugation.

Africa might be facing several challenges including rising insecurity, and corruption, but the continent's greatest resource is its growing young, tech-savvy, early-adopting, resilient population. Innovations such as mobile money and crypto have experienced rapid growth on the continent.

The second General Assembly of the Digital Cooperation Organization (DCO) kicked off in Riyadh, Saudi Arabia today (Feb. 5), giving members a chance to learn from each other how to leverage the power of the digital economy. The host country is 95% desert, but has properly managed its resources, propelling it to high-income status.

All 13 DCO members—Saudi Arabia, Oman, Kuwait, Jordan, Bahrain, Cyprus, Pakistan, Djibouti, The Gambia, Ghana, Nigeria, Rwanda, and Morocco—have sent their delegations to the forum to discuss strategic directions and initiatives to enable common digital prosperity.

"Digital technologies have immense potential to transform economies and empower groups including women and entrepreneurs with new opportunities," Deemah AlYahya, Secretary-General of the DCO told Quartz ahead of the meeting. "It is of critical importance that all nations have the same ability to leverage the power of digitalization to achieve their goals."

— Faustine Ngila, Africa correspondent

---
Stories this week
Women in Sierra Leone no longer need their husbands' permission to access finance. Faustine Ngila explores what the legal change means for women entrepreneurs and gender equality advocates as well as the country's economy.

Africa is making waves in the global football transfer market. Bird story agency analyzes a FIFA report showing African countries' increased participation in the sport's lucrative business of players' transfers.

Pope Francis had a message for foreign companies working in Africa. As the pontiff visited the DRC and South Sudan, he did not hold back in condemning those who exploited the continent, its resources, and its people, Faustine Ngila reports.

International air travel to Africa is rebounding. Africa has recovered about 65% of its pre-pandemic visitors, mostly due to the return of Chinese tourists and the resumption of global operations by African flyers, Conrad Onyango writes.
Africa's gaming industry is attracting investors. Investment in African gaming startups hit a record last year. Bird story agency explains what's behind the momentum.
---
Mapping the continent's most corrupt countries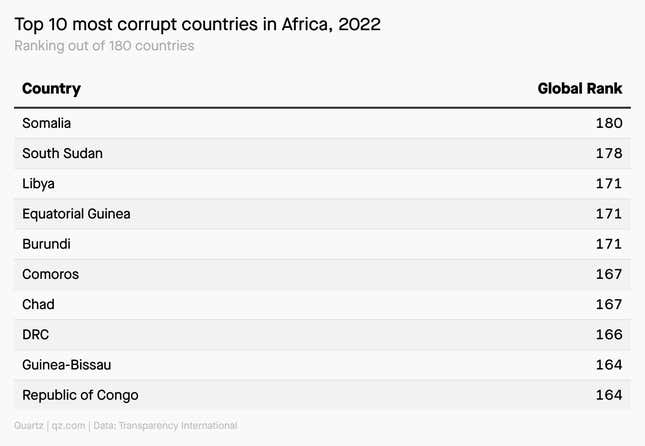 Somalia ranked as the most corrupt country in the world in the 2022 Corruption Perceptions Index by Berlin-based watchdog Transparency International that surveyed 180 countries.

The never-ending conflict in the Horn of Africa country remains the leading cause of the ramping corruption. Other contributing factors are terrorism, suppression of press freedom and freedom of speech, and political, social and economic instability.

Faustine Ngila explains why Somalia struggles to fight this form of crime and looks at which other African countries found themselves topping this list of shame.

---
Dealmaker
Nairobi-based internet services startup Mawingu has raised $9 million led by E3 Capital, Dutch development bank FMO, and InfraCo Africa. The funds will be used to build more internet networks in rural and peri-urban areas in Kenya.

South African fintech startup Lulalend has raised a $35 million in Series B funding round to help it scale its business. The round was led by Lightrock, with participation from the German development finance institution DEG, Triodos Investment Management, Women's World Banking Asset Management, the International Finance Corporation (IFC), and Quona Capital.

---
Quartz gems
YouTube has become the world's nanny
If you've got young kids and an internet connection, chances are you are all too aware of CoComelon. But the brightly colored toddlers-and-rainbows hellscape isn't the only title keeping little eyeballs on the site. Children's content is the biggest earner on YouTube globally.

Quartz's Cassie Werber looks into the multibillion-dollar business of keeping the world's youngest people glued to screens in the most effective way possible—a mostly-free childcare service, with consequences that have yet to be measured.
---
Other things we are reading
Shell was sued for polluting the Niger Delta. The Guardian's Sandra Laville reports on how rampant pollution forced nearly 14,000 Nigerians to file a case in London against the fossil fuel giant.

Ghana's water ATMs are easing access to the resource. For The Conversation, Godfred Amankwaa explores the benefits of the solar-powered machines.

This platform is revitalizing music concerts. Culture Custodian's Opeyemi Rasak-Oyardiran explains how Glitch Africa is invigorating live performances in African music.

A world-famous Ivorian chef wants to use his skills back home. Having spent years building a name for himself in New York, chef and model Roze Traore wants to take all he has learnt to the country of his origin and inspiration. He speaks to the New York Times' Dionne Searcey about his plans to change people's perspectives in Cote d'Ivoire.

---
ICYMI
Support for women entrepreneurs. Google is inviting African women founders to apply for the inaugural Google for Startups Accelerator: Women Founders Africa Program. The 12-week program will commence in March 2023 and include one bootcamp per month. It will provide participants with resources and opportunities to scale their startups. (Feb. 20)
Awards for women journalists. WAN-IFRA Women in News is accepting nominations for the Women in News Editorial Leadership Award in sub-Saharan Africa. Three outstanding female editors who inspire the journalists around them to create future leaders will be awarded. (Feb. 13)

---
🎵 This brief was produced while listening to "People (Check on Me)" by Lybianca (Cameroon)

---
This week's brief took you to 🇳🇬, 🇨🇲, 🇨🇮, 🇿🇦, 🇸🇸, 🇸🇱, 🇸🇴, 🇬🇭 and 🇨🇩
---
Our best wishes for a productive and ideas-filled week ahead. Please send any news, comments, suggestions, ideas, CoComelon tracks, and Ivorian dishes to africa@qz.com. You can follow us on Twitter at @qzafrica for updates throughout the day.
If you received this email from a friend or colleague, you can sign up here to receive the Quartz Africa Weekly Brief in your inbox every week. You can also follow Quartz Africa on Facebook.