Hi, Quartz Africa readers!
The two sides of AI
On Friday (Aug. 21) Facebook revealed its researchers had made major new advances in artificial intelligence which incorporated audio-visual capabilities for use in everyday devices. We're not going to get into the technical details here but the TLDR might be your Alexa or Siri being able to "see" and "hear" where things are in your home, like a ringing smartphone, or a fire alarm.
As with many of these breakthroughs there's a natural interest to see how these kinds of cutting edge technologies might be used to support developing countries, especially in Africa where Facebook has made plenty of investments over the last few years.
The role of AI in African development is a topic addressed at great length over more than 4,000 words in an academic paper titled Algorithmic Colonization of Africa by Abeba Birhane, a PhD candidate in computer science at Trinity College in Dublin, Ireland.
The author's concern is to do with how Africa's present and likely future digital infrastructure and ecosystems are dominated by trillion-dollar giants including Facebook, Google, Uber, Netflix, and others. The paper questions their oft-stated aim to lift up the next billion or help African countries leapfrog in development given this will often be in conflict with their profit motive.
In particular Birhane sees problems with the way data are collected and how AI could be deployed in Africa but as a computer scientist is not against AI itself. "It is important, however, to note that this is not a rejection of AI technology in general, or even of AI that is originally developed in the West, but a rejection of a particular business model advanced by big technology monopolies that impose particular harmful values and interests while stifling approaches that do not conform to their values."
To be clear, not every argument, or characterization hits the mark. But we strongly agree with Birhane's most important point, which is that African governments and policymakers have a responsibility to "adopt a dose of critical appraisal when regulating, deploying, and reporting AI."
"This requires challenging the mindset that invests AI with God-like power and as something that exists independent of those that create it. People create, control, and are responsible for any system."
— Yinka Adegoke, Quartz Africa editor
P.S: Through August, Africa Weekly Brief will publish every other week. We return to your inbox on Sep. 6.
Quartz announcement
Counting down the days until the end of 2020? We don't blame you. But instead of mindlessly marking off the boxes on your calendar, we think you should make the most of the second half of 2020. And we want to help. Here's half off Quartz membership, so you can stay up to speed on the now and next.

Five stories from Quartz Africa
Why so many African Americans have Nigerian ancestry. Even though the transatlantic slave trade ended over 100 years ago, its after effects are still showing up in modern-day genetics. As Uwagbale Edward-Ekpu explains, the largest DNA study of people of African ancestry in the Americas offer insight into the dominance of Nigerian ancestry in the US and Latin America.
Mauritius is reeling from a devastating oil spill and fears of an ecological disaster. Despite attempts at a rescue mission, a damaged Japanese-owned ship spilled over 1,000 tons of fuel into Mauritius' coastal waters last month. With the extent of the damage still unknown, the tropical island is already counting the dire environmental, ecological, and economic costs of the incident.
The difficulty of doing business in Lagos is driving out tech startups. For the past decade, Africa's largest city has been the epicenter of Nigeria's $2 billion tech ecosystem and has been home to some of the continent's best-known startups. But, as the state government ramps up a tax drive through pricey regulation, tech industry stakeholders have been counting their costs and increasingly considering looking elsewhere, reports Yomi Kazeem in Lagos.
Ethiopia is quietly walking back plans to open up Africa's last big telecom sector to foreign players. The liberalization of Ethiopia's telecoms industry was to be one of prime minister Ahmed Abiy's key business reforms. However, reports the government has quietly stopped taking competing bids for operating licenses from  foreign mobile operators suggests a possible reluctance to go all the way, finds Zecharias Zelalem.
Tanzania's "Bulldozer" is tightening his grip on international media ahead of elections. For much of his first tenure, Tanzania's president John Magufuli has led an increasingly authoritarian regime. And ahead of polls to seek re-election in two months, Tanzanian authorities have been clamping down on local and international media with moves believed to limit press freedom, reports Abdullahi Yussuf.
Dealmaker
•Paymob, the Egyptian digital payments firm, raised $3.5 million in a round led by Global Ventures and Dutch Entrepreneurial Development Bank FMB. The round also saw participation from existing investor, A15. The Cairo-headquartered firm, which was founded in 2015, also serves merchants in Kenya, Pakistan, and Palestine.
•Energy+, a Mali-based off-grid energy startup raised $1 million in a debt and equity-based funding round  led by VentureBuilder, which led the round, Cordaid Investment Management. The round also included grant financing from the United States African Development Foundation. Energy+ offers off-grid electricity to under-served customers with a 'pay-as-you-go' model.
•WorkPay, a Kenyan startup offering cloud-based human resources management and payroll solutions,  raised $2.1 million in seed funding Japanese investor, Kepple Africa Ventures. The round also saw participation from Y Combinator, Soma Capital, Musha Ventures, P1 Ventures, and some angel investors.
Chart of the Week
Nigeria's unemployment rate has more than tripled in the last five years—and it will only get worse. Nigeria's unemployment rate has climbed to 27.1%. With a labor force of 80.2 million, that means about 21.7 million Nigerians are unemployed, a figure that exceeds the population of 35 of Africa's 54 countries.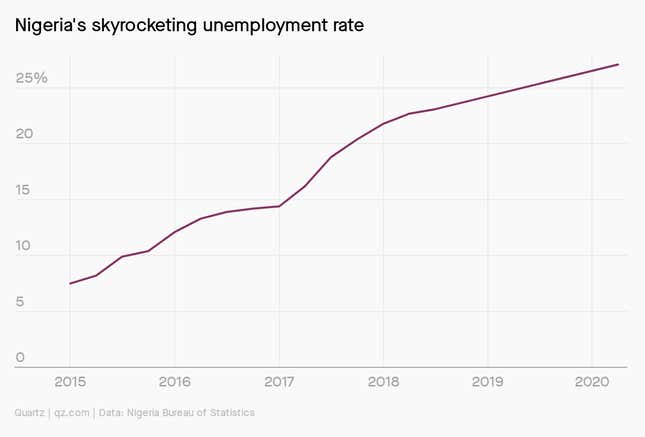 Quartz gems
What data show on foreign populations in countries around the world. One in 10 people living in OECD countries were foreign nationals in 2018. Now, the Covid-19 pandemic has been a magnetic force that is pushing immigrant workers out of their adopted homes and pulling them back to their homelands," explains Youyou Zhou who looked at trends in several OECD countries including the US, Canada, UK, Japan, and Germany.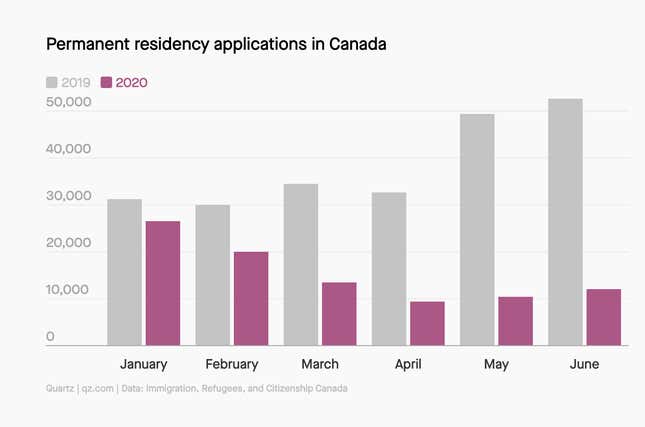 Other things we liked
What are Taiwan, China, and the US Doing in Somaliland? What does it mean when Taiwan opens a representative office in Somaliland, a self-declared state in northwestern Somalia? For Johns Hopkins' China Africa Research Initiative, Deborah Brautigam explains the background to the diplomatic moves and why it has triggered a sharp reaction from the Chinese government.
How a Kenyan entrepreneur is speeding up snail mail. Kenyan entrepreneur Abdulaziz Omar started MPost four years ago in a bid to digitize some of Kenya's traditional mail system's services, writes Vincent Matinde for The Christian Science Monitor. Across Africa, governments are looking to pivot to digital mail services. Both South Africa Post and BotswanaPost have introduced mobile apps to help track mail, parcels, and even pay bills.
Tanzania is seeing an e-commerce boom during the pandemic. Last November, Jumia, often described as the Amazon of Amazon, decided to pull out of Tanzania to concentrate on its biggest markets in a bid for profitability. But its absence plus the Covid-19 pandemic's impact on traditional retail, has given a boost to a range of existing and new e-commerce apps and services, finds Inaara Gangji for Forbes Africa.
France doesn't want to appear the old colonial power in Mali, but it has a key role. This week military officers in Mali overthrew the government of president Ibrahim Boubacar Keita, who tendered his resignation on state television. France knew president Keita had lost control of the state since the local elections in March, notes Le Monde in an editorial [French]. France had been engaged in a fight against Islamist terrorism in the Sahel for the last seven years but there have been few signs its troops could easily hand over to local forces.
ICYMI
DFS Lab startup cohort. Founders of digital commerce startups are invited to apply for the next cohort of DFS Lab, a fintech-focused startup acclerator. (Aug. 31)
2020 VC4A Venture Showcase.  Early-stage African startups can raise between $150,000 and $1 million in this year's edition of the showcase for seed investment. (Sept. 11)
*This brief was produced while listening to Malalanza by Carlos Burity (Angola). RIP
Our best wishes for a productive and ideas-filled week ahead. Please send any news, comments, suggestions, ideas, African-friendly AI and clean-up support for Mauritius to africa@qz.com. You can follow us on Twitter at @qzafrica for updates throughout the day.
If you received this email from a friend or colleague, you can sign up here to receive the Quartz Africa Weekly Brief in your inbox every week. You can also follow Quartz Africa on Facebook.