Hi, Quartz Africa readers!
Blowing up
Early on at Quartz one of our obsessions was focused on the "Next Billion". These were stories looking at how the internet was going to be able to reach the next billion people outside the world's advanced economies. Arguably, that "billion" was probably closer to 4 billion people who still don't have easily accessible internet.
Most of our focus looked at how telecommunications companies in various countries particularly across Africa and Asia, were building out their traditional tower-enabled networks at 3G, then 4G, speeds. We also looked at (still do) how subsea cables were being extended to offer more connectivity options to countries, particularly in Africa.
During that time one of the most audacious attempts to achieve that goal of getting to the next billion was one by X (formerly known as Google X), Alphabet's "moonshot factory", a unit set up to launch experimental technologies.The Loon project was quite simply a plan get the internet to the "last billion" of people who lived in remote areas by floating internet-connected balloons into the stratosphere as an option for local telecoms companies to reach more customers.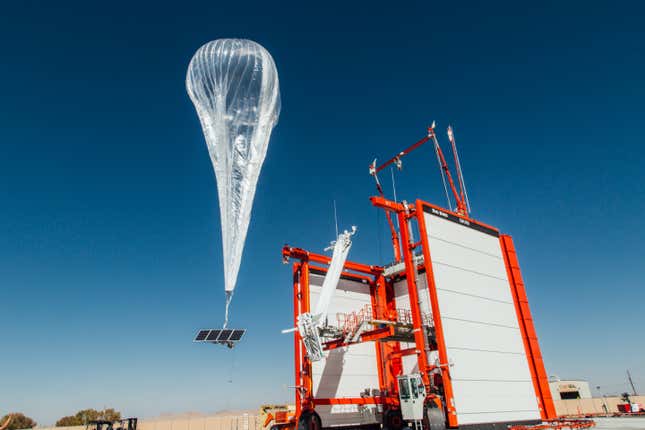 The project was well underway in Kenya last year with 35 balloons floating above some of the secondary cities and rural areas.
But it turns out even Loon couldn't make the business model work just yet and its parent Alphabet canceled the project earlier this week. It hasn't been completely in vain, some of the technology used with Loon is being applied in another Kenya-based internet access project called Project Taara,  which uses experimental light beams to deliver connectivity.
However, the lesson to take away from this is not that this was a bad business idea or a waste of resources, quite the contrary. Making internet access more widely available with multiple connectivity options should be encouraged with subsidies and fiscal incentives by policymakers at national governments and international bodies because more options often mean improved affordability which is still a major issue across Africa.
Among the many other good reasons, if more Africans beyond just urban dwellers have regular, affordable internet access, then shutdowns might even become self-defeating for some leaders who often rely on an unconnected rural base for their votes.
— Yinka Adegoke, Quartz Africa editor
Stories this week
Nigeria's rail opportunity. The new Chinese-built 156-kilometer Lagos-Ibadan rail line will cost $1.5 billion in total but is just the first part of a wider opportunity to revitalize Nigeria's decrepit transport network. Paul Adepoju went for a ride on the new line and found out some workers worried they'd need to learn Mandarin to keep their jobs but also looked at what Chinese loans mean for Nigeria's future.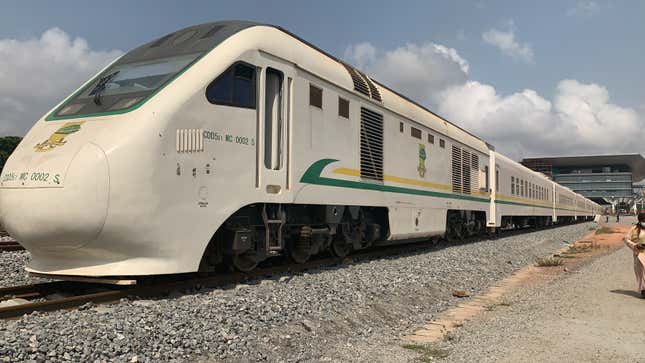 Uganda's new social media ban. The internet came back on in Uganda a few days after president Museveni had been declared winner of his sixth election. But Ugandans soon noticed that access to Facebook, Twitter, and other social media platforms was unavailable reports Stephen Kafeero.
Ethiopia's factories in a time of war. There had long been an expectation Ethiopia would become a key fixture of the global garment manufacturing, supplying brands including Guess, Levi's and H&M. But the vicious war in the Tigray region has put those ambitions in jeopardy.
Biden's promise. On the face of it Africa might seem to have been ignored or patronized for the most part by the Trump administration. But W. Gyude Moore argues the move by the last administration to encourage private US investment in Africa (and counter China) offers the Joe Biden's White House a great opportunity to reinvigorate the US' economic impact on the continent.
Brexit UK cools on Africa. This time last year, in the final run-up to Brexit, Britain was welcoming African leaders to London to renew its engagement with the continent at the UK-Africa Summit. This time, in a post-Brexit pandemic-hit world the tone over video conference meetings was markedly different, with fewer financial commitments for Africa, reports Dominic Dudley.
Chart of the Week
South Africa's rising case load. South Africa, which is dealing with a rapidly spreading variant of the Covid-19 virus, is seeing numbers spike in all regions. Cyril Ramaphosa's government is scrambling to acquire enough vaccines to meet requirements for the worst hit African country, explains Brian Browdie.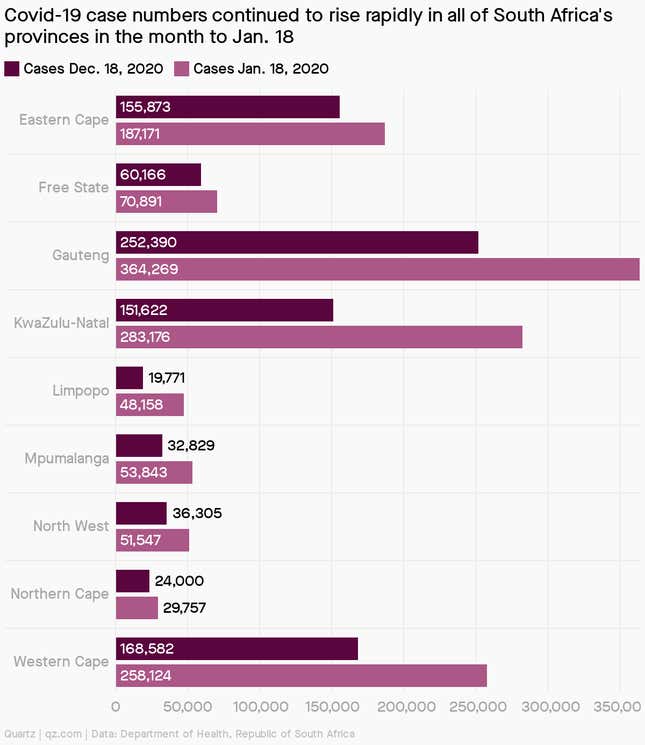 Dealmaker
CDC Group, the UK's impact investor and development finance institution, has committed over $1 billion in African businesses, again. With a foreign direct investment downward slope in Africa, this is aimed at providing a boost to local businesses and communities. CDC aims to expand in key markets including Egypt and Nigeria.
Aerobotics, the South African startup providing farmers crop data using artificial intelligence, raised $17 million in a Series B round led by South Africa's mega investor, Naspers. Existing investors Cathay AfricInvest Innovation and FMO were joined by Platform Investment Partners.
uLesson, a Nigerian edtech platform, raised $7.5 million in Series A funding. US-based Owl Ventures led this round, with existing investors, TLcom Capital, and Founder Collective joined by Local Globe. This comes a year after its seed round of $3.1 million.
Quartz gems: The business of mindfulness
Mindfulness has exploded buoyed by research that has continued to establish its many health benefits including alleviating symptoms of depression and anxiety, reducing stress, and regulating emotions. Collectively, monthly active users for the top three meditation apps globally were up 59% year-over-year this November.
Of course, the efficacy of mindfulness meditation can vary depending on the program and guidance people receive. Research on the effectiveness of self-guided meditation apps for popular audiences is ongoing, but still in early stages. Read more on the business of mindfulness.
Other things we liked
How Africa's largest city is staying afloat. Lagos is home to some 24 million people but large sections of its predominantly urban areas are in real danger of succumbing to rising sea levels. For BBC's Future Planet, Ayodele Johnson looks at the various efforts being made to adapt everything from the city's architecture through to daily transportation to keep above water.
How "Africa's richest woman" went broke. In 2013 Isabel dos Santos was celebrated on the page of Forbes as the richest woman in Africa. Now Forbes' Kerry A. Dolan chronicles how the daughter of Angola's former president once benefited from the oil-rich, but poverty-stricken country, accumulating as much as $3.5 billion. She's now been dropped from Forbes' 2021 list of Africa's richest people and is no longer considered a billionaire.
WhatsApp gets a taste of its own medicine. The Facebook-owned app is known as a hub for misinformation given its network effect, ease of access, tepid fact-checking mechanism and lackluster approach in combating misinformation. BuzzFeed's Pranav Dixit digs into the misinformation meltdown off the back of WhatsApp's controversial privacy update.
Victors not victims. On Nov. 13 2016 Ntombesintu Mfunzi coasted to her third victory in a half-marathon race in Tsolo, Eastern Cape, a day after a devastating sexual assault in which she almost lost her life. "I really believe God saved me that day," she tells New Frame's Matshelane Mamabolo. The athlete is using her ordeal and recovery to support survivors as well as speaking with convicted rapists.
*This brief was produced while listening to Kgomo (Wedding Song) by Jonas Gwangwa (South Africa). Rest in Peace.
Our best wishes for a productive and ideas-filled week ahead. Please send any news, comments, suggestions, ideas, deflated balloons, and Lagos-Ibadan first-class train tickets to africa@qz.com. You can follow us on Twitter at @qzafrica for updates throughout the day.
If you received this email from a friend or colleague, you can sign up here to receive the Quartz Africa Weekly Brief in your inbox every week. You can also follow Quartz Africa on Facebook.