Hi Quartz Africa readers!
We're continuing to see signs of optimism and rapid growth in Africa's digital payment sector.
The latest example: a $100 million investment from global payments giant Mastercard in the mobile money arm of Airtel Africa, a London-based company operating in 14 African countries. The transaction values subsidiary Airtel Mobile Commerce at $2.65 billion, and follows a $200 million investment in the company by TPG's Rise Fund just two weeks ago. Both TPG and Mastercard now have minority stakes.
More than half of the world's mobile money services—defined as being accessible to people without formal bank accounts—are located in Africa, according to a recent report by GSMA, making it a fertile market for investors. And the deal shows that major African telcos are looking to spin off their mobile money platforms as a way to accelerate growth, says George Bodo, CEO of Callstreet Research and Analytics, a Kenyan investment and market research platform. Just last month, South Africa's MTN said it was considering spinning off its financial services unit and potentially listing it to unlock value in its core business.
Mobile money is a competitive arena full of new startups, but dominated by longstanding fintech operations like M-Pesa. Last April, Safaricom and Vodacom acquired the M-Pesa brand from the UK's Vodafone, with ambitious plans for expansion. But even those plans have their challenges.
"Each market is unique, hence no one-size-fits-all solution," says Lisa Kimathi, senior research associate at Standard Investment Bank in Nairobi. "M-Pesa is a success in Kenya but has previously failed in some African markets." Kimathi thinks Safaricom and Vodacom's experience in different countries will help with developing products specifically for each market: "I would view it as a long-term plan to be a financial services provider in Africa."
Meanwhile, Mastercard's battle for global market share is increasingly taking place via fintech, where it is racing to beat Visa as a partner for digital banks and financial startups. Africa is proving an important battleground in that competition. —Carlos Mureithi and Jackie Bischof
Five stories from Quartz Africa
Why doesn't Africa have its own Covid-19 vaccine? The vaccine access challenges experienced by African countries might have been avoided if a Covid-19 vaccine was developed locally. Uwagbale Edward-Ekpu details why African scientists have struggled to get support for vaccine development, and what that says about healthcare research priorities on the continent.
Kenya rolls out 5G. The fifth generation tech standard for broadband cellular networks could advance AI and the Internet of Things across Africa, and spark innovative solutions. But while Kenyans are now early adopters of 5G, questions remain over investor and market readiness for the technology across the continent, Carlos Mureithi reports.
India is challenging China's dominance in Africa. India has stepped up its foreign policy engagement with African countries in recent years through trade and bilateral agreements. You can add health diplomacy to that list, write Dan Banik and Renu Modi: India's expertise in affordable healthcare is assuming increased significance during the pandemic.
Inspiring fierce female writers. Egyptian feminist author Nawal El Saadawi inspired many women, with tributes flooding in following her recent passing. But perhaps her greatest legacy, writes Ciku Kimeria, is in the way she inspired female African writers, who saw their truths represented in her life story and work, and who dared to be more bold as a result.
Redefining our timeline of human evolution. An international team has found evidence for complex symbolic behaviors 105,000 years ago in the Kalahari, a huge expanse of desert in southern Africa. They detail how crystals and ostrich shell fragments helped them reconstruct past environments.
Chart of the week
Bitcoin is not just a hot investment for hedge funders and corporate moguls—it's become a cost-effective way to transfer money throughout the developing world. Nowhere is this clearer than in Nigeria, where the central bank is so worried about Nigerians choosing cryptocurrencies over the naira for overseas remittance payments that it is now paying them to use official channels for those transfers instead.
The central bank announced the scheme after international remittances inflows plummeted last year, as more Nigerians abandoned official banking channels by turning to cheaper cryptocurrency exchanges. The move came on the heels of a nationwide crackdown on banks dealing in cryptocurrencies, which the government enacted in an attempt to counteract the naira's declining value.
Other emerging-market central banks in Latin America, India, and Southeast Asia, where remittances make up a significant share of the economy, are in a similar bind. Bitcoin transfers surged in emerging markets last year, as the pandemic accelerated the rise of cheaper, more efficient digital remittance services.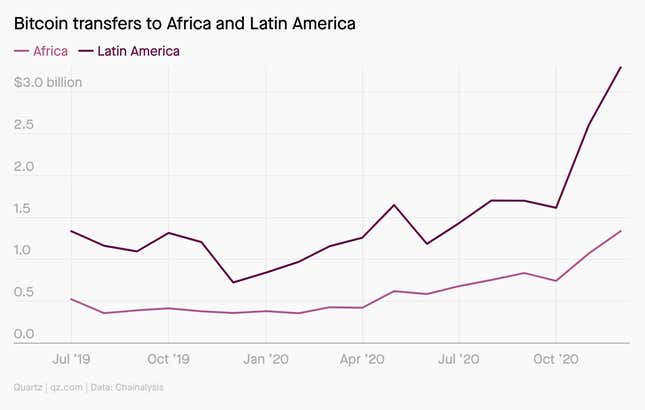 Dealmaker
Curacel, an AI-powered platform for claims processing and fraud management in Africa, has raised $450,000 in pre-seed funding. The round was led by Atlantica Ventures and Consonance with participation from Kepple Ventures and other African angel investors. The startup already works with some of the biggest insurers in Africa, as well as more than 800 hospitals in Nigeria, Ghana, and Uganda.
Weelo, the Egyptian startup offering affordable SaaS-based tech solutions for small and medium enterprises, has raised a "six-figure dollar" seed funding round. The investment was led by SkaleUp Ventures and Integral Capital, with AUC Angels and global investors from Hong Kong to Italy participating. It is aimed at accelerating Weelo's plans to digitally transform sales and distribution automation in the supply chain across verticals in the MENA region.
Impulse Biomedical, the South African biomedical engineering pre-revenue startup, has raised funding from the Futuregrowth Development Equity Fund to speed development and release of its flagship device. ZiBiPen, expected to be launched in April 2023, aims to revolutionize the emergency treatment of life-threatening anaphylaxis, a severe allergic reaction that occurs when a patient is exposed to a foreign substance such as an insect bite or certain foods.
You asked
Why is Africa not affected by Covid-19 like other continents such as Europe?
Great question—the answer is something of a mystery. Scientists partly credit Africa's young population: The median age on the continent is 20 years old—compared with a median age of 43 in Europe—and the risk of dying from Covid-19 doubles with roughly every eight years of age.
But less testing across Africa compared with other parts of the world might also have led to missed cases, and death tolls could be off as well. South Africa, for example, officially recorded about 30,000 deaths from Covid-19 during its second wave, but tracking of excess deaths there suggests the toll may have been three times higher.
Still another hypothesis holds that previous exposure to coronaviruses resembling the one that causes Covid-19 generated immunity to the novel pathogen in some countries. But note, too, that the pandemic isn't over. Africa's second wave hit harder than its first, and left countries bracing for surges to come.
To read more about how the pandemic is playing out, sign up for our weekly Need to Know: Coronavirus newsletter: a calm, cool, and collected look at the virus's impact.
Other things we liked
Corporate queerbaiting. An ad for Adidas and Beyonce's Ivy Park has sparked backlash for portraying a South African comedian and cishet man as a drag queen. In Africa is a Country, Sohela Surajpal argues that the queer community shouldn't pin its hopes for representation on private, for-profit companies, and should instead focus on more historically effective strategies.
India's forgotten African tribe goes after sporting glory. The Siddi community, believed to be descendants of the Bantu people of sub-Saharan Africa and settlers on India's western coast, are frequently the target of discrimination. An AFP report details how they are using their sporting prowess to garner respect instead of resentment.
Reclaiming Africa by earphone. Podcasters from Africa and the diaspora are owning narratives about the sprawling, diverse, and rich continent through audio storytelling. Samira Sawlani writes for VICE about how such storytellers work to rid their content of the whiteness and Western focus that have long plagued African stories.
Mozambique's gas gamble was premised on security it couldn't offer. Following security pledges by president Filipe Nyusi, France's Total had only just announced plans to resume work on its multibillion-dollar liquefied natural gas project near Palma. Then militants struck, leaving dozens dead and many unaccounted for. For the Mail & Guardian, Erika Gibson looks at how the project's workers were left in the lurch.
South Africa produced the head of African soccer, but its team is a failure. The country's national team, Bafana Bafana, failed to qualify for next year's Africa Cup of Nations, and fired coach Molefi Ntseki just weeks after local billionaire Patrice Motsepe took the reins at the Confederation of African Football. Cebelihle Bhengu explains what happened for TimesLive.
Keep an eye on…vaccine access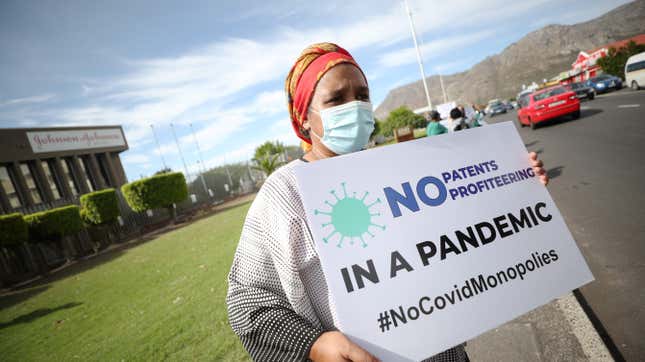 A new white paper estimates that Africa might not reach herd immunity against Covid-19 (defined as 60-70% of its population) until 2023. "Pre-booking" of vaccines by wealthy countries is likely to exacerbate challenges with local vaccine rollouts, including around logistics, supply chains, healthcare worker availability, financing, and vaccine hesitancy.
So how do we ensure equitable global access to vaccines and other critical drugs? Register for Quartz's upcoming Make Business Better event on April 7 at 12pm US eastern time, in which we'll tackle this question. Covid-19 vaccines were developed in record time, but the new challenge is distributing them quickly and fairly. We'll explore both short- and long-term solutions from the public and private sectors.
Quotable
"Language, any language, has a dual character: It is both a means of communication and a carrier of culture."—Kenyan author Ngũgĩ wa Thiong'o.
This week, Thiong'o became the first author nominated for an International Booker Prize for work originally written in an indigenous African language. Thiong'o was nominated for The Perfect Nine: The Epic of Gikuyu and Mumbi, which he translated himself.
---
"People like to refer to certain African markets as risky, 'frontier' markets. But this is very subjective."—Deborah Bräutigam
The author and China-Africa expert, in conversation with Development Reimagined's Hannah Ryder, spoke about persistent stereotypes she is surprised to still be tackling. In recent months, Development Reimagined has led a series of webinars on how to rethink African financing, in partnership with Quartz Africa. You can register here for their next one, on prospects for an Africa-China strategy. (April 7.)
---
🎵 This brief was produced while listening to "Bla Onwane" by Hatim Ammor (Morocco).
---
Our best wishes for a productive and ideas-filled week ahead. Please send any news, comments, suggestions, ideas, African podcast suggestions, and evolutionary timelines to africa@qz.com. You can follow us on Twitter at @qzafrica for updates throughout the day.
If you received this email from a friend or colleague, you can sign up here to receive the Quartz Africa Weekly Brief in your inbox every week. You can also follow Quartz Africa on Facebook.