Hi Quartz Africa readers!
Matt Hancock, the former UK health secretary who was ousted earlier this year after an affair with an aide, has lost another big job. On Oct. 12, Hancock was named the United Nations' special envoy for covid recovery in Africa, to immediate backlash. Just four days later, the international body said his appointment was "not being taken forward."
Dr. Githinji Gitahi, global chief executive officer of Amref Health Africa and a board member for the Africa Centres for Disease Control and Prevention, said Hancock's selection was indicative of the "white savior mentality" that persists in global health. "It is reflected in appointments like this, where a British man is seen to be the savior of Africa's health and climate change recovery," he said. "It is reflected in the nature of technical assistance on health… [and] it is reflected in positions on how money is spent and how resources are allocated."
Hancock, who in the UK fumbled the awarding of contracts for personal protective equipment and efforts to provide equal access to vaccines for poorer nations, has also proven a distraction from what is otherwise a critical role. Whoever does spearhead the UN's covid efforts in Africa will be contending with the fact that less than 5% of Africa's population is fully vaccinated, and predictions for the continent's economic growth are bleak.
The withdrawal of Hancock's appointment is a small win against the white savior mentality on the continent, but also part of a growing movement to decolonize global health. That movement gained traction this year, when a group of leading African scientists published an open letter (pdf) that calls on international funders of science and development to make their policies and practices more inclusive. —Maxine Betteridge-Moes
---
Stories this week
Nigerians refuse to forget a tragedy. It has been one year since the Nigerian army infamously shot at protesters of police brutality in Lagos. Alexander Onukwue attended a memorial held against the wishes of police to acknowledge those who died, and talked to families of the victims about how they remember their loved ones.
Eliminating myths about traveling in Africa. Many Africans don't travel to other African countries and tend to learn about them mostly from western media. Carlos Mureithi looks at how Africa and I, a new Showmax documentary, showcases the continent's beauty and diversity, and its people's generosity, while dispelling stereotypes.
African rugby's World Cup qualifiers are in… France? Rugby Africa, the regional association for rugby on the continent, recently announced that it had chosen France as the host for World Cup qualifiers for African teams. Carlos Mureithi explains the controversy behind the decision, and why the association insists it made the right call.
Ghana's anti-gay bill is gutting. The Ghanaian parliament is looking to pass a bill that advocates "conversion therapy" and a five-year jail term for anyone identifying as LGBTQI+, and up to 10 years in prison for anyone advocating for the rights of the community. In a personal essay, Arthur Musah reflects on growing up gay in Ghana and the persistent threat of publicly endorsed homophobia.
An attempt to modernize African payments. Could a blockchain make payments within Africa truly instant? Nigeria-based Appzone is betting on the possibility, Alexander Onukwue reports, with a platform for banks to settle transactions faster and more cheaply using a stablecoin.
---
Charting Africa's strongest passports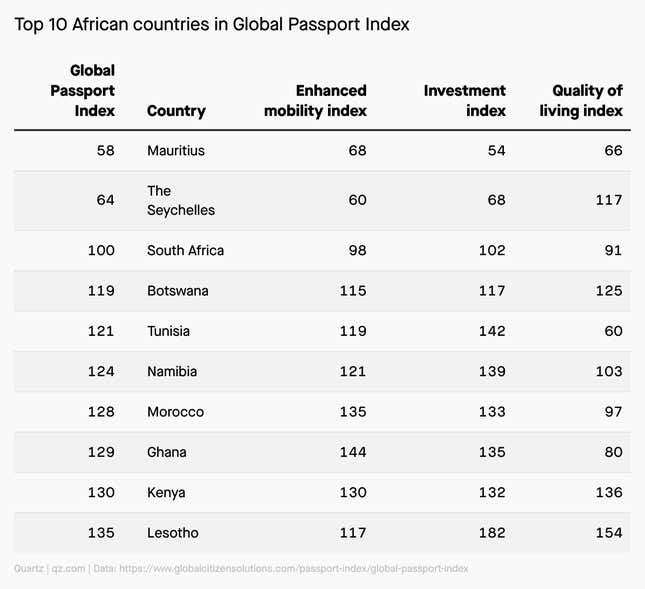 Restrictive visa rules often make traveling around the world a difficult affair for holders of African passports. Carlos Mureithi examines a new global passport index that takes into account visa-free access, mobility, investment opportunities, and quality of life.
---
Dealmaker
ILLA, an Egyptian company that provides delivery services for distributors of consumer goods, raised $2 million in a round led by Saudi Arabia-based Watheeq Financial Services and Golden Palm Investments. Founded in 2019, ILLA says it has completed 250,000 transactions for clients like Coca-Cola, Procter & Gamble, Nestlé, and PepsiCo.
Nigerian fintech startup Brass raised $1.7 million to provide banking services for small businesses. The investment came from Nigerian firm Ventures Platform, Hustle Fund, Acuity Ventures, and Uncovered Fund. Flutterwave CEO Olugbenga Agboola and Paystack's Ezra Olubi also participated.
Red Land Roses, a Kenyan grower of roses, is now owned by Adenia Partners, a private equity firm investing in Africa. Adenia acquired a majority stake (for an undisclosed sum) in Altilands SA, Red Land's parent company. Adenia says it will increase Red Land's production capacity by adding 20 hectares to the company's existing 28 hectares of farmland, and will increase the number of employees from 500 to 750 in two years.
---
Avoiding cannabis crises
While there's been much discussion about the potential moral and economic impact of the cannabis industry on Africa, less attention is paid to how the experiences of other western governments could be instructive for African leaders. As markets begin to open up and mature, Yaw Okyere Thompson looks at the value proposition and potential pitfalls for African cannabis companies.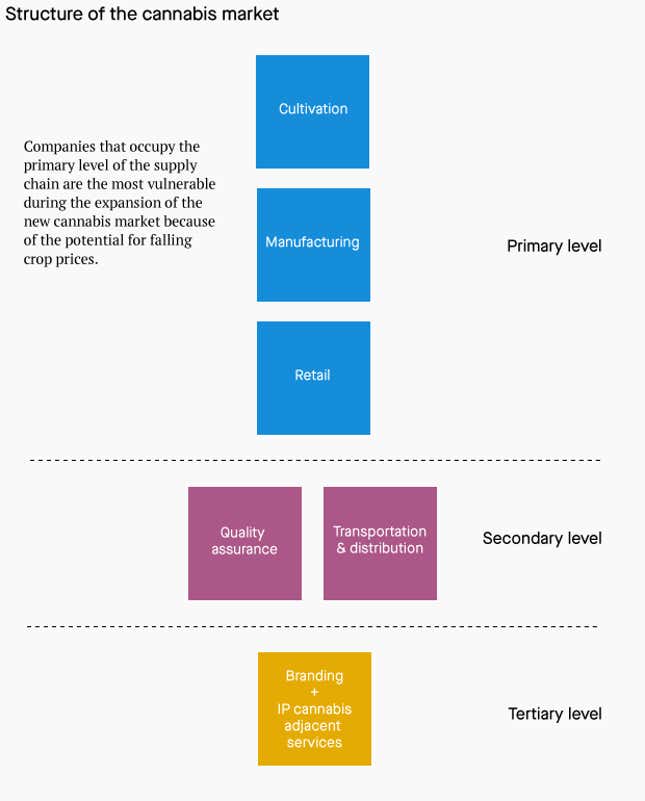 ---
Quartz gems
DeFi—decentralized finance—describes a new breed of financial services built on the blockchain and capable of stripping out traditional banks.  Right now, most decentralized apps run on Ethereum. But as the speed of transactions on Ethereum slows and the costs rise, the network's competitors are growing in market value.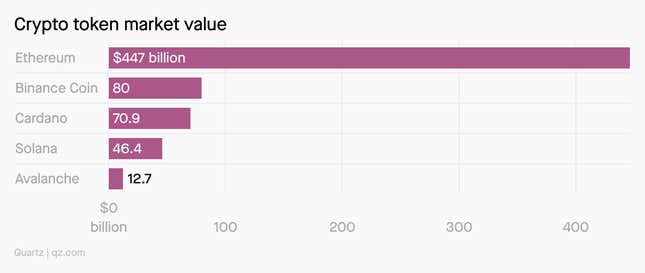 ✦ We went deep into DeFi in the latest issue of The Forecast, a weekly email exclusive to Quartz members. While we can't give you psychic abilities—or speculate on the price of bitcoin—the Forecast offers up a clear view into the future of major and emerging industries. Sign up today to get 40% off with code QZEMAIL40.
---
Other things we liked
Egypt seizes an ​​art robot. The world's first ultra-realistic robot artist was scheduled to present her work in Egypt this week. For the Guardian, Nadia Khomani looks at why the robot was detained by the country's security forces, who fear she is part of a spying plot.
A shift in Afrikaner culture. Huisgenoot, an Afrikaans-language publication, is the magazine with the highest circulation in South Africa. The Economist writes about how the publication has reflected changes in Afrikaner culture since it was launched in 1916.
A more sophisticated understanding of TB. New research from South Africa has disrupted conventional thinking on tuberculosis, which is more likely spread by breathing than coughing. The findings, paired with best practices in limiting the spread of covid-19, herald a new era in combating the infectious disease, Apoorva Mandavilli explains for the New York Times.
Macky Sall is making a risky bet. Investments in energy projects are springing up around Senegal, driven by president Macky Sall's economic agenda. But as Tom Collins writes in African Business, there is a potential conflict between this zeal and Sall's intention to seek an unconstitutional third term in 2024, a threat to the west African country's exemplary peaceful democracy.
---
ICYMI
Recognizing health tech startups. Norrsken East Africa and the Novartis Foundation want to identify the most promising health tech startups in Africa tackling population health challenges, with a focus on cardiovascular health, breast cancer, and virtual healthcare.
An event on climate in Africa. Various institutions will share the key findings of a report on the economic benefits of climate adaptation on the continent at a virtual event hosted by the Kenyan government at the University of Nairobi. (Oct. 26)
---
🎵 This brief was produced while listening to "Respect Urself" by Kobazzie (Liberia)
---
Our best wishes for a productive and ideas-filled week ahead. Please send any news, comments, suggestions, ideas, strong passports, and robotic artists to africa@qz.com. You can follow us on Twitter at @qzafrica for updates throughout the day.
If you received this email from a friend or colleague, you can sign up here to receive the Quartz Africa Weekly Brief in your inbox every week. You can also follow Quartz Africa on Facebook.