Hi Quartz Africa readers!
"We cannot criticize governors running states from Abuja but want to run companies focused on Nigeria from London. We all really need a lesson in leadership."
That tweet and follow-up statements by Iyin Aboyeji, co-founder of tech unicorns Andela and Flutterwave, enraged a corner of Nigerian tech Twitter last week. Many thought Aboyeji made a grossly unfair accusation: that only entrepreneurs living in Nigeria while running their companies are real leaders making the sacrifice necessary to change society. Bosun Tijani, the CEO of Co-Creation Hub, where Andela started off as a scrappy startup, and others fiercely rebutted Aboyeji's claims.
First, there is no objective reason for leaders of software companies to have to live in a specific location when remote work has become the norm. That new reality is important, as Lagos, arguably Africa's startup capital, remains uncomfortable for life and work. Lagos is the second worst city to reside in (after Damascus, Syria), according to the Economist Intelligence Unit's liveability index, which takes into account infrastructure, stability, and healthcare.
In addition, Nigeria's police have consistently targeted young people in tech for at least five years, partly fueling last year's EndSARS protests. Not even well-paying tech jobs can cushion anyone from Nigeria's myriad insecurity problems.
Aboyeji retreated after the backlash, releasing something of an apology. He insisted he only wanted to make a wholly reasonable point—that African entrepreneurs should make sacrifices at home—but maybe it would have been better received if he did not set himself up as one of the last of a dying breed of self-sacrificing servant leaders.
"If we are being honest here the reality is I think I'm trying to do the opposite—inspire a breed of entrepreneurs capable of making a sacrifice for the greater good," Aboyeji told Quartz, in response.
All well and good, but as his critics said, African entrepreneurs living abroad can do and are doing the same, too. —Alexander Onukwue, west Africa correspondent
---
Stories this week
Twitter and Facebook got caught up in Ethiopia's conflict. In the past two weeks, Facebook removed a post from prime minister Abiy Ahmed for violating its policies against inciting violence, and Twitter has temporarily disabled its Trends feature in the country. Carlos Mureithi looks at the significance of these developments.
Zipline expands its medical drone delivery to Nigeria. Five years after it started using drones to deliver medical products in Rwanda, Zipline is getting ready to enter the Nigerian market. Alexander Onukwue reports on the company's plan to collaborate with governments to source blood products and obtain flight permits, while depending on its innovative hardware and software as the ultimate differentiator.
Economic sanctions against Mali are leading to the rise of informal money transfers. More than $40 billion is officially sent annually in remittances to sub-Saharan Africa, with informal transfers expected to be magnitudes higher. Kingsley Kobo examines how informal and sometimes illegal money transfers are bypassing sanctions and other regulatory challenges in west Africa.
Freetown appoints a "chief heat officer" to tackle climate change. Mayor Yvonne Aki-Sawyerr said it was the result of the Sierra Leone capital's efforts, the first in Africa, to dedicate resources to climate change mitigation and adaptation, a mission she hopes will be embraced by other African cities, Alexander Onukwue reports.
Africa loves a physical art fair. Art X Lagos, the international art fair that has been held every year since 2016, went virtual in 2020 for reasons you can probably guess. But when the doors opened on Nov. 4 for this year's event, artists, exhibitors, and visitors from around the world poured in with diverse works that delighted and inspired, Alexander Onukwue writes.
Egypt has a dilemma over hosting COP27 next year. It recently emerged from chronic blackouts to become a net energy exporter thanks to a boom in natural gas production. Tim McDonnell reports on how the summit could attract more international private finance to the country's nascent clean energy sector, but will also put Egypt's growing reliance on fossil fuels under a microscope.
---
Charting covid-19 vaccination for African countries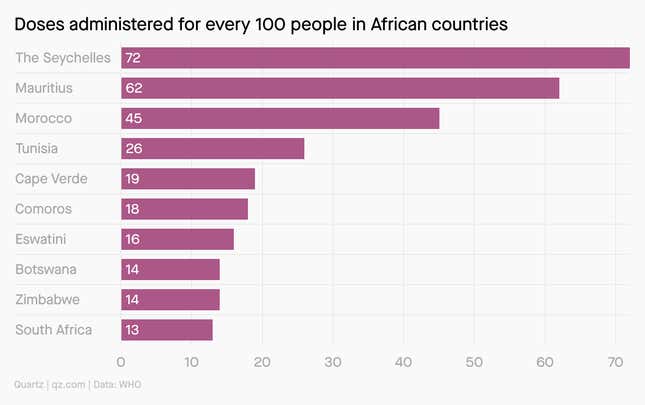 According to the World Health Organization, fewer than 10% of African countries will meet the year-end target of fully vaccinating 40% of their populations against covid-19, compared to the 70% of high-income countries that have already achieved this goal.
Only three African countries—the Seychelles, Mauritius, and Morocco—have already met the goal, with two more—Tunisia and Cape Verde—expected to hit the target at the current pace of vaccination. 
Carlos Mureithi explains that this points to the continent's struggle to secure vaccine doses and meet rising demand for essential vaccination commodities such as syringes.
---
Dealmaker
Flutterwave bought Disha, a Nigerian e-commerce platform for digital creators that was barely making $1,000 in recurring revenues and nearly shuttered earlier this year, for an undisclosed amount. Olugbenga Agboola, Flutterwave's CEO, said the fintech firm bought the struggling company, its first known acquisition, because it provides "an opportunity to capture a new market of indie creators," and could position Flutterwave as "a growth partner for freelancers and businesses."
Jumo, the South African banking-as-a-service provider, raised $120 million in a round that valued it at $400 million. The investment was led by Fidelity Management & Research Company, with Visa and Kingsway Capital participating. Jumo is present in Ghana, Tanzania, Kenya, Uganda, Zambia, Côte d'Ivoire, and Pakistan, and says its technology has been used by businesses to issue over $3.5 billion in loans to more than 18 million customers.
Pan-African payments company MFS Africa closed a $100 million series C round that consisted of $70 million in equity and $30 million in debt financing. The investment was co-led by AfricInvest FIVE (a private equity fund), Goodwell Investments, and LUN Partners Group. The deal follows MFS Africa's acquisition spree over the past 18 months, the most recent being its acquisition of Nigeria-based Capricorn Digital, for the latter's expertise in agent banking.
---
People of interest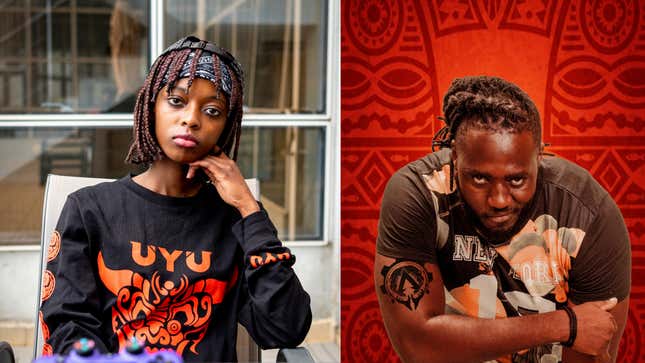 Sylvia Gathoni, known as "QueenArrow," and Brian Diang'a, popularly known as "Beast," are two of Kenya's pro-gamers.
Once considered the mainstay of kids and idlers, esports in Kenya is projected to be a $118 million industry in 2022, due to high internet penetration, a youthful population, fast adoption of technology, and endorsements from deep-pocketed sponsors. As many gamers chase a somewhat elusive dream of fame and fortune, Ian Mugo reports on how a few Kenyan pro-gamers are making waves.
---
Quartz Gems
How would a carbon market work? Carbon markets proved to be one of the most divisive issues at COP26. Activist Greta Thunberg stormed out of a Nov. 3 meeting about them—shouting "No more greenwashing!"—but many officials argue they could unlock billions in funding to accelerate the low-carbon economy… if everyone can agree on some highly technical and politically sensitive details.

Negotiators are hung up on what's known as Article 6, which sets guidelines for how countries can buy or sell credits generated through emissions-reducing projects. The article outlines two types of carbon markets, the first consisting of trade deals between governments that agree to buy and sell carbon credits (or allow private entities within one to sell credits to the government of the other). This type of carbon market already exists.
But the second kind of carbon market would be a true global marketplace, regulated by the United Nations, and would replace a smaller market authorized by the 1997 Kyoto Protocol. Governments or companies could pitch or purchase credits via a UN supervisory board that would effectively act as an exchange. Project developers would need government approval to pitch, and some of the proceeds could be channeled into a fund for low-income countries.
One big challenge for this market: It's not clear who the buyers would be.
Both types of markets suffer from a lack of clear standards, which has made them largely ineffective up to now. Negotiators have failed to agree on Article 6 rules in the last four COPs; there's no guarantee they'll succeed this time.
How carbon markets could work was the topic of a recent Weekend Brief email, which gives Quartz members insight into the top question emerging from COP26. ✦ We're celebrating members this week at Quartz—become one for 50% off with code MEMBERSWEEK21.
---
Other things we liked
The criminalization of an opioid in Nigeria. In 2018, Nigeria heavily regulated Tramadol, making the informal sale of the popular opioid pharmaceutical illegal. In The Conversation, Ini Dele-Adedeji, Amanda Schmid-Scott, and Gernot Klantschnig look at what happens when informal but legal activities are criminalized.
Overworked and underpaid Congolese miners toil to power electric vehicles. In The Guardian, Pete Pattisson writes about how cobalt miners work under dangerous conditions for a miserly $3.50 a day to fuel the electric vehicle revolution.
People are not showing up for covid-19 trials. In Nature, Abdullahi Tsanni reports that African scientists are facing difficulties conducting clinical trials for the emerging crop of covid-19 drugs, and explores the challenge this might imply for a continent that remains low on vaccination.
An acid spill changed his life. On Substack, Fu'ad Lawal pays tribute to a man called Muri by seeing his biography as a road trip through nearly four decades of Nigerian history, stirring curiosity about the knock-on effects of government choices—like publicly executing cocaine traffickers—on the life decisions made by despondent young Nigerians.
---
ICYMI
Future of digital media in Africa. Watch the video of Quartz Africa editor Ciku Kimeria in conversation with TechCabal's editor in chief, Adegoke Oyeniyi, and Fadekemi Abiru, editor in chief at Stears Business, on the state of digital media in Africa.
A forum for many sectors in Africa. The Africa Investment Forum will hold its 2021 Market Days event on agriculture, energy and climate, health, ICT and telecommunications, and industrialization and trade (Dec. 1-3).
A scholarship opportunity for Nigerians. The EU is calling for applications for next year's Erasmus+ scholarship program for young Nigerians.
---
🎵 This brief was produced while listening to "Sabi Di Más" by Lura (Cape Verde)
---
Our best wishes for a productive and ideas-filled week ahead. Please send any news, comments, suggestions, ideas, artwork, and money transfers to africa@qz.com. You can follow us on Twitter at @qzafrica for updates throughout the day.
If you received this email from a friend or colleague, you can sign up here to receive the Quartz Africa Weekly Brief in your inbox every week. You can also follow Quartz Africa on Facebook.