Hello Quartz readers,
Making decisions is tough right now. How do you plan for the future when everything seems up in the air? Management consultant Mark W. Johnson says it all comes down to "future-back thinking"—i.e. envisioning a future state, and working backwards from it to set goals and priorities.
No one is doing more future-back thinking these days than the people crafting economic relief packages. So we wanted to introduce you to a few of them around the world.
And if you're looking for more future-back thinking tips yourself, consider joining us for a Q&A with Mark W. Johnson on Thursday, April 16 at 11am ET. It's free to attend, and fine with us if you wear sweatpants.
Okay, let's get started.
---
How to chancel during coronavirus 
Rishi Sunak has had an interesting first few weeks on the job.
The 39-year-old political wunderkind became Britain's chancellor of the exchequer (finance minister) on Feb. 13. A month later, he unveiled his first budget, which included a £12 billion ($15 billion) stimulus package to tackle Covid-19. Since then, Sunak has appeared on TV every few days to share an increase in the size of the government's rescue package. And while there's no standard affect for handing out unprecedented amounts of money, Sunak's calm demeanor has earned him praise from many quarters.
Sunak's grandparents were born in northern India and emigrated to Britain from East Africa in the 1960s. He was born in Southampton in 1980 to a father who was a doctor in the NHS and a mother who ran a pharmacy. Sunak studied politics, philosophy, and economics at Oxford University—a degree known for fast-tracking ambitious young men into N° 10 Downing Street. He then got a Fulbright at Stanford, and worked for Goldman Sachs, before joining the hedge fund world. He and his wife (daughter of one of India's richest men) live with their two daughters in the constituency of Richmond, in northern England, where Sunak was elected as Conservative MP in 2015.
Sunak has made a series of politically astute decisions. After the 2016 Brexit referendum, he backed the Leave campaign, and in the 2019 race for leadership of the Conservative Party, he backed Boris Johnson. He was rewarded with a Cabinet post, as deputy to his mentor Sajid Javid in the Department of the Treasury. When Javid resigned because of tensions with the prime minister's office, Sunak took over.
Just like almost everywhere else, the UK's government aid has ballooned as the magnitude of the pandemic's economic disruption becomes more apparent, with Sunak unveiling a £350 billion lifeline on March 17. But protecting businesses with hastily dreamed up loan packages is even harder than it sounds. As of last week, only a tiny fraction of small enterprises had been able to get emergency borrowing, and the government's lending programs have required heavy overhauls.
Ironically, Sunak is a fiscal conservative, and before the pandemic was on a mission to rein in public debt and government spending. But with the UK barreling towards an unprecedented recession, he has had to change his tune. His bailout could make or break Britain's economy—and Sunak's political future.
---
Who's who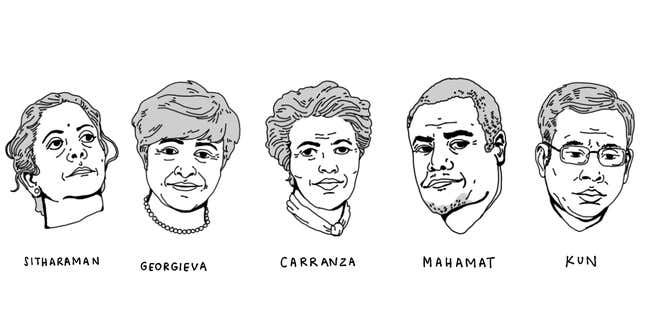 We asked Quartz colleagues around the world to tell us who is on their save-the-global-economy supersquad. Here are a few of the nominations:
🇮🇳
Name: Nirmala Sitharaman
Country: India
Title: finance minister (Since May)
Credentials: previously defense minister, former senior manager at Price Waterhouse, worked at BBC World Service
Vitals: has a collection of Lord Krishna's songs
What has she done: She crafted a $23 billion support package to provide food and cash to the poor. Amounting to about 0.5% of GDP, the measure has been derided as too small.
🇧🇬
Name: Kristalina Georgieva
Country: born in Bulgaria
Title: managing director of the IMF (since October)
Credentials: former CEO of the World Bank, European Commission vice president for budget and human resources, and commissioner for International Cooperation, Humanitarian Aid and Crisis Response
Vitals: likes the Beatles and Beethoven's fifth symphony
What has she done: She stands ready to deploy $1 trillion of lending and is replenishing a relief trust, including grant money, to support the poorest countries.
🇺🇸
Name: Jovita Carranza
Country: US
Title: administrator of the Small Business Administration (since January)
Credentials: former US treasurer and deputy administrator of SBA, founder of JCR Group, vice president of air operations for United Parcel Service
Vitals: You can find her signature on the dollar bill
What has she done: Pulled out a bazooka—the SBA is pushing out $350 billion of guaranteed loans ASAP, roughly 10 times as many as the agency handled in all of 2019. The borrowing is meant to keep workers on the payroll.
🇹🇩
Name: Moussa Faki Mahamat
Country: born in Chad
Title: chairperson of the African Union Commission
Credentials: previously foreign minister and prime minister of Chad
Vitals: speaks French, Arabic, and English fluently
What has he done: He's pushing for as much as $150 billion of international support for Africa.
🇨🇳
Name: Liu Kun
Country: China
Title: finance minister
Credentials: former vice-governor of Guangdong, director of the budget committee at the National People's Congress
Vitals: likes taking from the rich and giving to the poor
What has he done: China is reportedly prepping $400 billion of infrastructure investment, which is less than the $635 billion unleashed after the financial crisis. Writing in Qiushi, the Communist Party's flagship magazine, Kun signaled there would be tax cuts and lower government spending.
---
Blast from the past
More than a few crisis fighters have Goldman Sachs on their resumes. Sunak started his career there as an analyst, and he's reportedly bringing his former boss, Richard Sharp, aboard as an unpaid advisor. Steven Mnuchin, US Treasury secretary and current bailout architect, did 17 years at the Wall Street bank.
Back in 2008, former Goldman CEO Henry Paulson, then Treasury secretary, became the face of the US response to the financial crisis. Meanwhile, Neel Kashkari (guess which investment bank he worked for!) ran the highly unpopular $700 billion bailout—an effort that seems almost a bargain compared to the $2 trillion Cares Act signed into law last month.
Kashkari's takeaway from 2008 is that the response has to be big, and it has to be fast. You can't target it only at people who "deserve it"—doing so will waste time and cause even more economic damage, he said in an interview with NPR. Paulson has warned that it will be impossible to wield the Cares Act in a way that everyone thinks is fair and quick enough.
That said, Paulson is sanguine about the world's biggest economy's capacity to bounce back from the coronavirus disruption. "The worst case is this takes a long time," he told NPR. "And if it takes a long time, you know, we are still going to get through it."
---
Meeting in the middle
If you're making decisions in the coronavirus era, try not to overdo it on meetings. Meeting-software company Hugo found that its customers' volume of internal meetings is on the rise since lockdown started.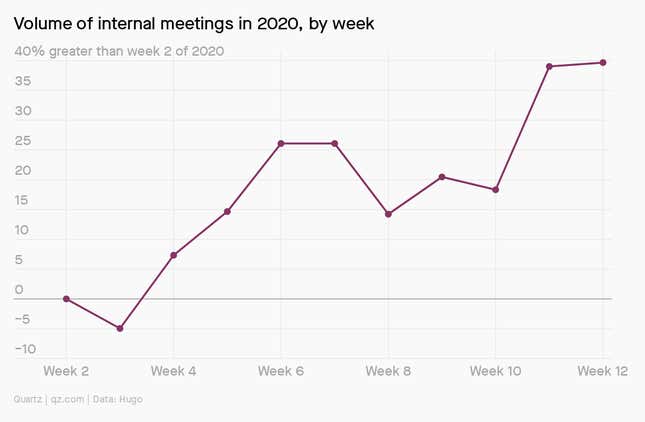 Co-founder Darren Chait has one foolproof tip to avoid meeting madness: No more than 10% of your workweek (so roughly 10 hours) should be spent in internal confabs.
Craving more workplace intel? Sign up for The Memo, a newsletter from Quartz at Work. Or, envision a future state where you've already signed up, and work back from there.
---
Essential reading
---
Our best wishes for a healthy day. Get in touch with us at needtoknow@qz.com, and live your best Quartz life by downloading our app and becoming a member. Today's newsletter was brought to you by Annabelle Timsit, Hasit Shah, John Detrixhe, Hailey Morey, and Kira Bindrim.