Hello Quartz readers,
In a video interview during the early weeks of the outbreak, philanthropist Melinda Gates voiced what many with an interest in Africa were thinking: "When I saw what China had to do to isolate an enormous part of their population, my first thought was: 'Africa. How in the world are they going to deal with this?'"
Three months after the first incidences of Covid-19 were recorded in Egypt, Nigeria, and South Africa, the continent's confirmed cases top 125,000, and roughly 4,000 have died. But while larger outbreaks remain a real possibility, no country has yet seen exponential growth in case loads. That's thanks in part to quick reaction on the parts of governments used to devastating outbreaks.
Still, the health emergency has rapidly spiraled into Africa's worst economic crisis in 25 years, and presents both challenges and opportunities for how the continent charts its future. Today, we're talking about Africa after Covid-19. Let's get started.
---
Trading up
The entire world is being hit with economic bad news. But in Africa, some of the fallout will come from delaying positive changes that had only recently seemed imminent.
For various colonial, historical, and infrastructural reasons, Africa has long been the least regionally integrated continent. Many countries within it are more likely to trade with Europe, North America, or Asia before their immediate neighbors. But last July, following years of negotiations, the Africa Continental Free Trade Area (AfCFTA) agreement was passed at the African Union (AU). It aims to foster seamless trade between the AU's 54 member states, thus creating the world's largest free trade area since the World Trade Organization.
It's a simple gambit, that creating a $3.4 trillion market of 1.3 billion people will help trigger industrialization and manufacturing across the continent and, in turn, enable vast employment opportunities for the world's fastest-growing labor force. With enough follow-through, the agreement  could boost intra-African trade by 52% by 2022, according to the United Nations Economic Commission for Africa.
But the agreement's implementation, scheduled for July 1, has reportedly been put on hold. While the delay is yet to be confirmed by the AU, officials have already pointed out the difficulty of moving forward with opening up a free trade area while local lockdowns and restrictions are in force across the continent. The agreement's biggest supporters, meanwhile, are urging for it to go ahead, even if only partially.
The agreement could "be one of the most important tools of our economic recovery," says Paulo Gomes, a former World Bank executive director who chairs the executive committee of AfroChampions, an AU-mandated network to coordinate private-sector discussions around AfCFTA. "If I'm an African finance minister, I don't have quantitative easing and the money-printing money tools of the wealthier economies—trade can be our stimulus."
---
Guided learning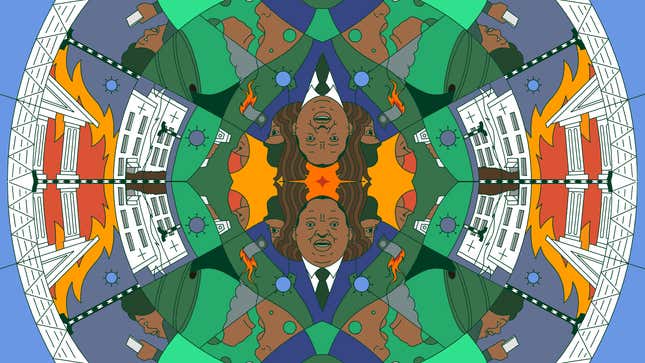 Free-trade fallout is just one idea we're unpacking in this week's field guide: Africa after Covid-19, which is available in full to Quartz members. ☝️That nugget above is from a state of play on the post-corona future of business in Africa. Here's what else you should know:
Remember, you too can become a Quartz member! It's a great way to support our journalists around the world, including the brilliant minds behind Quartz Africa. Let's even throw in a 40% discount on the $99 annual subscription. What do you say?
---
Planting new seeds
As the pandemic changes the macroeconomic outlook, startup funding in Africa will fall, and its focus will likely evolve. While "overall investment will go down, it's going to go up in certain categories," says Jonathan Greechan, co-founder of The Founder Institute, a global pre-seed startup accelerator that operates in eight African cities.
Already, there's evidence of an uptick of investment in e-commerce, edtech, healthcare, and food-supply startups. This diversification could slow the widening dominance of fintech funding seen over the past three years.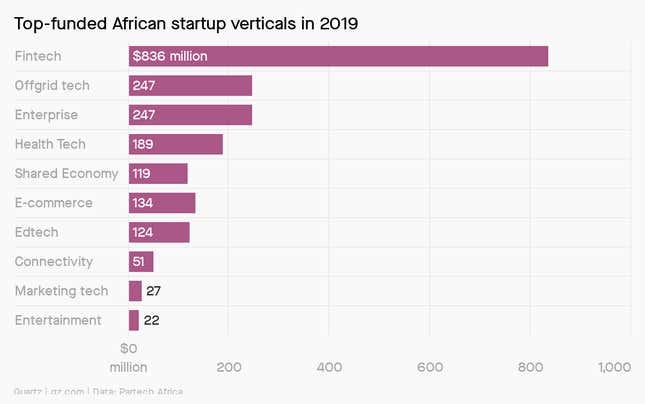 ---
Use your words
We pored over our field guide to create a glossary of terms useful in understanding Africa post-coronavirus. Consider this your dejargonizer.
💼 DFI: international development finance institutions, such as the UK's DFiD or Germany's GIZ, which are major sources of investment capital on the continent.
💳 Debt-trap diplomacy: The concern that China has been coercing developing countries, particularly in Africa, into taking credit on onerous terms, which could see China grab control of state assets if the loans were not repaid as agreed.
😷 Mask diplomacy: The soft power move to win goodwill by sending teams of hospital workers to struggling countries, along with donations of masks and other medical equipment.
📱 Novissi: A digital cash transfer program in Togo, which pays out a third of minimum wage twice a month via mobile phones to informal workers whose daily revenues had been disrupted by the pandemic restrictions.
---
It's somebody's biiiiirthdayyyy
Five years ago this week, we started Quartz Africa with the hope of playing a small role in improving the coverage of Africa's economies and businesses. There is no single African story, but we've always been determined to tell as many of the most interesting ones as we can through our lens of innovation and new ideas.
The best place to find those ideas is in the Africa Weekly Brief, which gives you the most important and interesting news from around the continent.
---
Essential reading
---
Our best wishes for a healthy day. Get in touch with us at needtoknow@qz.com, and live your best Quartz life by downloading our app and becoming a member. Today's newsletter was brought to you by Yinka Adegoke, Yomi Kazeem, Jackie Bischof, and Kira Bindrim.