Hello Quartz readers,
We're thinking about making quizzes a recurring thing. (Funny how that sentence hit differently in high school.) Today's comes to you via the coronavirus living briefing, Quartz's running dashboard of how Covid-19 is affecting the global economy. The best part about it: Updates since your last visit are highlighted for easy skimming.
Quartz members can access the full briefing, which is the brainchild of an editor who puts in hours every week finding the most salient data points and updates. You can support him and his coffee obsession by becoming a member yourself, and taking 40% off the first year.
Okay, as last time: Keep track of your answers, don't cheat, and check your work at the end. Let's get quizzing.
---
Round 1: Short answer
1️⃣ Which airline filed for bankruptcy this week?
2️⃣ What movie did Disney say it will release to streaming for $30?
3️⃣ What major sporting event started Thursday with no fans?
4️⃣ Which eatery upon which America runs is closing 800 stores?
5️⃣ Which cosmetic gives a popular consumer-spending index its name?
---
Round 2: Multiple choice
1️⃣ The shift to remote work has created plenty of problems for employees, from the rise of micromanagers to aching backs from long hours at the kitchen table. But according to a new working paper, there's at least one bright spot. Is it:
The average workday is 15% shorter.
The average meeting is 20% shorter.
People are sending 32% fewer emails.
Pets are getting 63% more hugs.
2️⃣ Universal and AMC agreed this week to shrink the window of time a film plays exclusively in theaters before moving to digital rental platforms like iTunes and Amazon. Instead of 90 days, this delay will now be:
30 days
7 days
17 days
24 days
3️⃣ Kirill Dmitriev, head of Russia's sovereign wealth fund, this month spoke of a "Sputnik moment" in the country's fight against Covid-19. What was he referring to?
Russia reported zero new cases for 30 consecutive days.
Schools reopened in person with zero complications.
A research facility asked regulators to approve use of a vaccine.
A new paper detailed the exact duration of immunity.
4️⃣ Facebook and Twitter this week took down a video posted by US president Donald Trump, in which he made a dubious claim about Covid-19 and children. Was it:
Children are "often carriers" of coronavirus.
Children are "almost immune" to coronavirus.
Children are "perfectly safe" from coronavirus.
Children are "probably responsible" for coronavirus.
5️⃣ India's government was quick to celebrate a first in June, attributing the victory to prime minister Narendra Modi's call for Aatma Nirbhar Bharat (self-sufficient India). But economists and experts believe such rejoicing is misguided. What was the occasion?
The country banned dozens of apps with Chinese origins.
More locally made cars were sold than foreign imports.
Bollywood had a better quarter than Hollywood.
India became a net exporter for the first time in over a decade.
---
Round 3: Who charted?
1️⃣ What are we charting here?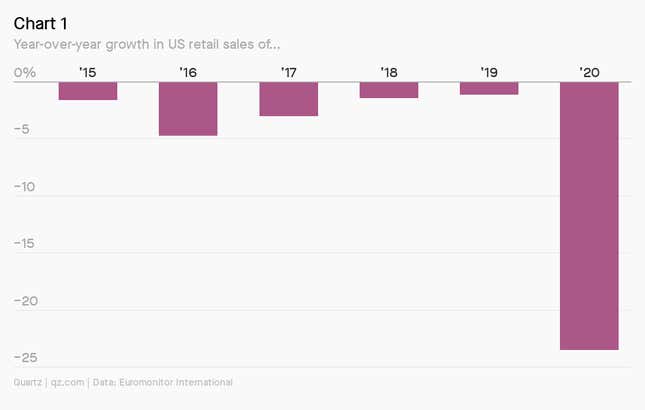 YOY growth in US retail sales of red baseball caps.
YOY growth in US retail sales of men's suits.
YOY growth in US retail sales of deodorant.
YOY growth in US retail sales of luggage.
2️⃣ What are we charting here?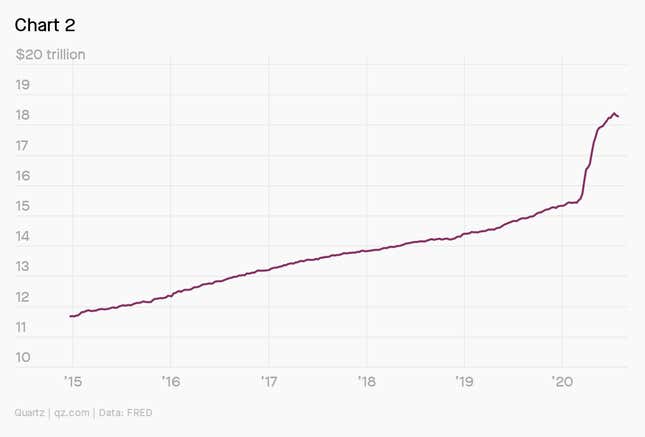 The US money supply.
Big Flour revenue.
Netflix's profits.
Jeff Bezos's net worth.
3️⃣ What are we charting here?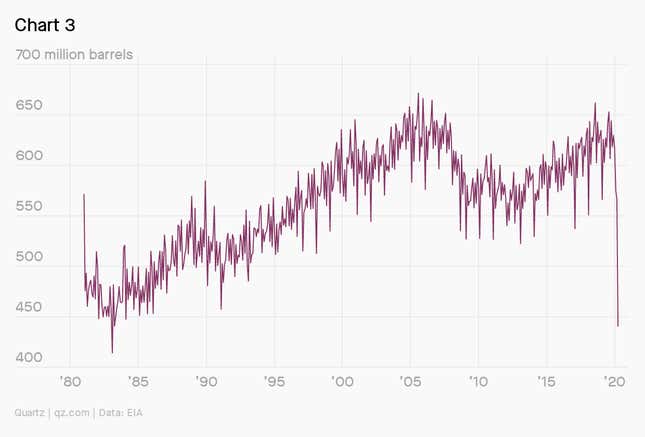 Japanese whiskey production.
Global cracker consumption.
US oil consumption.
Amount of fun we're having, on average.
---
Bonus question:
No movie's pandemic-related delay has caused as much fanfare as Christopher Nolan's Tenet, which has thrice had its release date pushed back. Nolan is behind such movies as Interstellar, Inception, and The Dark Knight, and Tenet has been described as "wholly original and mind-blowing." But not much is known about its actual plot.
With or without watching the trailer, make up a plot for Tenet.
---
Answer 🔑
For rounds 1-3, award yourself one point for each correct answer.
Round 1: 
Round 2:
(2) The length of the average meeting is down by 20%, according to a new working paper from the National Bureau of Economic Research. Sadly, the average number of daily meetings is up 13%, and the length of the average workday is up by 48 minutes. We're pretty sure pets are getting more hugs, though.
(3) The theater-to-digital-rental window is now 17 days. While the deal only applies to Universal films in AMC's US theaters, it is likely to set a new standard. Universal and AMC will now reportedly begin similar talks over film releases outside the US.
(3) A Russian state research facility asked regulators to approve use of a vaccine under development. But don't get too excited: The research institute has yet to publish data showing how the vaccine works, and the WHO says it's still in the early phases of testing.
(2) Trump says children are "almost immune from this disease" in the video clip.  Facebook's action marked the first time the social network has removed Trump's posts for violating its coronavirus misinformation rules.
(4) India became a net exporter in June for the first time in 18 years, with exports outweighing imports by $800 million. The government's chest-thumping is nothing new, but the surplus was generated by weak domestic consumption rather than surging exports.
Round 3: 
(2) Year-over-year growth in US retail sales of men's suits. The men's suit business has been in decline for years in the US, thanks to the century-long trend of clothes getting more casual. But Covid-19 made having a substantial business in suits an outright liability.
(1) The US money supply. Normally known for slow, steady growth, the US money supply grew 20% from $15.33 trillion at the end of 2019 to $18.3 trillion at the end of July, raising fears that unchecked inflation will follow.
(3) US monthly oil consumption, which in April plumbed depths not reached since 1983. The drop occurred across nearly all types of oil use, from gasoline for cars to asphalt and lubricants. Petrochemicals, used for products like plastic bags and masks, were one of the only oil-based products to see a slight uptick.
Bonus: 
Did you dream up a Tenet plot? You get a point. Are you willing to send it to us? You get three points.
---
How did you do this week?
---
Essential reading
---
Our best wishes for a healthy day. Get in touch with us at reply@qz.com, and live your best Quartz life by downloading our app and becoming a member. Today's newsletter was brought to you by David Yanofsky, Susan Howson, and Kira Bindrim.