Hi Quartz readers,
Whether this third pandemic year is likely to resemble the last two largely depends on policymakers. Or as medical anthropologist Eric Reinhart puts it, the direction covid-19 takes in 2022 "is now subject to the degree of investment that rich nations put into mitigation of harm." Here's what to watch:
1️⃣  The virus 
One certainty is that SARS-CoV-2 will continue to mutate. Already, omicron has more mutations than previous variants, which appear to make it more efficient at infecting cells and evading antibodies.
If omicron is as transmissible as delta, but better at evading immunity from vaccines or previous infections, it could result in around twice as many US cases and hospitalizations as during the January 2021 peak, according to a recent analysis (pdf). Alternatively, if omicron spreads more quickly than delta but has a harder time evading immunity, it would generate almost as many cases, but half the hospitalizations and deaths.

The more cases there are, the more opportunities for the virus to mutate—for better or for worse. And there is no guarantee that future mutations will gradually make the virus milder.
2️⃣  Vaccine protection
To stop SARS-CoV-2 from mutating, rich countries will have to do better in helping the rest of the world get jabbed.
In 2021, G7 and EU countries had a supply of more than 3 billion vaccines. Assuming the countries vaccinated 75% of their population, boosted another 20%, donated 400 million doses, and wasted 10% of their supplies, they would have around 770 million vaccines to spare. That's more than was needed to meet the WHO goal of covering 40% of the world's population by the end of 2021. As of late December, 98 countries were falling short of that goal, and omicron will likely set global vaccination efforts back further. 
​​3️⃣  The response 
In 2022, governments will most likely have an additional pandemic-fighting tool: new covid antiviral drugs that promise to prevent the worst of the virus's effects. Whether the pills have an impact will also depend on how supplies are allocated. Pfizer and Merck have inked licensing agreements with poor regions, but the drugs they produce themselves will likely go to rich countries first.
A huge global wave of omicron cases could itself stave off the pandemic: Early research suggests an omicron infection boosts immunity to the delta variant, which might be displaced. Still, to avoid bumbling from variant to variant, policymakers will have to change their approach from containment to prevention, and from local to global. After all, this won't be our last pandemic.
---
Good looking out
That was a little taste of this week's field guide to the economy in 2022, featuring trends and threats to watch. You'll also find intel on:
🚢  Supply chains (getting better)
✊  Worker leverage (getting worse)
🔥  Climate costs (getting higher)
🇨🇳  China's economy (getting weird)
📈  Inflation (getting complicated)
🙃  Economic wildcards (crypto)
✦  To enjoy this and other field guides, try membership for free.
---
Mixed signals
Assessing risk has always been difficult during the pandemic, but the rapid spread of omicron made it even more so. Last week, the CDC updated its guidance on how long people should quarantine if exposed to someone who tested positive, reducing that time from 10 days to five.
Guidelines for increasingly specific groups of people are good, but they can also make recommendations extra confusing. So we did what we always do in these situations: made a bot to chat things through with.
---
Talking points
🤔  Should I get an antigen test or PCR test? If you can find either (and that's a big if) here are some factors you might take into consideration.
🇮🇳  India's third wave has arrived. According to authorities, nearly 90% of new infections in Mumbai on Jan. 3 were asymptomatic.
🛳️  Americans keep getting on cruises. The CDC is monitoring omicron outbreaks on nearly 100 cruise ships around the world.
💉  How well do China's vaccines work? Preliminary research suggests they are less effective against omicron, even with a booster.
🥽  Meta was a Christmas hit. Oculus, the app to support Meta's VR brand, saw 1.3 million global downloads between Dec. 21-27.
💸  Say goodbye to your savings. US workers are putting away less than before the pandemic, with no new stimulus checks coming.
---
What makes CEOs sweat
Chief executives are getting anxious, according to a recent global survey. Shifting forces in the supply chain, the labor market, the cybersecurity landscape, and elsewhere are proving so disruptive that 72% of surveyed CEOs worry they'll lose their jobs in the next year, up from 52% who worried they'd get sacked last year.
Ironically, covid-19 is barely registering as a top concern, although all of these anxieties could be considered pandemic-related.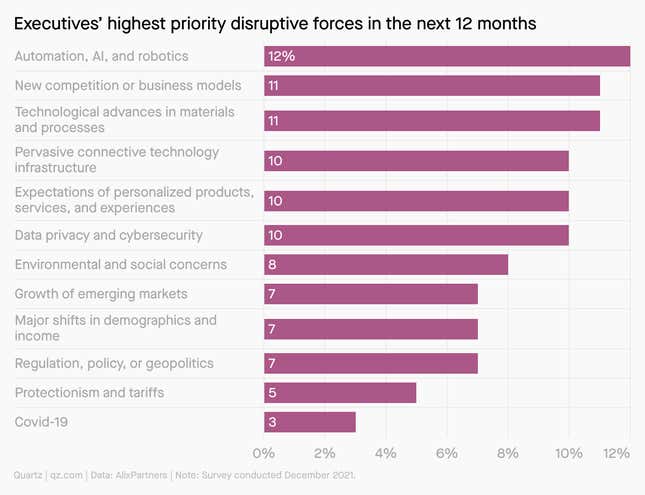 ---
Quitting time?
Over the past 18 months, many people have had time to think about what they want from their jobs. If you're wondering whether it's time to move on from yours, here are five solid reasons to consider:
You're not learning (and you want to be).
You're learning coping mechanisms rather than skills.
You feel morally conflicted about hiring.
Your job is affecting your confidence.
Your job is affecting you physically.
Do you have a Great Resignation bingo? Even if just one rings a bell, check out our tips on talking to your current employer, or a new one.
---
Elsewhere on Quartz
---
Our best wishes for a healthy day. Get in touch with us at needtoknow@qz.com, and live your best Quartz life by downloading our iOS app and becoming a member. Today's newsletter was brought to you by Ana Campoy, Alex Ossola, David Yanofsky, Nicolás Rivero, Cate Hudson, and Kira Bindrim.