Good morning, Quartz readers!
Here's what you need to know
Donald Trump claimed "total" power to reopen the economy. The US president said he had absolute authority over how and when to lift coronavirus restrictions, hours after two groups of governors formed regional pacts to coordinate their easing of lockdown measures.
UK MPs summon a Chinese-owned technology firm. Executives of Imagination Technologies, a UK-based graphics chipmaker owned by a Chinese state-owned investor, will face questions over security concerns, following an aborted Chinese boardroom takeover of the company earlier this month.
China approved two experimental Covid-19 vaccine trials. Authorities gave the green light for the early-stage human tests as the country works to prevent a second wave of infections. Separately, China's yuan-denominated exports in March fell 3.5% compared to the same period last year.
Turkey passed a bill to temporarily release 45,000 prisoners. Parliament approved the measure to ease overcrowding in jails in an effort to avert a coronavirus outbreak in the detention facilities. Opposition parties criticized the law for excluding those held on terrorism charges, including journalists and politicians.
France and India extended their nationwide lockdowns. Emmanuel Macron announced that the country will remain under strict confinement rules until May 11, noting that there is "new hope but… the epidemic is not under control," and Narendra Modi extended the lockdown till May 3.  Meanwhile, Austria will reopen thousands of small shops today while Italy allows some firms to resume operations.
Pressure is mounting for China to offer Africa debt relief. So far, Beijing has been unwilling to take the lead on a broad pandemic-motivated debt-forgiveness program, but a temporary repayment freeze is expected to be announced at this week's G20 meeting.
---
What to watch for today 
---
Charting food stability
Even if you don't like asparagus, what's happening to it is reflective of Covid-19's threat to global food stability: In US grocery stores, the average price per pound has plummeted.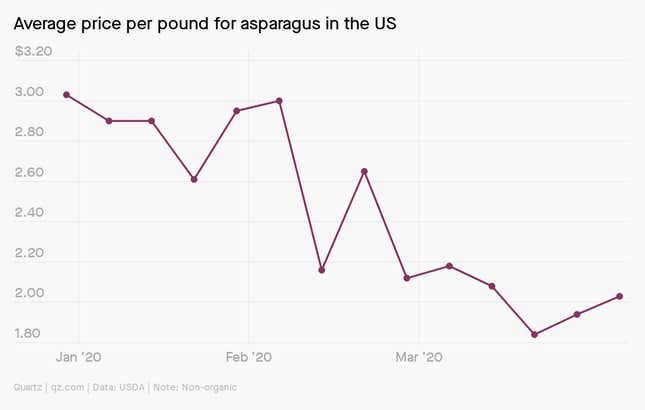 The culprit is change in global trade. Mexico accounts for 30% of asparagus exports, and many of those go to both the US and Asia. But shipments to Asia have decreased, which has Mexico redirecting that asparagus to the US, where supply now outweighs demand. This drives down prices, which ultimately impacts US farmers, who are already struggling with labor issues.
---
For our members 
$5 million: The amount raised, as of April 12, by a crowdfunding campaign to open a new intensive care unit in Milan's San Raffaele hospital.
$2 billion: What the World Health Organization and other UN agencies say they need to fight Covid-19. They've received $255 million so far, with another $34 million pledged.
$1.3 trillion: Estimated value of the global sports industry, according to Plunkett Research. Before the pandemic, Deloitte had forecast a "golden" outlook for the sector this year.
---
Quartz Daily Obsession
What if nature wanted social distance, too? Only 25% of the planet is currently substantially free of human impact, and activists say rewilding—the process of letting land go back to its "natural state," sans human intervention—could be the key to revitalizing ecosystems. Take a walk on the rewilding side with today's Quartz Daily Obsession.
---
Surprising discoveries
Thousands of Italians are measuring light pollution from their balconies. Researchers are asking people to help with a nationwide experiment using just their phones and a special app.
Hairstylists are giving virtual haircuts. Over a video call, they will guide customers through how to cut their hair.
Ancient Brits worshipped hares and chickens. Back in the Iron Age, the animals were venerated as gods, according to new archaeological research.
Our first interstellar object won't be our last. A new theory suggests 100 trillion objects similar to 'Oumuamua are created by every planetary system.
Ghosting is the new social distancing. An Indonesian village dresses up volunteers as ghostly pocong to scare residents into staying home at night.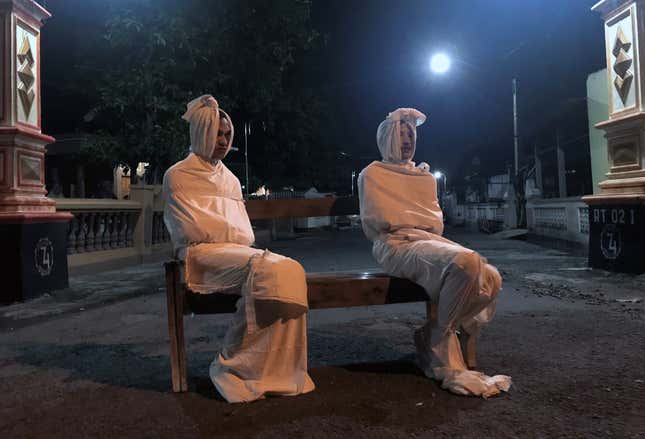 ---
Did you get the memo?
We know you're busy. That's why Quartz at Work is launching The Memo, a newsletter worthy of your inbox and time. We'll share dispatches from the world of modern work, plus actionable advice—no matter where you are in the org chart—for creating more productive, creative, and compassionate work cultures, even on video chat.
---
You asked 
Can you be positive for Covid-19 if you have flu-like symptoms but no fever?
The answer is yes—if you're feeling flu-like symptoms without a fever, you should still assume you have Covid-19. But fever is the most common symptom. In an observational study published by the WHO in February, fever—classified as a body temperature of 100.4ºF (38ºC) or higher—showed up in about 88% of nearly 56,000 Covid-19 patients. After that, 68% had a dry cough, 38% felt extreme fatigue, and 33% reported coughing up phlegm.
Fevers are like the body slam of innate immune response. Viruses prefer to do their business at certain temperatures, so when we turn the heat up, it's harder for them to survive. It's a tradeoff—fevers feel terrible for us, too, but they rarely cause long-lasting damage on their own.
✉️ What's your burning question? (no pun intended)
---
Our best wishes for a productive day. Please send any news, comments, interstellar visitors, and godly bunnies to hi@qz.com. Get the most out of Quartz by downloading our app on iOS or Android and becoming a member. Today's Daily Brief was written by Mary Hui and edited by Isabella Steger.