When the novel coronavirus hit the United Kingdom, rugby announcer Nick Heath was among those who suddenly found himself without a job. Rugby matches were all cancelled and they wouldn't be back anytime soon.
So, without scrums, drop kicks or garryowens to comment upon, he began to narrate the most mundane aspects of his life, posting his rundowns on Twitter of people crossing the street, dogs playing in the park, and grocery store observations with the hashtag #LifeCommentary.
"I saw my earnings fall away," Heath said. "I was going for a walk and saw people kicking a ball around. I thought, 'There's a bit of sport. I could apply my commentator voice to it.'"
Heath's commentary hit a collective nerve, attracting hundreds of thousands of views. Perhaps because he's among those grieving, confused, and befuddled about what may be the first-ever global sports shutdown.
Competitions for everything from baseball to soccer to golf to bass fishing have been called off as the multi-billion dollar sports industry tries to navigate the global coronavirus pandemic. There's no auto racing in China, no horse betting in the Persian Gulf, no beanballs being hurled against the Houston Astros. The Tokyo Olympics are now scheduled to be held in 2021, a symbolically odd year.
Sport is inherently about bringing people together (and for many, then monetizing it), which makes it a bit of an epidemiological nightmare. That's part of why the pandemic hit sports early and visibly. The NBA and NCAA called off their crowded events before the federal government did. Professional basketball players were among the first celebrity names to test positive and advocate for more testing. Italian soccer player Daniele Rugani's positive test result raised awareness about being asymptomatic. LeBron James is among those sharing his quarantine workouts and is one of the loudest voices for #PlayInside.
Sports will come back, eventually. The question is how the industry will change in the meantime. It's a "reset," says David Carter, a professor at the University of Southern California Marshall School of Business—one with tremendous economic consequences.

Pay cuts and crowd-free games
The global sports industry is estimated at $1.3 trillion dollars, according to Plunkett Research. Before the coronavirus pandemic hit, Deloitte had forecast a "golden" outlook for the industry this year, ripe with moneymaking opportunities, and fueled by a variety of factors including expanded opportunities for female athletes and the evolution of esports. Even the flow of cash generated by live sports on TV, a holy grail in a universe of cord-cutting, has seemingly come to a standstill.
Professional leagues are best poised to ride this out, even if, like baseball or basketball, they may miss an entire season, Carter noted. They're generally cash-flow positive, have a monopoly on their product, are insured, may be able to access lines of credit if needed, and can count on sponsor interest when there's a comeback.
Some, like the NHL, MLB, and NBA have lived a version of this before with stops to their seasons as a result of labor disputes, most notably, the 2011 NBA lockout and the 2012-2013 NHL lockout. (Hockey historians also point to the cancellation of the 1919 Stanley Cup due to a devastating wave of that era's flu pandemic.) In those cases, business eventually got back to usual and fans were eager for the return to play as scheduled.
Still, executives are looking for ways to offset losses and, while much is still being discussed, the NBA is among those looking at withholding a portion of player pay, including the option of spacing out payments and other options for how owners can shoulder some of the hit. Under that league's collective bargaining agreement, players lose roughly 1% of salary per cancelled game under a clause that deals with catastrophes including, yes, a pandemic.
Another future option that could help offset some of the bleeding are crowd-free games. Even if stadiums and arenas remained closed, at least being able to offer live competitions would help the leagues recover lucrative broadcast deals—and give fans at home something to cheer for.
Professional leagues generally have a long-term outlook, so even if they have a terrible year (or two?), the general thinking is they're more blue chip than bankrupt.
"To do so they will need to work closely and collaborate with their most vital business partners, the media and corporate America as the funding they provide has become the lifeblood for most franchises," Carter said. "Their revenue streams will be delayed, but will more than likely return at some point as all involved appreciate the inherent marketing value of sports."
FIFA, the governing body of international football, is planning an emergency fund to help its members weather the storm, according to a New York Times report.
Smaller leagues and niche sports, however, will struggle. If the downturn lasts for a long time, which many anticipate it will, they may not survive.

Sponsor pullback and bad timing
Fueling much of those balance sheets are television contracts and corporate sponsors, who are also losing out on their investment in sports. While some will find ways to stay involved, such as Nike's "Play Inside, Play for the World," campaign, "some will be sidelined, paralyzed by their fear of making a mistake," T. Bettina Cornwell, a professor at the Lundquist College of Business at the University of Oregon, said.
Postponement of major events, such as the Olympics, means many brands will take a longer-term view and just retool their messaging. "People are going to want that national spirit the minute this is calm," Cornwell said. "People are going to want to return to those events that make them feel comforted."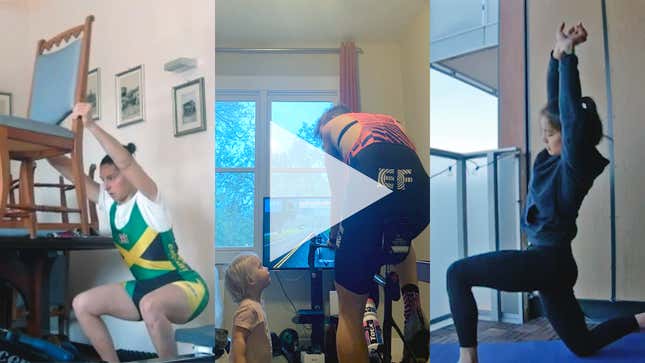 One place where sponsors may pull back, however, is sponsoring individual athletes, particularly as concerns about a drop in consumer discretionary spending looms. That adds further to the already painful heartbreak for athletes, across the sports world.
Unions protect some professional athletes, but, as NBA commissioner Silver pointed out, professional athletes age and therefore often have short earning windows which means missing a year in the NBA can be akin to others missing many years of work. (Silver is among the sports executives who took a pay cut and there's speculation that the NBA's salary cap could be lower next season.)
Expect agents and lawyers to be leafing through collective bargaining agreement clauses to see how this shakes out. Major league baseball players had benefits like health insurance for life enshrined in their contracts before COVID-19 hit. Others, like those in American track and field who have long advocated for unionization, are less well protected and may renew their organizing efforts.
Beyond the fine print, there's also an alchemy of timing that plays a perplexing role for athletes. Consider stars like Sabrina Ionescu, a basketball player at the University of Oregon, whose stunning college career is coming to an anticlimactic close. Olympians with training schedules they had sharpened for this summer will have to retool. In addition to an anemic sponsor climate, bonuses tied to victories, such as an Olympic medal, are clearly delayed, as well.

Consumer resurgence
Yet, the hopeful believe there could be innovation, too. An even bigger boom in the already growing world of esports and a dusting off of virtual reality plans may occur as leagues—and broadcasters—look for new revenue streams, Bob Boland, who teaches courses in both Penn State's Labor & Employment Relations and Law Schools, said.
And flirtations with sports betting may turn into full marriage, particularly as states similarly look for new revenue streams. More states may pass sports betting laws and leagues may put more investment into it.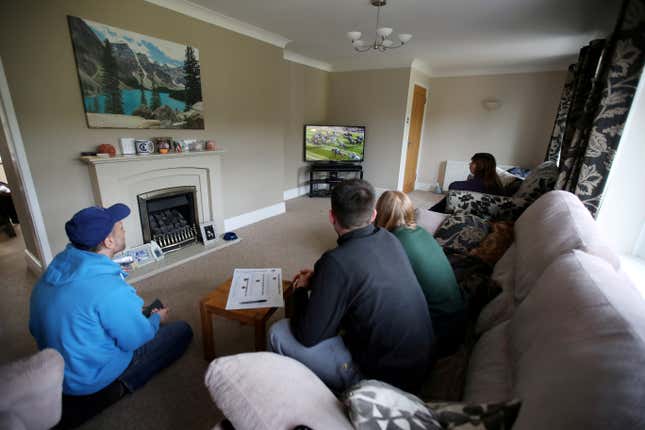 "You'll see new opportunities that will allow us to interact at home," he said. "We'll watch on our TV, but with Zoom, we're wondering why we can't have a virtual happy hour and a room camera. I think those things will change as a new normal and when we look ahead."
That's bad news for the service-related industries—food, hospitality, travel, bars—that have thrived with live, in-person sports. The days of erecting 60,000-fan stadiums may be behind us, or at least in a long lull, Boland said. Going forward, stadiums may even be designed or reconfigured with seats more spread out, crowds more sparse by design.
"We'll still watch sports," he said. "But how we consume it, that's still the unknown."
Meanwhile, in lawyers' offices and perhaps courtrooms, there may be disagreements over how much of what insurance may cover. Some of the leagues in the long run may fare better than they think, but that's a competition that will not take place on ESPN, but could be of financial and legal consequence.
Not even the most impassioned sports fan is expecting any government bailout for sports as an industry beyond blanket stimulus like increased unemployment benefits, Caldwell said. When the recovery happens, it will be consumers who drive the resurgence.
"It will be the fans that stage the comeback for sport when we reach the beginning of the end."
That can't come quickly enough for Heath. He hasn't called a rugby match since February 22 and while he appreciates the response that his parody has created in a time of trouble, he's ready to get back to sports. Replays are only getting him so far.
"I think part of it is now there's a literal captive audience," he said of his Twitter feed's success. "People are looking for distraction. I think people are missing sport and that doesn't mean just directly the competition on the sports field. For a lot of people that's the ambience, the cadence. What I'm doing for now is trying to scratch that itch for people."