Good morning, Quartz readers!
Here's what you need to know
There are two major fires near Chernobyl. One of the blazes is just a kilometer away from the notorious abandoned nuclear plant, according to Greenpeace, while Ukraine's president Volodymyr Zelensky praised firefighters for their courage.
Amazon plans to recruit 75,000 more people. The company has hired 100,000 workers since March, and is spending $500 million to boost pay. Some employees and contractors have staged walkouts over conditions they say put them at risk of contracting Covid-19.
The US president said that he has authority over state restrictions. This claim, however, ignores the constitutional structure of the country, and came hours after some governors formed regional pacts to coordinate ending their lockdowns. Meanwhile, three churches are suing California's Gavin Newsom for ordering everyone to stay at home.
Major countries extended their lockdowns. President Macron announced that France will remain under strict confinement rules until May 11, noting that there is "new hope but… the epidemic is not under control," while prime minister Modi extended India's until May 3.
Bernie Sanders endorsed Joe Biden for president. The two men also agreed to establish six task forces to cooperate on policy, just five days after the Vermont senator dropped out.
---
What to watch for today 
---
Charting food stability
Even if you don't like asparagus, what's happening to it reflects Covid-19's threat to global food stability: In US grocery stores, the average price per pound has plummeted.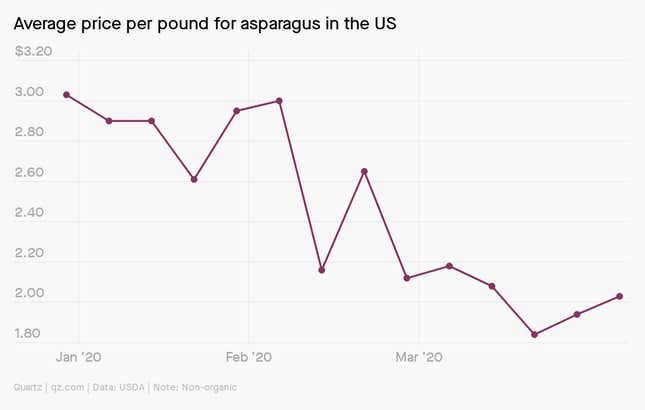 The culprit is change in global trade. Mexico accounts for 30% of asparagus exports, and many of those go to the US and Asia. But shipments to Asia have decreased, which has Mexico redirecting that asparagus to the US, where supply now outweighs demand. This drives down prices and damages US farming, which is already struggling with labor issues.
---
For our members 
$5 million: The amount raised, as of April 12, by a crowdfunding campaign to open a new intensive care unit in Milan's San Raffaele hospital.
$2 billion: What the WHO and other UN agencies say they need to fight Covid-19. They've received $255 million so far, with another $34 million pledged.
$1.3 trillion: Estimated value of the global sports industry, according to Plunkett Research. Before the pandemic, Deloitte had forecast a "golden" outlook for the sector this year.
---
Quartz Daily Obsession
What if nature wanted social distance, too? Only 25% of the planet is currently substantially free of human impact, and activists say rewilding—the process of letting land go back to its "natural state"—could be the key to revitalizing ecosystems. Take a walk on the rewilding side with today's Quartz Daily Obsession.
---
Surprising discoveries
Thousands of Italians are measuring light pollution from their balconies. They are helping with a nationwide experiment.
Hairstylists are giving virtual haircuts. Over a video call, they will guide customers through the process.
Ancient Brits worshipped hares and chickens. Back in the Iron Age, the animals were venerated as gods.
Our first interstellar object won't be our last. A new theory suggests 100 trillion objects similar to 'Oumuamua are created by every planetary system.
Ghosting is the new social distancing. An Indonesian village is dressing up volunteers as ghostly pocong to scare residents into staying home.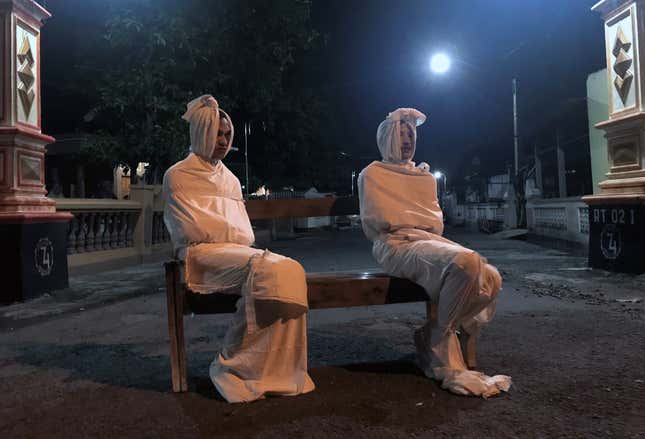 ---
Did you get the memo?
We know you're busy. That's why Quartz at Work is launching The Memo, a newsletter worthy of your inbox and time. We'll share dispatches from the world of modern work, plus actionable advice—no matter where you are in the org chart—for creating more productive, creative, and compassionate work cultures, even on video chat.
---
You asked 
Can you be positive for Covid-19 if you have flu-like symptoms but no fever?
The answer is yes—if you're feeling flu-like symptoms without a fever, you should still assume you have Covid-19. But fever is the most common symptom. In an observational study published by the WHO in February, fever—classified as a body temperature of 100.4ºF (38ºC) or higher—showed up in about 88% of nearly 56,000 Covid-19 patients. After that, 68% had a dry cough, 38% felt extreme fatigue, and 33% reported coughing up phlegm.
Fevers are like the body slam of innate immune response. Viruses prefer to do their business at certain temperatures, so when we turn the heat up, it's harder for them to survive. It's a tradeoff—fevers feel terrible for us, too, but they rarely cause long-lasting damage on their own.
✉️ What's your burning question? (no pun intended)
---
Our best wishes for a productive day. Please send any news, comments, cooperative rivals, and an embattled governor to hi@qz.com. Get the most out of Quartz by downloading our app on iOS or Android and becoming a member. Today's Daily Brief was brought to you by Adam Rasmi and Hasit Shah.