Good morning, Quartz readers!
Here's what you need to know
India softened its nationwide lockdown. One day after extending restrictions by three weeks, the government announced new rules to allow the opening of key sectors including farming, banking, and public works. Meanwhile, cybersecurity experts are raising concerns about India's Modi-endorsed coronavirus app.
South Korea voted in the middle of a pandemic. 66% of eligible voters turned out for parliamentary elections in what appears to be a successful example of how to balance the twin obligations of public health and civil liberties. President Moon Jae-in's ruling Democratic Party of Korea is expected to win a majority of the 300 seats up for grabs.
Chinese leaders held back key information. Top Chinese officials allowed Lunar New Year events and travel to continue for six days after determining that coronavirus was a serious pandemic—leading the country to its first recorded quarter of negative GDP growth. Beijing, however, is not wasting time when it comes to re-introducing so-called "national security" measures in Hong Kong.
The G20 paused debt payments from poor countries. As the global tally of recorded infections passed two million, the group of 20 rich nations decided to freeze debt-related transfers from the world's poorest countries until at least the end of the year.
Apple finally launched its new budget iPhone. The rumors were true. Apple revived its cult-favorite iPhone SE with a 4.7" screen and a $399 starting price in the US—instantly becoming the most friendly model for both pocket and wallet.
---
Who's making it work on Zoom?
---
Charting banks' backup plans
America's banking giants are fortifying themselves for a potential tsunami of bad loans.
The five biggest US lenders have stashed away $24 billion of loan-loss provisions as of the first quarter, almost five times as much as in the previous period, according to FactSet data. Banks are preparing for a wave of soured loans and credit losses as businesses endure weeks of closures to contain the coronavirus pandemic.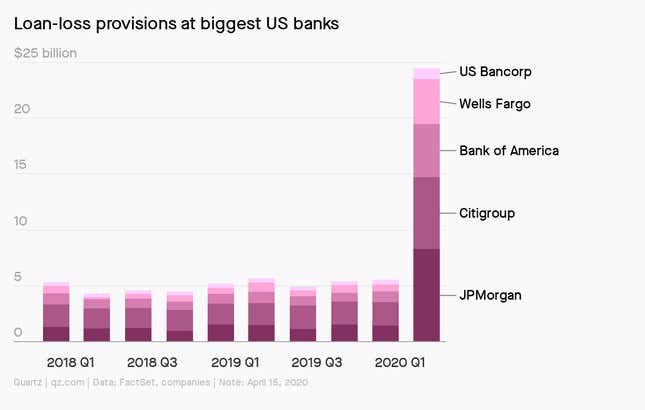 ---
For our members
💰"I've always seen the WHO's lack of funding as a symptom, not a cause, of their problems. People don't trust them, and that's why they've underfunded them." —Ashish Jha, director of the Harvard Global Health Institute
🥛"The biggest thing is the collapse in the restaurant and food service demand. It's tough to get numbers, but I would estimate as much as 40% of dairy goes into food service channels."—Lucas Fuess, a food industry analyst with HighGround Dairy
👖"Now what we're seeing is much more emphasis on core products that have a never-out-of-stock, trans-seasonality to them, because those can be much more profitable for retailers." —Francesca Muston, fashion director for trend forecaster WGSN
(You too can be a member! Start with a 7-day free trial.)
---
Quartz Daily Obsession
Prison breaks are having a resurgence in the Covid-19 era. From the United States to Italy, Brazil, and Iran, inmates are trying to break out of jails, many of which have elevated coronavirus infection rates. Pandemic aside, prison breaks have a long history, and the ingenuity of escapees draws a cult following in culture and beyond. Make a break for the Quartz Daily Obsession.
---
Surprising discoveries
NASA is directing the Mars rover from home. The operation involves hundreds of people who used to rely on being in the same place at the same time.
Analysts make better forecasts when they share the CEO's name. A Jeff may be inclined to give more information to another Jeff.
Guyana has the only economy that's actually doing pretty okay. The rest of the world may be spiraling, but the South American country is seeing 53% growth.
The Big Bang produced something. And we're finally starting to understand why it resulted in anything at all.
The ocean's longest creature measures 150 feet. A siphonophore spotted off the coast of Australia puts blue whales to shame.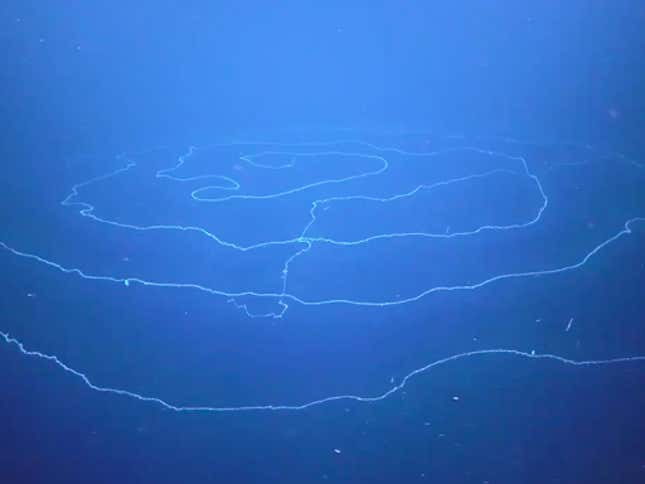 ---
From the Quartz newsletterverse 
Climate deniers have a new hobby: coronavirus denial. The same people (and psychology) are at work, says Stephan Lewandowsky of the University of Bristol. One conservative radio host referred to the coronavirus on March 14 as "climate change 2.0." "They perceive it as a threat, in the same way that climate change is—not just to the economy, but also to the way in which the economy operates," he told Grist. That has led to a vastly different assessment of the risk posed by the pandemic.
Learn more about the fight against climate change—and climate-change deniers—by signing up for Race to Zero Emissions, a weekly briefing on the battle for the planet.
---
You asked 
How do you make yourself productive if you're so distracted and aren't that interested in what you happen to be working on now, but you have to finish it?
Great question, Abigail. Here's some advice from Quartz's director of audience, Phoebe Gavin: "I try to plan out my day as much as possible and assign tasks to time periods. But I only work on them for 15 minutes at a time. It's short enough that I'm not intimidated by starting, and if I go offline, no one will freak out because not much can happen. But it's long enough that I can make meaningful progress and possibly build up some momentum.
"When I have tasks I'm not excited about, I try to work on those in chunks too. If it's a particularly onerous task, I'll chop it down to 5-minute chunks."
You can find more sage workplace wisdom by signing up for The Memo, a new newsletter from Quartz at Work. If you have your own workplace or productivity question, ✉️ send it our way.
---
Our best wishes for a productive day. Please send any news, comments, Guyana vibes, and analysts named Max, Kira, and Susan to hi@qz.com. Get the most out of Quartz by downloading our app on iOS or Android and becoming a member. Today's Daily Brief was brought to you by Max Lockie, Susan Howson, and Kira Bindrim.