Good morning, Quartz readers!
Here's what you need to know
China's economy shrank… Growth in the first quarter fell 6.8% from a year earlier, the first contraction since at least 1992, when China began releasing quarterly GDP figures. It's likely that it's the first negative quarter China has had since 1976, when the disastrous decade-long Cultural Revolution ended. Separately, authorities also revised up Covid-19 figures for the city of Wuhan, with the death toll increasing by 50%.
…and its rift with Europe deepened. French president Emmanuel Macron questioned China's handling of the pandemic and criticized its lack of transparency. His comments come after Paris summoned China's ambassador over an article on the embassy website that said Western countries were allowing old people to die in care homes. UK foreign secretary Dominic Raab also said that it would not be "business as usual" with China once the crisis is over.
Donald Trump announced his "Opening Up America Again" plan. The US president outlined how states can emerge from their lockdowns in three phases, and said governors would manage the process themselves. Phase one, for example, would allow venues such as restaurants and places of worship to open again but under strict social distancing rules.
A space crew returns to a pandemic-hit Earth. Three astronauts from Russia and the US, who departed for the International Space Station in September, will land in Kazakhstan today. They'll be greeted by a smaller-than-usual crowd when they land due to coronavirus concerns.
Orthodox Easter. Greece is tightening travel restrictions over the weekend and banning mass church gatherings and firecrackers, while the  Russian Orthodox Church has urged people to attend services online, though churches will not close their doors. In Ukraine, the Moscow-backed Church and the independent Church have issued clashing guidance, heightening tensions between the two.
More young refugees will be transferred in Europe. A group of around 50 children currently living in camps in Greece will be flown from Athens to Germany tomorrow, after a dozen unaccompanied minors were moved to Luxembourg earlier this week as fears mount that coronavirus could spread in crowded migrant camps.
---
We need you! 
Political campaigns spend a lot of money to reach voters on Facebook. Here's how much US presidential candidates have shelled out so far this year:
🔴 Trump: $10.7 million
🔵 Biden: $7.4 million
⚫ Dark money groups: ???
We want to know how these ads are targeted, whether they're truthful, and if they use different messaging for different people. Contribute to our investigative stories by sending us the ads you're seeing. It's easy, and we don't collect your personal information—just the ads and how they were targeted. Here's how it works.
Install the Political Ad Collector on Chrome or Firefox on your computer.
Consent to data collection (remember, it's the ads' data, not yours).
Browse Facebook normally.
Stay tuned for the great stories to which you've just contributed.
---
Charting Disney vs. Netflix
For only the second time ever, Netflix is worth more than Disney (✦ a Quartz member exclusive). But this time, it could stay that way for awhile.
Netflix's stock surged to an all-time high on Wednesday, putting the streaming service's market capitalization at $187.3 billion. Disney's market cap, meanwhile, has plummeted in the last two months as the coronavirus pandemic ravages its movies and parks businesses. In February, the Mouse House was valued at more than $250 billion. As of yesterday, its market cap was $186.5 billion.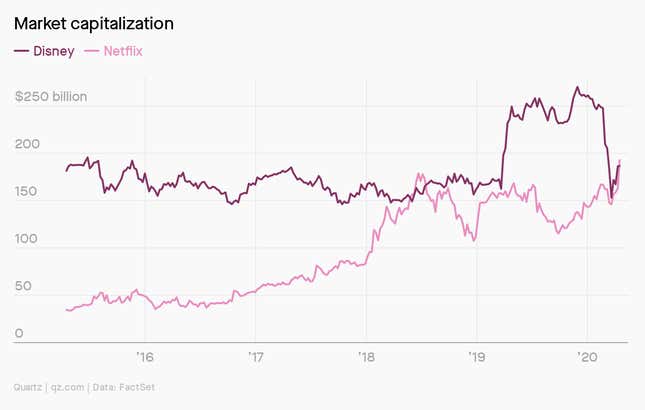 + more for Quartz members: 
"This feels very unprecedented. I don't know that we have an easy analogy to another historical event that we can draw on about what this might mean for young people." —Lisa Damour, a psychologist who specializes in the development of teenage girls and young women, and the author of the books Untangled and Under Pressure
"People are looking for distraction. I think people are missing sport and that doesn't mean just directly the competition on the sports field. For a lot of people that's the ambience, the cadence." —Rugby announcer Nick Heath
"In many traditional companies, a new initiative takes six months just to schedule a plan, never mind to do it. And now we don't have six months." —Eric Ries, co-founder of the Lean Startup Co. consulting firm
Want to become a member? Get 40% off a 1-year subscription.
---
Quartz Daily Obsession
Sourdough is the undisputed king of Covid-19. With a timeline that stretches over days, the bread is slow stuff, and baking forums are full of sob stories about deflated loaves. Experienced bakers are also up in arms about newbies grabbing up flour that's in short supply. Ignore them all. Let's get it started in here with the Quartz Daily Obsession.
---
Surprising discoveries
There were no US school shootings in March. Last month was the first March without one since 2002.
Iceland's forestry service recommends hugging trees, not people. "There are plenty of trees," one ranger points out. "It doesn't have to be big and stout, it can be any size."
Male lemurs' wrist scent seduces females. This sort of "stink flirting" could be the first finding of primate sex pheromones.
Japan's sake breweries are getting into disinfectants. They're producing high-alcohol liquids to use in place of hand sanitizers after the government said strong beverages could be used by medical personnel.
A Florida bar removed $10,000 from its walls. The money, all in singles, went to 22 staffers who were recently laid off.
---
You asked 
Why are some countries committing to end lockdown by a specific date? 
A few political leaders are pinpointing end dates for regional lockdowns, including French president Emmanuel Macron, who said the nation will start to re-open on May 3. Other world leaders have extended confinement in two- to three-week increments without making further promises.
But psychologists say the specificity makes sense, given what we know about the human brain. "The combination of uncertainty and danger…feeds an intense desire for certainty, better known to psychologists as the need for cognitive closure," writes psychologist Arie Kruglanski in The Conversation. "It is the time when authoritative, confident direction is much preferred over flexible, laissez-faire guidance. We need to be told what to do, plain and simple."
✉️ What's your burning question?
---
Our best wishes for a productive day. Please send any news, comments, sourdough starters, and $10,000 in small bills to hi@qz.com. Get the most out of Quartz by downloading our app on iOS or Android and becoming a member. Today's Daily Brief was written by Isabella Steger and edited by Mary Hui.