Good morning, Quartz readers!
Here's what you need to know
Coronavirus in New York might be plateauing. More than 18,000 people have died in the state, the epicenter of the outbreak in the US, but the number of new cases and hospitalizations has fallen in recent days. The US has had at least 759,000 cases, the most of any country.
Americans continued to protest against lockdown restrictions. Several demonstrations took place over the weekend, including the 2,500 people who gathered in Washington state on Sunday and defied a ban on gatherings of more than 50. Many didn't wear face masks.
US oil sank below $15 a barrel. The price of West Texas Intermediate declined about 20% in early trading, reaching its lowest level in two decades. Brent crude also now sits below $30, thanks to lockdowns and a now-resolved OPEC-Russia price war.
Disney put half its workforce on unpaid leave. More than 100,000 employees will stop getting paid this week, saving the company up to $500 million a month. Lockdown restrictions have forced the entertainment giant to shut its theme parks.
Australia ordered US tech giants to pay for content. Facebook and Google will have to share ad revenue after refusing to voluntarily compensate local media for material that they monetize. Australia's ad market is worth nearly $6 billion.
The outlook for airlines got even worse. South African Airways plans to lay off its entire 4,700-person workforce and may have to shut down for good after it failed to secure a government bailout. Meanwhile, United Airlines is offloading 22 planes from its 800-strong fleet.
---
What to watch for this week
---
Charting India's online grocery surge 
Hundreds of online grocery shops have been founded in India in the past five years. Most have failed to survive. But the coronavirus outbreak, and a nationwide lockdown, are giving the current players a unique opportunity (✦ a Quartz member exclusive), as suggested by the growth in daily active users for their apps.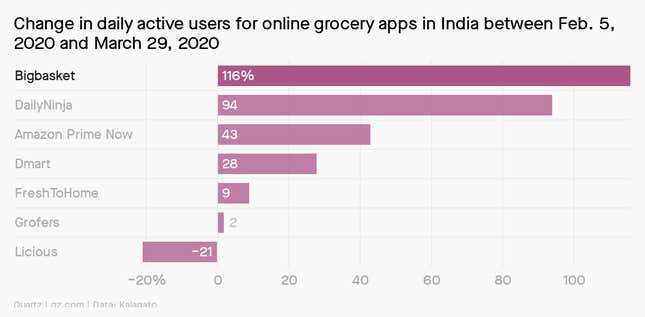 The challenge now will be to sustain the momentum and ensure customers keep ordering online once things reopen.
More for Quartz members: 
How do you nail a remote job interview? Make sure you get the little things right, like elevating your camera to eye level. And find a way to establish a personal connection with the interviewer early on.
What is Covid-19 teaching us about long-term thinking? Eric Ries, author of The Lean Startup, shares his thoughts.
Want to become a member? Get 40% off a 1-year subscription.
Quartz Daily Obsession
Just one more episode. Binge-watching hasn't just shaped our relationship with television, it has dramatically changed the entertainment industry. Press pause, it's the Quartz Daily Obsession.
---
Surprising discoveries
Lions are lounging through lockdown. Unperturbed by tourists, they are dozing off on once-busy roads in South Africa.
New York made Zoom marriages legal. Governor Andrew Cuomo issued an executive order allowing couples to obtain licenses and marry on video chat.
One ship watches over the melting Arctic. The Norwegian vessel Johan Hjort studies marine ecosystems. It also features a tanning bed. 
Soda's fizz is under siege. Coronavirus has deflated the CO2 supply chain.
You can stock your Animal Crossing island with classic art. The Getty Museum created an open-source collection of masterpieces specifically for the popular life simulation game.
---
Our best wishes for a productive day. Please send any news, comments, lion spottings, and Zoom wedding invites to hi@qz.com. Get the most out of Quartz by downloading our app on iOS or Android and becoming a member. Today's Daily Brief was brought to you by Adam Rasmi and Hasit Shah.