Good morning, Quartz readers!

---
Here's what you need to know
The UK launched its first orbital rocket. Virgin Orbit's Cosmic Girl took off from Spaceport Cornwall carrying nine satellites in a milestone for the country's space sector.
Fumio Kishida kicked off a diplomatic tour. The Japanese PM will be visiting most countries in the G7, including France, the UK, and the US, ahead of the summit in May.
China signaled an end to its tech crackdown. A top official announced the two-year regulatory clampdown on its fintech sector is "basically" coming to a close.
The Earth's ozone layer is on the mend, according to the UN. An assessment found that the hole over Antarctica could be completely closed by 2066. In other environmental news, England will ban single-use cutlery and plates.
Honda's Acura is exiting China. Its joint venture with China's GAC Group will end production and sale of the luxury line, marking the second foreign brand to leave China in recent months.
Disney hybrid workers were told to return to the office four days a week. CEO Bob Iger informed staff that the policy will begin March 1, according to CNBC.
Goldman Sachs is set to cut 3,200 jobs this week. One third of the investment banking layoffs are expected to affect its banking and trading units, Bloomberg reports.
---
What to watch for
Two years after making it a criminal offense to distribute deepfakes without disclosure, China is tightening the regulations surrounding AI-manipulated videos and images. Starting today (Jan. 10), deep synthesis providers—content providers that alter text, audio, images, and video—will have to abide by a new set of rules:
🤝 Companies have to get consent from individuals before making a deepfake of them, and they must authenticate users' real identities.
🥊 Service providers must establish and improve rumor refutation mechanisms.
⚖️ Deepfakes can't be used to engage in activities prohibited by laws and administrative regulations.
🕴️ Content must bear a signature or watermark to show it is not original to avoid public confusion or misidentification.
Beijing has touted the new law as a tool for social stability, but critics worry it'll prove to be another tool for coercion and control of the country's digital space.
---
How Brazil's far-right became yellow and green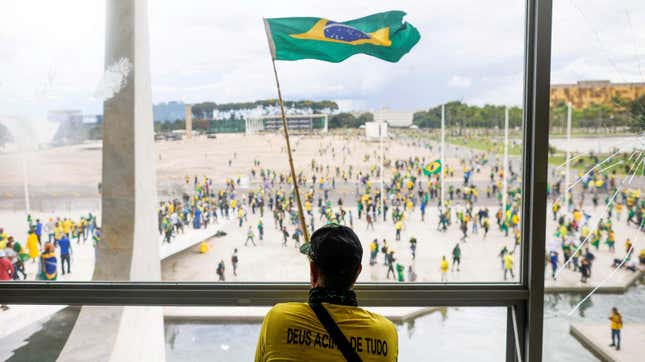 Brazil's canary yellow and green sports jersey, dubbed the canarinho, has historically been a symbol of unity and optimism, and a celebration of Brazilian football legends like Pelé, Ronaldinho, and Ronaldo.
But this week, thousands of the far-right protesters who stormed Brazil's democratic institutions were clad in the country's auriverde flag and the national football team's jerseys. The latter became a symbol of political allegiance when former, far-right president Jair Bolsonaro, who lost to Luiz Inácio Lula da Silva in the country's most recent election, told people to wear "yellow" while voting.
Lula has been urging all citizens to reclaim the attire. But the association between Bolsonaro's tribe and the jersey is so strong that many fans from the football-crazed nation ditched it during the recent World Cup in Qatar.
---
We need to talk about Eskom
On Dec. 12, the CEO of Eskom, South Africa's state power monopoly, felt dizzy, began to throw up, and later collapsed. A doctor diagnosed André de Ruyter—who had recently submitted his resignation from Eskom—with cyanide poisoning. He has since recovered.
Why would someone put poison in an outgoing CEO's coffee? Quartz's Faustine Ngila takes a look into de Ruyter's war on corruption within the institution.
✦ Love stories like these? Help keep content like this free and accessible to all by getting a Quartz membership. We're offering 50% off!
---
Quartz's most popular
🪟 How to negotiate higher pay using new salary transparency laws
⛔ Asia's richest man has said he received no personal favors from Narendra Modi
🛂 What higher H-1B fees will mean for Indians hoping to work in the US
🚆 Lagos is getting a new elevated rail network
😅 Prince Harry's memoir Spare was accidentally published early in Spain 
⚖️ Elon Musk says media bias means he can't get a fair trial in San Francisco
---
Surprising discoveries
Drones may one day drone on forever. Laser beams, used for airborne charging, could make landing unnecessary.
An AI is defending its first client in court. Chatbot DoNotPay will help argue a case against a speeding ticket.
You can finally read without lifting a finger. Don a pair of e-reader goggles and you're all set (well, except you need a wireless remote to turn the page).
Getting brolic isn't only about pumping iron. Men with lower sensitivity to pain may be perceived as more brawny. 
Loud ships are killing the mood for crustaceans. It's making crabs too crabby to copulate.
---
Our best wishes for a productive day. Send any news, comments, frustrated crabs, and drone rest stops to hi@qz.com. Reader support makes Quartz available to all—become a member. Today's Daily Brief was brought to you by Ananya Bhattacharya, Sofia Lotto Persio, Julia Malleck, Morgan Haefner, and Susan Howson.