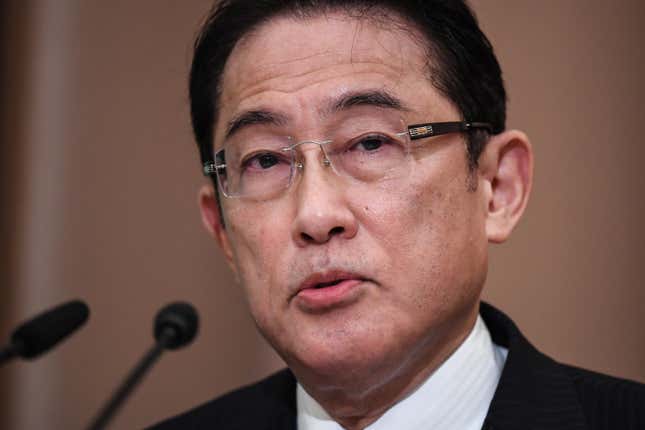 Japan's prime minister Fumio Kishida will embark on a whirlwind tour of most G7 countries next week, visiting France, Italy, Great Britain, and Canada, before landing in the US, the final stop.

Kishida and US president Joe Biden are due to hold talks in Washington DC on Friday (Jan. 13), discussing issues including the war in Ukraine, North Korea's ballistic missile program, and regional stability along the Taiwan Strait. The pair might also discuss the possibility of Biden visiting Nagasaki during this year's annual G7 summit in May, which will be hosted by Japan. A potential visit would mark the first time a sitting American president visited the Japanese city, which was hit by a US atomic bomb in 1945.
After formally announcing his travel plans, Kishida also reiterated his support for Ukraine's fight against Russia in a phone call with president Volodomyr Zelenskyy, telling reporters that he is considering whether to accept an invitation to visit Kyiv during his trip.
"I strongly condemned Russia's continued aggression, and stated that Japan would do its utmost to provide assistance, including to get through the winter, in order to protect the lives of the Ukrainian people," Kishida said.
In December, Japan announced its largest military expansion since World War II, unveiling a five-year, $320 billion contract that includes the purchase of missiles with the capability of reaching mainland China. Kishida described Japan as reaching a "turning point in history," worrying that Russia's precedence-shattering invasion of Ukraine would inspire a Chinese invasion of Taiwan, putting Japan's shipping routes at risk and threatening nearby Japanese islands.
Kishida will aim to shore up support for his new military strategy from his Western allies during the trip, looking to convince anxious foreign investors that a strong Japan can work as a stabilizing force in the Indo-Pacific region. Kishida, whose family is from the Hiroshima region, also plans to stress the need for disarmament with his G7 partners, planning a panel on a world without nuclear weapons at the May conference.
Where in the world is Fumido Kishida?
Japan stands firm as tensions between China and US grow
On Thursday (Jan 5), Japan's minister of economy Yasutoshi Nishimura visited Washington to preview Japan's priorities for the G7 conference. In a keynote address to the Center for Strategic and International Studies, Nishimura signaled Japan's intent to join the US chip ban against China, as the two superpowers ratchet up tensions in a high-stakes trade war.
"We must not be overly reliant on other countries, especially on only one specific country, for goods and technologies that are indispensable for our industries and our daily lives," Nishimura said in a thinly-veiled critique of China's dominance in the region. "Building up economic security is a matter of great urgency."

The Biden administration announced a sweeping ban on American chip technology exports to China in October, but experts say the move lacks bite without the support of Japan and the Netherlands, two of the world's leading producers of semiconductor chips.

The relatively new Kishida administration has seen a shift in Japan's long-standing attitude towards global trade. At the same conference, Nishimura said that liberal countries had made an error by bringing China and Russia into the World Trade Organization, incorrectly assuming that increased economic cooperation with autocracies would lead to less conflict.

His language highlighted the Kishida administration's bucking of mainstream economic and geopolitical strategy, a reflection of changing global attitudes towards the neoliberal policies of the late 20th century. "The free trade system ended up increasing the legitimacy of authoritarian regimes," he said. "The illusion we embraced ended up amplifying the threat of hegemonic powers."

In addition to trade tensions, China has repeatedly criticized the Biden administration's increased support of Taiwan, most notably calling former speaker of the house Nancy Pelosi's visit to Taiwan a "serious provocation." As pressure mounts, Biden will look to ensure Japan's unwavering support during Kishida's upcoming visit to Washington.
Related stories
🌏 It's time for G7 countries to put up or shut up on climate
🛢️ Agreeing on a Russian oil cap was the easy part. Now it has to be implemented
🗻 How Japan's global image morphed from military empire to eccentric pop-culture superpower