Good morning, Quartz readers!

---
Here's what you need to know
Gun violence struck California a third time in three days. At least one person has died following a shooting at a gas station in Oakland, while police arrested a 67-year-old man suspected of killing at least seven people at two locations in Half Moon Bay.
Microsoft has confirmed its third investment into American research lab OpenAI. The tech giant didn't disclose a specific amount, but OpenAI called it a "multi-year, multi-billion dollar investment."

Spotify is cutting 6% of its workforce. The Swedish company became the latest tech giant to announce layoffs this month. Meanwhile, Alphabet CEO Sundar Pichai said the company would reduce top executives' bonuses this year, a cost-cutting move following layoffs.

Bill Gates's climate tech fund backed a startup focused on livestock emissions. Australia-based Rumin8 aims to reduce farming emissions by changing bovines' diet.
A feud between taxi and Uber drivers in a Mexico tourist hub prompted a US security alert. Taxi drivers are protesting a court ruling in the state of Quintana Roo, home to Cancun, that allows Uber and other ride-hailing services to operate.

The trial of Mexico's former security chief opened in New York. Genaro García Luna is accused of taking bribes to protect the powerful drug cartel he was meant to investigate.
No more World of Warcraft in China (for now). The popular online game won't be accessible to millions of users due to a dispute between its US creator, Blizzard, and its locally mandated partner, NetEase.

---
What to watch for
The presidents of Brazil and Argentina announced their interest in a common Latin American currency at the Community of Latin American and Caribbean States conference this week in Buenos Aires.

Presidents Luiz Inácio Lula da Silva and Alberto Fernández wrote in a joint statement (link in Spanish) that their countries are exploring options to introduce a new currency called the "sur," which means "south" in Spanish, to encourage trade between the two countries. Argentine economy minister Sergio Massa added that Brazil and Argentina would invite other countries in Latin America to join, but urged patience, citing the difficulty of currency integration.

The idea of a joint currency has long been attractive in the region, with populist leaders pointing to the dominance of the dollar as evidence of neo-colonialism. Three countries in Latin America use the greenback as their primary currency, ensuring outsized American influence in their economies.

---
Tourists can't get to Machu Picchu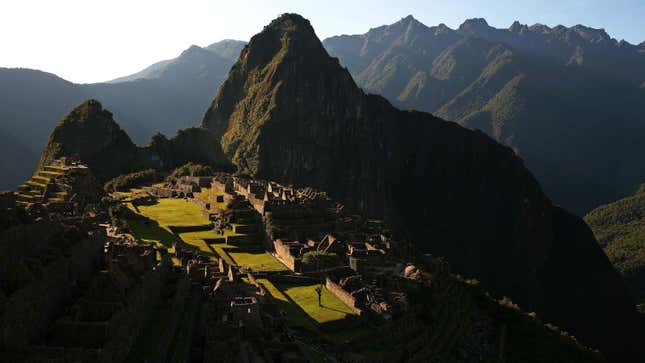 As authorities clamp down on anti-government protests in Peru, Machu Picchu—one of the new seven wonders of the world and fortress of the Inca empire—has been closed.

Protestors have blocked roads and closed airports since former president Pedro Castillo, the first indigenous leader of the Andean nation, was impeached and imprisoned in December. The decision to close down the attraction came after 418 people—148 tourists and 270 nationals—had to be rescued from the area because railways damaged by recent protests left them stranded.
An off-limits Machu Picchu is bad news for Peru's tourism industry. The site sees more than 2,000 daily visitors during normal times, and in 2010, the country lost a whopping $185 million in revenue when the UNESCO World Heritage site closed for two months following extensive flooding.
---
How hot is too hot for work?
After a record-breaking heatwave in 2022, many in the UK are looking at their lack of air conditioning and wondering if new rules are needed for workers facing extreme temperatures.
The UK isn't alone in lacking clear rules on working temperatures. Spain is among the best-regulated, with legislation stating that above 27°C (80.6°F) is too hot for office work. But more often a limit doesn't yet exist, or is vaguely-worded, putting the onus on employers to provide a workplace that is safe.

✦ Love insight like this? Help keep content like this free and accessible to all by getting a Quartz membership. We're offering 50% off.
---
Quartz's most popular
📦 How to ditch unnecessary meetings and make more space at work
💨 El Niño could worsen India's inflation worries in 2023
🤔 Martin Shkreli is back in business, and the FTC has questions
🐰 Chinese New Year in the US has taken a dip in popularity
🚜 Regenerative farming links soil health to human health
🤪 Why does Twitter's For You page feel so chaotic? 

---
Surprising discoveries
A school in Massachusetts has not switched off its 7,000 lights in more than a year. No one knows how to turn them off.

Atmospheric dust might have distorted the impact of climate change. Global temperatures would have increased by an additional 0.1°F from pre-industrial levels had it not been for an increase in particles.

Mindfulness can be as effective as medication at tackling anxiety. It does, however, require commitment.

Paper maps are having a revival. Sales are booming as a new generation comes to appreciate cartography's artistic value.  

A debate on unleashing carp herpes has reignited in Australia. Recent flood waters proved a breeding ground for the "aquatic vermin," as one water conservationist called the unpopular fish.
---
Our best wishes for a productive day. Send any news, comments, vintage cartograms, and carp DMs to hi@qz.com. Reader support makes Quartz available to all—become a member. Today's Daily Brief was brought to you by Sofia Lotto Persio, Tim Fernholz, Diego Lasarte, and Morgan Haefner.