Good morning, Quartz readers!

---
Here's what you need to know
Toyota's CEO Akio Toyoda is stepping down. Koji Sato, head of the Japanese car company's Lexus brand, will take on the role beginning April 1.
SAP will cut 3,000 employees. The Germany-based software company is joining a wave of tech layoffs after it reported a steep drop in profits.
Tesla shelved an expansion of its Shanghai Gigafactory. The carmaker has faced headwinds in the Chinese market amid competition with domestic brands.
Ukraine signed an MOU with a Turkish energy firm. Turkey's Karpowership, which owns a fleet of floating power barges, agreed to supply the country with up to 500 megawatts of electricity.
Renault and Nissan revamped their 23-year alliance. The French and Japanese carmakers are launching five projects, Bloomberg reports, and are expected to rebalance equity stakes.
Northeast Asia is confronting a record-breaking cold snap. Seoul issued a cold warning following a second day of -15°C (5°F) weather, as Japan continues to battle heavy snow. Elsewhere in Asia, over 160 Afghans have died from sub-zero temperatures.
FTX's complete list of creditors was released. The 116-page bankruptcy filing includes Goldman Sachs, Apple, and the New York Times, among thousands of other creditors.
---
What to watch for
The World Health Organization (WHO) is reviewing the state of the pandemic after gathering its emergency committee for the 14th time since the covid outbreak began.
Discussion today (Jan. 27) will focus on whether the pandemic still warrants the definition of a public health emergency of international concern (PHEIC), the highest risk level. The decision, expected to be announced Monday (Jan. 30), is ultimately for WHO director-general Tedros Adhanom Ghebreyesus to make, though he has consistently followed the committee's advice.
Here are a few numbers that tell the story of the pandemic so far.
665 million: Covid cases recorded worldwide since January 2020
6.8 million: Covid deaths recorded worldwide since January 2020
11: Emergency Use Listings issued for covid vaccines
13 billion: Vaccine doses administered worldwide as of Jan. 24, 2023, to more than 5 billion people
---
Wait, what recession?
The US is definitely not in a recession. At least, not yet.
Preliminary numbers show the world's largest economy grew 2.9% year over year in the last quarter of 2022 (revised results will be out next month). At first glance, it looks like the US did what it wasn't expected to do—expand in the face of inflation, higher interest rates, the ongoing war in Ukraine, and fears of an economic downturn.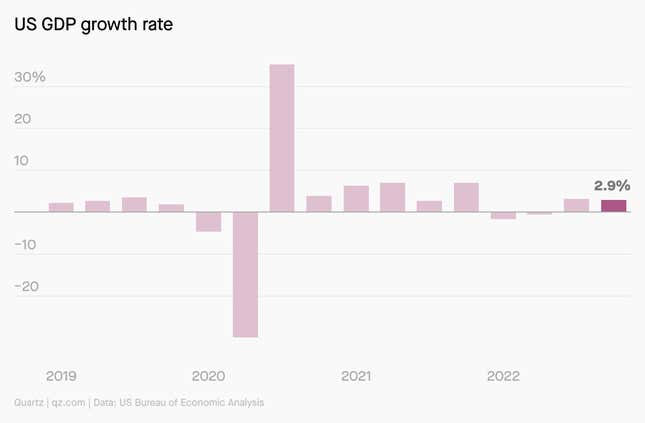 While some economists are referring to this stage of economic recovery from the pandemic as "gloriously, splendidly... boring," the future of the US economy will largely depend on whether consumer spending can keep holding up like it has. And signs of economic growth cooling at the end of last year, falling retail sales, and more rate hikes ahead can't be ignored.
✦ Love stories like this? Help keep our content free and accessible to all by getting a Quartz membership. We're offering 50% off.
---
Africa is getting less safe
According to the 2022 Ibrahim Index of African Governance, life has become more dangerous for Africans in the past 10 years.
Violence against civilians and armed conflict have especially impacted the security of countries like the Democratic Republic of Congo (DRC), Eritrea, Somalia, and South Sudan. Quartz Africa correspondent Faustine Ngila breaks down the report, and explains how bloodshed across Africa has also hampered progress towards improved quality of life and better governance.
Stay up-to-date with local developments, emerging industries, and the top stories in Africa with the Quartz Africa Weekly, delivered straight to your inbox each Sunday morning.
---
Quartz's most popular
💬 Donald Trump is returning to Facebook and Twitter—if Truth Social doesn't stand in the way
🤑 Why Matthew McConaughey and Will.i.am "frequently" attending Salesforce meetings matters
💻 A bill now seeks to give Kenyans the 'right to disconnect' after work
💷 The UK is paying people to not use electricity
👉 A US research firm has accused Adani of pulling "the largest con in corporate history"
🥚 Why are US egg prices so high?
---
Surprising discoveries
A collector came forward about the skeleton in his closet. The set of bones from his attic could date back to the Battle of Waterloo.
"Yerb" is still a "nope" for most Americans. Despite the fact that it's caffeinated, soothing, and full of health benefits.
A dark nebula contains the chilliest ice ever found. Molecules measuring a balmy -440°F (-262°C) were found in molecular cloud Chameleon I.
Ketchup isn't the worst thing to schmear on your computer's GPU. It's a better thermal paste than cheese or diaper rash cream. 
A Swiss museum lost some 17th-century art at the cleaners. A pair of paintings may have been stolen since being sent out for restoration.
---
Our best wishes for a productive day. Send any news, comments, bottles of Heinz, and dark nebula coats to hi@qz.com. Reader support makes Quartz available to all—become a member. Today's Daily Brief was brought to you by Diego Lasarte, Sofia Lotto Persio, Julia Malleck, and Morgan Haefner.