Good morning, Quartz readers!
Here's what you need to know
The UK sets out its furlough program. Chancellor Rishi Sunak will present details on the future of the scheme, due to expire at the end of June, that is currently paying 80% of the wages of more than 6 million workers put on temporary leave. Separately, Northern Ireland will publish its five-stage plan for easing its lockdown.
Taiwan's WHO participation is looking less likely. A lawyer for the organization said its director general has no mandate to invite Taipei as an observer at an assembly meeting in Geneva this week, despite a growing chorus of international support for Taiwan's inclusion.
Iran temporarily reopens all its mosques. They will be open for three days to commemorate specific nights of the holy Ramadan month, according to the semiofficial Fars news agency. The decision comes as coronavirus cases have spiked recently in parts of the country, one of the hardest-hit in Middle East.
Tesla defied county orders and reopened its California factory. CEO Elon Musk yesterday ordered production to restart, and dared officials to arrest him. The move follows a suit filed Saturday against Alameda County, where the firm's Fremont plant is located.
Anthony Fauci gives a bleak warning. The top infectious diseases expert in the US is expected to sound an alarm when he addresses the Senate, cautioning against opening up the country too quickly at the expense of "needless suffering and death."
The US Supreme Court takes on three major cases. Justices will wrangle over matters involving president Donald Trump's top-secret tax and financial records, which he has long refused to disclose. One case, over Trump's tax records, is particularly urgent as the CARES Act relief package passed by Congress could potentially benefit him.
---
Pandemic-proof
Are certain companies immune to the effects of a struggling global economy, or even boosted by today's state of affairs? Recent stock market moves and funding rounds show that not everyone's sweating it.
🚲 Up 51% in 2020: Six months after its "wife" ad sparked widespread backlash, Peloton's stationary bike system doesn't seem like a bad gift idea after all.
🚢 $13 million richer: Indian shipping logistics startup Shiprocket nabbed enough in a new round of funding to expand its operation overseas.
🍿Up 40% in one day: Sure, AMC Entertainment's stock plunged 50% in the past few months—until unconfirmed reports said that a seriously pandemic-proof company might buy it.
---
Charting surplus-to-deficit switches
US trade plunged in March, with the nation buying 6.5% less goods than a year prior and selling 9.2% less to other countries during the same period. The shakeup caused some of the country's trade deficits to become surpluses and vice versa.
Gold was a hot commodity. The US imported $3.1 billion in non-monetary gold in March, quadrupling the $770 million it bought in February and reversing the trade balance.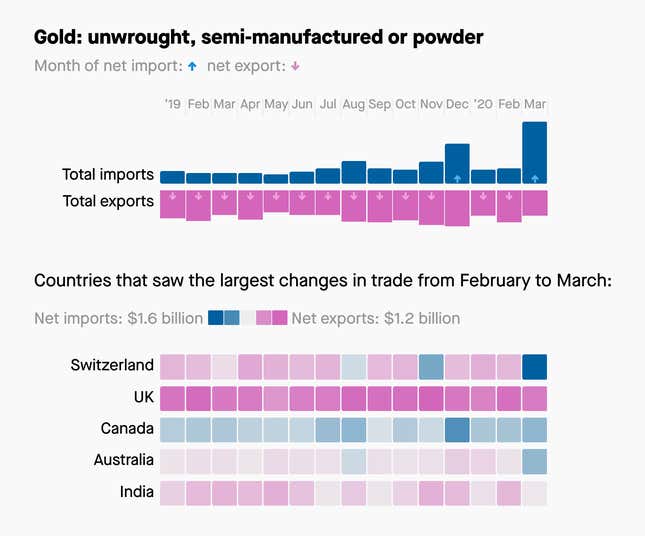 Quartz Things reporter Youyou Zhou also charted products that went the other way around, from deficit to surplus.
---
For Quartz members
✦ Become a member with a seven-day free trial. ✦
What could you see at your next IRL conference?
medical-grade disinfecting UV LED lights
cleaning robots
on-site telemedicine
fever sensors
buckets of hand sanitizer
Perhaps now's the time to ask the question of why you're gathering in the first place (✦ a Quartz member exclusive).
---
We're obsessed with rainbows
The rainbow is a natural and cultural phenomenon. You can see it in tie-dye fashion, LGBTQ symbolism, Snapchat rainbow-vomit filters, and a viral YouTube video from "Double Rainbow Guy" Paul Vasquez (who died on Saturday). The colorful combination of sunlight and raindrops has found its way into human art at least as far back as Homer's Iliad in 762 BC. See all the colors in today's Quartz Daily Obsession.
---
You asked about government debt
In simple terms, how are governments getting the trillions of funds being disbursed, when they are already carrying heavy debt burdens? – Noel
We turned to Quartz reporter Tim Fernholz, who recently wrote on this subject (✦ a Quartz member exclusive). "Investors are lending governments the money and central banks are helping them out. Despite austerity propaganda and debt piling up on public balance sheets, savers around the world aren't stressed about buying government bonds, especially at a time when private investment has dried up," he said. "Advanced economies that control their currencies, like the United States, Japan, the UK, and China, have earned the trust of investors who believe their central banks will raise interest rates to quash inflation before it gets out of hand, and that their governments will raise taxes to cover interest payments."
"That doesn't mean that these governments can print infinite money—it is just a recognition that the actual constraint on government action is the real resources in the economy, not a shortage of the bills it prints in a large building downtown. But it does imply that countries that don't borrow in their own currency can have trouble with debt. Many developing nations that issue bonds in US dollars or lack a history of central bank independence will struggle with the economic consequences of the pandemic. The IMF and World Bank are already preparing for an emerging market financial crisis."
---
Surprising discoveries
A submerged mud berth in the UK was given national protection. The 19th-century dock on a river in Essex was built for Charles Darwin's ship, the HMS Beagle.
Police used an electronic mating call to recapture a runaway peacock. A Boston officer was able to return the male bird to the local zoo after luring it with a soundtrack of a peahen.
Researchers designed a speedy, flexible robot. Inspired by the biomechanics of cheetahs, they created a soft robot that can gallop quickly.
Medieval arrows and modern bullets inflict comparable injuries. Archaeologists found that trauma caused by an English longbow and the guns of today have striking similarities.
Science can prove that websites all look the same now. Researchers used AI algorithms to study 10,000 websites published since the early aughts and confirmed they've gotten more uniform.
---
Our best wishes for a productive day. Please send any news, comments, flexible robots, and recordings of mating calls to hi@qz.com. Get the most out of Quartz by downloading our app on iOS or Android and becoming a member. Today's Daily Brief was written by Mary Hui and edited by Isabella Steger.