Good morning, Quartz readers!
Here's what you need to know
The EU makes a tourism plan. The European Commission will announce a phased approach to reopening borders to allow some tourism between countries with "similar overall risk profiles."
Lesotho's prime minister will resign. Thomas Thabane was named as a suspect in the killing of his ex-wife, while his current wife has been charged, and his resignation brings an end to the African kingdom's long-running political crisis.
Lebanon re-enters a lockdown… Though the country had won praise for its success in containing Covid-19, the government ordered a new four-day lockdown starting today after cases spiked in recent days as restaurants and mosques reopened.
…and Covid-19 cases grew in China's northeast. Jilin city suspended train services this morning after six new local cases were reported in the wider province, which borders Russia and North Korea. The region is emerging as a source of concern of a second wave of infections in China, with strict lockdowns re-imposed in some cities.
Relations between China and Australia worsened. After China suspended imports from four Australian abattoirs, Canberra said that a request for talks was ignored by Beijing. China's ambassador recently suggested that Canberra's support for an investigation into the origins of the coronavirus could lead to a Chinese consumer boycott.
Uber is hungry for Grubhub. The ride-hailing company is interested in acquiring the US food-delivery platform, with a deal possibly reached by the end of this month. Grubhub shares soared over 60%.
Facebook is compensating staff for PTSD. In a settlement, the social network agreed to pay $52 million to 11,250 current and former content moderators in the US for mental health issues. The complaint was brought by a group of moderators who said Facebook failed to provide them with safe workspaces.
---
The very hungry capital pillars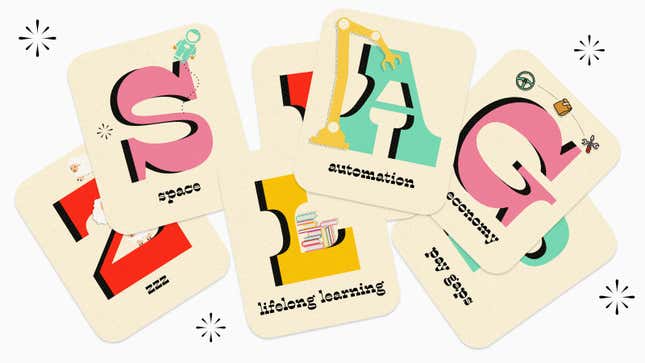 We made a guide to prepare children for the future of work. Quartz's Dan Kopf and Bárbara Abbês wrote and illustrated the alphabet of the next global economy, from A for automation 🤖to Z for Zzz 😴. Design reporter Anne Quito guest stars for an audiobook edition that's perfect if you want to circle back for a very productive bedtime.
---
Charting the confusing UK lockdown guidelines
Prime minister Boris Johnson's Sunday address was meant to simply announce new, mostly small changes to England's lockdown. But it appears to have left many Brits with more questions than answers. Google searches about visiting family members spiked 100-fold the hour Johnson addressed the nation. Queries about how often people could exercise also shot up, though by a slightly smaller margin.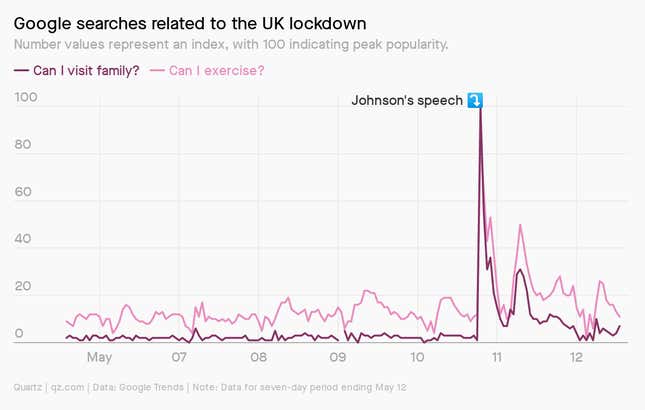 ---
For Quartz members
From restrictions on government bailouts to antsy investors, venture-backed startups face a particular set of problems in navigating the new business environment. In these Quartz member exclusives, we look at what comes next.
For more exclusive content on Why Startups Fail, The VC Boom, and more, become a Quartz member with a seven-day free trial. ✦
---
We're obsessed with Ruth Bader Ginsburg
The physically tiny US Supreme Court justice is an intellectual giant. The Notorious RBG may well be the only judge in the world known by a hip-hop moniker and likely the sole jurist to inspire books, documentaries, operas, workouts, feature films, and imitators who dress like her for Halloween. Choose the perfect collar before you read the Quartz Daily Obsession.
---
You asked about China's reputation
Are we still going to treat China as a trustworthy nation? – Jeff
From the US trade war to journalist expulsions to unfounded coronavirus accusations (in both directions), it's no secret that China is at a diplomatic crossroads. But according to recent polling, Americans are still most concerned by China's contributions to climate change and capacity for cyberattacks—not global health. Beyond the US, European countries are worried about a coronavirus-induced wave of Chinese corporate takeovers. Even China's neighbors India and Japan are paying domestic companies to move production out of China.
These changes can't wholly be attributed to the pandemic, which trade and territorial issues predate. And with China poised to rebound quicker than some of its G20 peers, the rest of the world will likely have little choice but to continue to engage with Beijing.
✉️ Do you have a burning question about how coronavirus is changing the world?
---
Surprising discoveries
Mexico is using sanitizing tunnels at the US border. People crossing from Arizona into Nogales are required to step into an inflatable tunnel that sprays disinfectant on them.
Bryan Adams apologized for his "bat eating" rant. The Canadian singer, who also blamed "wet market selling" for the delay of his shows, said he just wanted to use the opportunity to "promote veganism."
East Africa has a "coronavirus hairstyle." The colorful, braided, and spiked hairstyle is now a fashionable form of awareness.
A Chinese rocket may be raining debris from space. Reports suggest a rogue metal part landed in Cote d'Ivoire.
Bottled water isn't worth it. Britain's Ocado can now deliver to 6,000 more homes after eliminating online water orders.
---
Our best wishes for a productive day. Please send any news, comments, viral hair-dos, and disinfection tunnels to hi@qz.com. Get the most out of Quartz by downloading our app on iOS or Android and becoming a member. Today's Daily Brief was written by Isabella Steger and edited by Mary Hui.