Good morning, Quartz readers!
The world's biggest economy is projected to crater this quarter, in what is likely to be the largest contraction since at least the Great Depression. US stocks, meanwhile, have soared. They've recouped trillions of dollars of market value in recent weeks, erasing a swoon in March as commerce was forced to shut down around the world.
If forecasts for a 30% to 40% decline in gross domestic product turn out to be accurate, then the US stock market's valuation is more disjointed from the underlying economy than it's been since the dot-com bubble in 2000. The Federal Reserve's Nowcast, a statistical model based on economic indicators, forecasts a 31% contraction in GDP, while economists at JPMorgan estimate the economy could shrink as much as 40%.
The market capitalization of the companies in the S&P 500 Index, a benchmark that tracks 500 large US-listed stocks, is defying gravity. Investors are looking past the economy's downturn, anticipating a time when growth rekindles. If JPMorgan's estimates are accurate, the S&P 500 will soon be worth about 25% more than US GDP, assuming the stock market remains close to its value at the end of April 2020.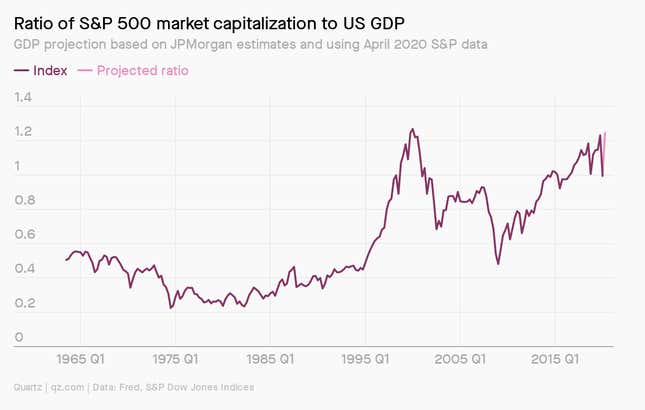 There are reasons to be wary of these valuations. The economic picture is so uncertain that many corporate executives have suspended making earnings guidance, leaving analysts with less data to assess. The future path of the pandemic is also uncertain. As some economies around the world re-open, virus breakouts may reoccur. It's unclear when, if ever, there will be a vaccine. With so much still up in the air, the US stock market's steadfastness is somewhat surprising.
"We're trying to force the new rules to fit into the old model and they just don't work," says Randy Frederick, vice president of trading and derivatives at the Schwab Center for Financial Research. "The word 'unprecedented' is the most overused term there is right now, but there's no better descriptor."
There are several factors that could be underpinning the S&P's rally. The US government has pledged more than $2 trillion of support for workers and industries. And the Federal Reserve has cranked up a series of programs to keep financial markets operational. As part of those efforts, the central bank is buying trillions of dollars of assets, including corporate bonds, to prevent the financial system from freezing up. The Fed's buying spree reduced interest rates and is driving investors to take more risk.
"We have such massive fiscal and monetary intervention," Frederick said. "In the absence of government intervention, the markets would be off a cliff." —John Detrixhe, senior reporter, and Dan Kopf, data editor
---
Looking for a calm, rational, even curious approach to coronavirus? We've got an email for that. Sign up for a look at how an epidemic affects the health of the global economy.
FIVE THINGS ON QUARTZ WE ESPECIALLY LIKED
What's the chance your bank will close? US bank branches have been closing at a steady clip for a decade. It turns out which ones end up on the chopping block is predictable based on a number of factors. Is it in a rural area? Poor area? An area with lots of other banks? This piece by Dan Kopf, Daniel Wolfe, and John Detrixhe rewrites itself to tell the story of the bank closest to you. —David Yanofsky, things editor
No, the Hong Kong protests are not over. As other countries turned their attention to the Covid-19 pandemic, Beijing began rewriting the rules in Hong Kong at startling speed. Acts of resistance are flaring up again, with tensions set to get much worse. Mary Hui takes stock of today's Hong Kong's protest movement and the grim future that lies ahead. —Isabella Steger, deputy Asia editor
An alternate future for Nigeria. The warning bells over Nigeria's dependence on its oil sector hide an important fact: The country's economy is already diversified beyond the commodity. With the coronavirus pandemic pushing oil prices to the brink, Yomi Kazeem and Yinka Adegoke chart what Nigeria's future could look like if it moved beyond oil revenue to opportunities at home and abroad. —Jackie Bischof, deputy membership editor
Won't you be better at being my neighbor? We can all recognize some of ourselves in Jenni Avins's piece that charts how Americans rate themselves against their neighbors regarding how stringent they've been with lockdown precautions. Is it fear that makes us so suspicious? Or is it our natural tendency to justify our own methods? —Susan Howson, news editor
The deaf community knows well about Zoom fatigue. If you've been wondering why you feel so exhausted from staring at those little boxes in a Zoom call, you're not alone—it's a lot like how those in the deaf community move through the world. Patrick deHahn breaks down why a little less richness in the form of communication ends up being so taxing. —Alex Ossola, special projects editor
---
QUARTZ MEMBERSHIP
How to fight Zoom fatigue. There's a host of new tools and smarter approaches leaders can use to promote inclusion and make virtual meetings more engaging and stimulating. Watch our latest Quartz at Work (from home) workshop on the art of the remote meeting to find out more.
---
FOUR THINGS FROM ELSEWHERE THAT MADE US SMARTER
Living with a ghost. If you thought being holed up at home with two toddlers and a dog was a challenge, try quarantining with a spirit from the great beyond. This surprisingly life-affirming New York Times story—these ghosts are more Casper than Bloody Mary—details unexplained instances of windows shaking, lost items reappearing, and a "suspicious towel." It just might make you a believer. —Liz Webber, senior news curator
Animal Crossing is what we're all doing. If you're like me, you've been whiling away countless hours hammering tables, trading turnips, and catching moths—virtually of course. The release of Animal Crossing was timed perfectly by Nintendo Switch, who vacuumed up users stuck at home, feeling helpless about what was going on outside. The Guardian interviewed its Japanese creators, for a fascinating backstory on a game that's hooked 11 million people worldwide. —Isabella Steger, deputy Asia editor 
"EBITDAC"—financial reporting for the Covid era. Nice try, CFOs. The pandemic has brought about a new accounting term: Earnings before interest, tax, depreciation, amortization, and coronavirus. The accounting maneuver allows accountants to imagine a company's profitability, if not for widespread shutdowns that have destroyed sales. As the Financial Times reports, these metrics are pretty much imaginary and investors are wise to look past them. —John Detrixhe, senior reporter
Lessons in robotics from the Roomba. When Joe Jones first joined MIT's Artificial Intelligence Lab in the early 1980s, he was convinced that robots would be replacing humans in a variety of basic tasks within five years. He was wrong. Writing for Nautilus, the inventor describes the process behind creating his much-loved automated vacuum, and the lesson he thinks roboticists need to learn: that the first step isn't asking what task a robot can replace, but the reason humans do the task in the first place. —Jackie Bischof, deputy membership editor
Our best wishes for a relaxing but thought-filled weekend. Please send any news, comments, robot appliances, and neighbor scorecards to hi@qz.com. Get the most out of Quartz by downloading our app and becoming a member. Today's Weekend Brief was brought to you by Jackie Bischof, Kira Bindrim, and Susan Howson.