Good morning, Quartz readers!
Here's what you need to know
Taiwan's Tsai Ing-wen was inaugurated. After a landslide victory in January due to her support for Hong Kong's protests and firm stance toward an increasingly aggressive Beijing, the president begins her new term with high approval ratings over her government's handling of the coronavirus.
Britain's new smoking rules come into effect. The stringent law bars menthol and slim cigarettes in a bid to stop younger people from starting smoking, though it doesn't apply to e-cigarettes.
An Australian university could expel a student critic of China. In a test case for academic freedom in the face of China's growing influence, the University of Queensland is holding expulsion hearings for Drew Pavlou, a student senator who has been outspoken against the school's links with Beijing.
South Asia is bracing for Cyclone Amphan. Half a million people have been evacuated in India and Bangladesh, as the formation in the Bay of Bengal looks set to make landfall this evening on the border of both countries, near the city of Kolkata.
---
The department of awkward solutions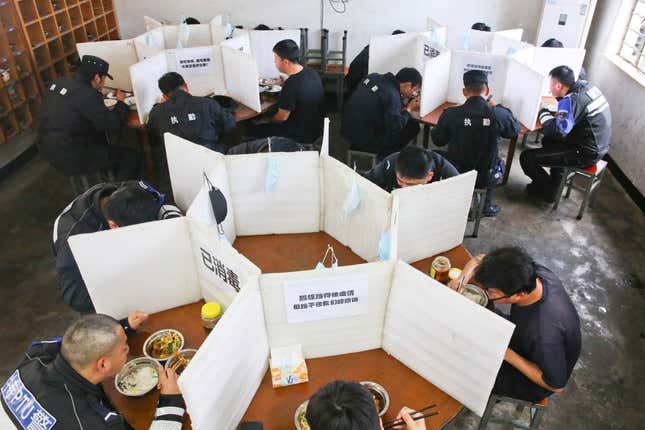 As businesses around the world begin to reopen, many workers can expect to encounter a host of half-baked design solutions in the name of stemming viral spread. Design and architecture reporter Anne Quito spoke with experts to help deliver the dos and don'ts of re-entering office life.
👍Do: Try new things.  Last month, commercial real estate firm Cushman & Wakefield introduced "The Six Feet Office," a set of guidelines including unusual new practices like requiring everyone to only walk in a clockwise pattern.
👎Don't: Skip steps. In the rush to produce solutions, designers could cut corners while testing prototypes. Paolo Cardini, associate professor of industrial design at the Rhode Island School of Design, argues, "You are skipping safety prototyping and just hope that they'll tell you what is wrong about the product. That's dangerous."
👍Do: Consult experts. The best solutions come from working with health experts. For example, the architecture firm MASS Design has been working with doctors to publish a useful set of guidelines (pdf) for designing healthier spaces.
👎Don't: Make hasty decisions. Cardini says it's not the time to implement any permanent infrastructure or to order products in bulk. "I think we need to wait a little bit more to have a good array of effective and validated solutions," he says.
---
Charting quarantine cannabis cultivation
The quarantine gardening boom definitely extends to cannabis. For the last few years Scotts Miracle-Gro, the maker of home, lawn, and garden-care goods, has attributed a growing portion of its sales to its subsidiary Hawthorne Gardening, which specializes in hydroponic cannabis cultivation. In 2019, the segment accounted for over 20% of the company's revenues, up from 5% in 2016. "We're shipping more out the door at Hawthorne than we ever have before," said Hawthorne head Chris Hagedorn on a recent earnings call.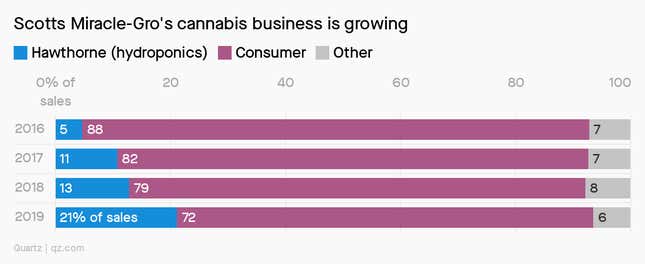 ---
For Quartz Members 
We'll need extraordinary measures to produce a Covid-19 vaccine. As countries around the globe mull over plans to reopen economies, they're eyeing a key development in public health: vaccines. Public and private efforts have so far yielded more than 120 candidates making their way through various stages of testing. In order to identify, produce, and distribute what will become the most in-demand pharmaceutical product on Earth, manufacturers will need to explore every option.
✦ Get access to these articles and a lot more when you become a Quartz member. (Try a seven-day free trial.) ✦
You asked about herd immunity
Is it possible to achieve herd immunization against COVID-19?
A few countries have tried. The UK initially proceeded with a frightening attempt, but ultimately reversed course to lockdowns and increased testing. The UK's chief scientific officer has said that about 60% of a population needs to be infected to build herd immunity—the protection that emerges as a virus makes its way through a population.
The place to keep an eye on is likely Sweden, which took a very different approach. The country's primary schools have remained open. Restaurants too, though tables are set farther apart. Work from home is encouraged but not enforced and even nightclubs can operate with a few changes.
✉️ Do you have a burning question about how coronavirus is changing the world?
---
Surprising discoveries
You can have your mask and eat cake, too. Want to keep your respiratory system safe while you chow down? There's a mask for that.
The blue bee made an appearance. The rarely seen blue calamintha is something of a white whale for scientists, who only discovered its existence fairly recently.
Colonel Tom Moore will become Sir Tom. The 100-year-old veteran will be knighted for raising more than £33 million ($40 million) for the National Health Service by walking 100 laps in his garden.
Shakespeare's Globe may be gone ere long. The detailed reconstruction of the Bard's playhouse in London is facing its biggest threat since the Great Fire of 1666.
An Australian man rescued a whale and got fined for it. After authorities didn't arrive to help the entangled whale, he took matters in his own hands—and broke the law, somehow.
---
Our best wishes for a productive day. Please send any news, comments, whales in need, and masks with mouths to hi@qz.com. Get the most out of Quartz by downloading our app on iOS or Android and becoming a member. Today's Daily Brief was written by Tripti Lahiri and edited by Isabella Steger.